Top 10 Unbreakable and Disgusting Competitive Eating Records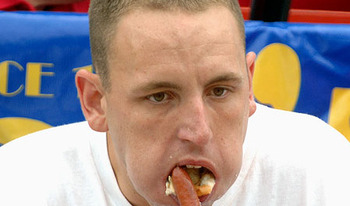 We're two days away from Nathan's 2011 Hot Dog Eating Contest—the preeminent dog-downing competition in the eastern United States—and reigning champion Joey Chestnut is set to defend his title.
But he's not the only man with something to be proud of.
In honor of Chestnut, the upcoming competition, and heck, in honor of America's independence too…we've compiled a list of the top 10 most unbreakable and disgusting competitive eating records in the history of competitive eating.
Peruse for amusement, or even better, peruse then test your mettle!
10. Patrick Bertolletti Likes Donuts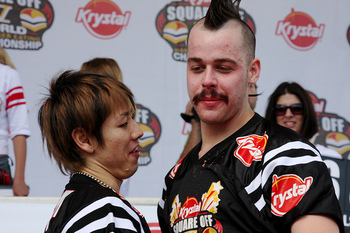 Amount Eaten: 47 glazed, creamed-filled doughnuts.
Time Elapsed: 5 minutes.
He did it after he broke up with his boyfriend while watching an episode of Sex and the City.
(Editor's note: not true.)
9. Eric Booker Handles His Onions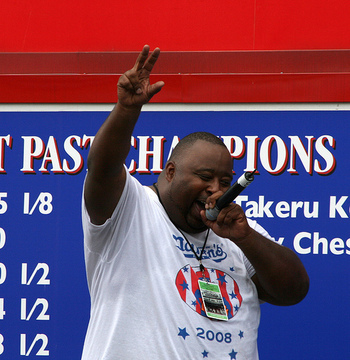 Amount Eaten: 3 onions.
Time Elapsed: less than a minute.
The only man who cried more in a minute was Patrick Bertolletti when he was eating the donuts.
8. Patrick Bertolletti Strikes Back!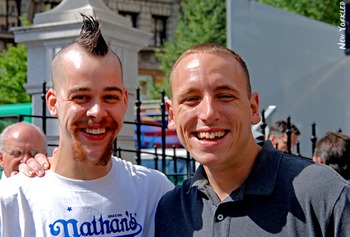 2007:
Amount Eaten: 191 pickled jalapeno peppers.
Time Elapsed: 6.5 minutes.
2010:
Amount Eaten: 300 pickled jalapeno peppers (or thereabouts).
Time Elapsed: 10 minutes.
Okay, this is almost impossible.
Yesterday, I got six jalapeno slices on my Subway sandwich and thought I was going to die. Bertolletti, you're a better man than I am.
Sex and the City joke, retracted.
7. Don Lerman Doesn't Break Bread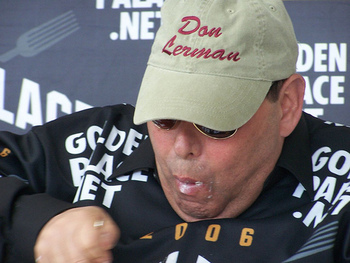 Amount Eaten: 7 sticks of butter.
Time Elapsed: 5 minutes.
He did it during a severely misguided Sex and the City audition whilst up for the role of Samantha.
6. Eric Livingston Likes Him Some Haggis
5. Sonya Thomas Gets Some Beans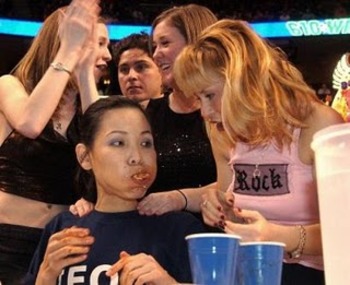 Amount Eaten: 8.4 pounds of baked beans.
Time Elapsed: 2 minutes, 47 seconds.
Everyone was thrilled about the feat, save for her husband who was asphyxiated in their apartment soon after.
4. Joey Chestnut Gets Some Greens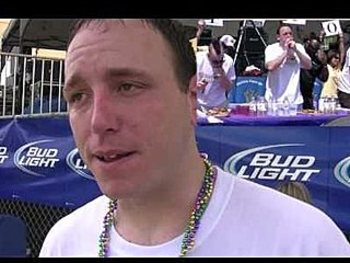 Amount Eaten: 9 pounds
Time Elapsed: 10 minutes.
Not wanted to be too healthy, he made sure the tempura was deep-fried. (Not a joke.)
3. Dominic Cardo Gets the Tongue…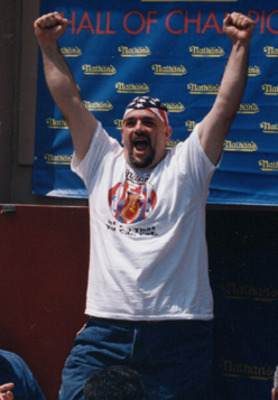 …and then he eats it. Basically, if Don Juan was a serial killer, he would have been Dominic Cardo. (Just kidding, Dominic.)

Amount Eaten: 3 pounds, 3 ounces of pickled beef tongue. Whole.
Time Elapsed: 12 minutes.
What inspired this fiasco?
"The cow talked back," Dominic muttered.
2. Takeru Kobayashi Eats Brain Food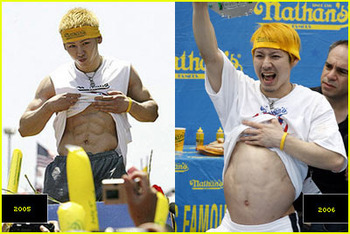 Oh, no wait, that's 'brain" as "food."

Amount Eaten: 17.7 pounds of cow brains.
Time Elapsed: 15 minutes.
I'm not sure what's more disgusting—that Kobayashi ate 17.7 pounds of cow brains, or that he ate 17.7 pounds of anything in 15 minutes.
That's incredible.
1. Oleg Zhornitskiy Dominates Mayonnaise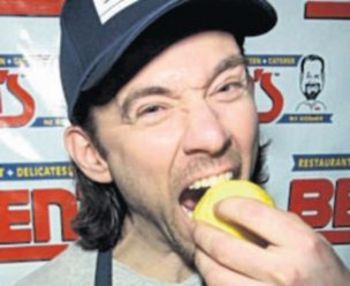 Amount Eaten: 1 gallon.
Time Elapsed: 8 minutes.
Even more impressive, he ate it off a 10-pound BLT.
Keep Reading