Tito Ortiz: The UFC Veteran We Love to Hate
June 29, 2011
Ethan Miller/Getty Images
Not since Chael Sonnen's attempt to single-handedly bring down Brazilian culture and heritage in a bid to discredit Anderson Silva has the amount of pre- and post-fight drama threatened to overtake a UFC event.
In the span of a week we have endured the aftermath of Nate Marquardt's unusual dismissal from the UFC, the back-and-forth pissing match between Bantamweight champion Dominick Cruz and challenger Urijah Faber, and one of the best comeback performances of all time in Cheick Kongo's knockout win over Pat Barry.
Despite all of this, the one thing has been able to separate itself from the shadow of UFC On Versus 4 and breakaway from talk of the impending UFC 132 has been the unrelenting hate poured on UFC veteran Tito Ortiz in the lead-up to his match.
Calls for Ortiz's resignation have plastered social networking sites, dominated UFC blogs and even infiltrated respective journalistic establishments worldwide.
And while no other fighter in the UFC (save maybe Sonnen or Michael Bisping) makes it harder to be liked, the unrelenting disgust poured on Ortiz in the lead-up to UFC 132 has prompted me to defend the man who helped introduce me to the sport.
The first thing MMA fans would point to as a reason for Ortiz's prompt dismissal is his record. In his last four fights Ortiz is an abysmal 0-1-3. However, the argument still stands that Ortiz is one of the elite figures in MMA.
Jon Kopaloff/Getty Images
These four fights did not come against barroom brawlers on a downward spiral, but against some of the best the UFC had to offer the beleaguered veteran.
Forrest Griffin, Lyoto Machida and Rashad Evans have all tasted UFC light heavyweight gold, and at the time were considered top-five contenders in their weight class respectively.
Ortiz could have simply taken the easy road after any one of these losses, picking up a cheap win or quick victory against a bright-eyed rookie nearly reduced to tears by all the bright lights and noise that accompany a UFC event.
Even now with the end looming, and the promise of an early retirement hanging over his head, Ortiz faces arguable his toughest opponent in years in standout light-heavyweight Ryan Bader. In accepting this bout, Tito has sent a message to the UFC that he will not accept an easy win and is willing to put in the time and effort it takes to beat the much younger Bader.
Ortiz has never been one to take the easy road. Where many would have either given up or found a lesser known outlet to vent their frustrations against an unworthy adversary, Ortiz has remained. In his last four fights Ortiz was able to go the distance on all occasions, grinding it out with world-class athletes while he flirted with victory.
The beginning of his career was characterized in a similar fashion. By slogging out wins in front of minimal crowds for even less pay, Ortiz established himself as the face of a featureless organization. There was no The Ultimate Fighter contract to easily slip in to, nor any big time endorsement deals to pay the rent.  All Ortiz had to fight for in the beginning at UFC 13 was his pride. A man who fights for anything less is not worth the gold he may one day strap across his belt.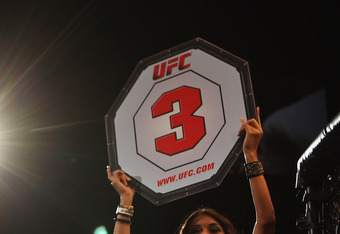 Mark Kolbe/Getty Images
In the words of Chuck Liddell, "It's always fun to beat up on, Tito." And while Chuck was speaking as one fighter about to pound on another, maybe he was on to something from a fan perspective as well.
In a sport that is just truly beginning to find itself, Ortiz is a throwback. A man who has been able to transform with the ever changing landscape of MMA, quite literally rolling with the punches and evolving with the complex new form of martial arts.
From humble beginnings at UFC 13 in front of a crowd of just over 5,000 people, to fighting on a card that garnered over one million pay-per-view buys, Ortiz has done and seen it all in the world of mixed martial arts.
At UFC 132 Tito Ortiz will be fighting for his UFC, and potentially MMA career. That being said there is nothing more dangerous than a man who has been backed in to a corner, threatened with the anonymity that unemployment brings.
Ryan Bader is now the only thing standing in the way of Ortiz and a few more promising years of fame, fortune and fighting.  I would not be surprised to see Ortiz go out the way UFC legend Randy Couture did. In a blaze of glory, and with all the intensity and showmanship that defined a storied UFC career.