Colorado Avalanche Qualify Restricted FAs, Still Need Help in Goal
June 28, 2011
Justin K. Aller/Getty Images
Yesterday was the final day that teams were able to extend qualifying offers to restricted free agents.
The Colorado Avalanche did so to all but two of the restricted free agents on their roster. Those two players were Brian Elliott and Phillipe Dupuis.
For those of you who either don't know the difference or are slightly confused by the difference between restricted and unrestricted free agents, here is my best attempt at explaining it.
Unrestricted free agents are just that, unrestricted. They can go anywhere and sign with anybody that they want to without question or reservation.
They are, as it were, that kid in the proverbial candy store of hockey teams.
Restricted free agents do not have that freedom.  In the NHL, if you are younger than 27 when your contract runs out, you are a restricted free agent.
As a restricted free agent, the team you were just playing with retains the rights to your services and may tender you a "qualifying" offer which is based on several variables.
When this is offered, a couple of things could happen. The player can accept the offer which gives them a one year contract at that rate, or negotiate another deal with their team and sign that contract.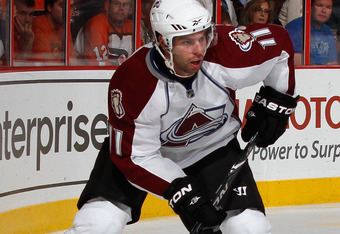 Paul Bereswill/Getty Images
If the player wants to wait, they can test the market and see what offers come their way, but their team is given the ability to match those offers and retain the player should they choose.
If the team does not tender a qualifying offer by a certain day, that player becomes unrestricted and may go wherever they like.
If a player does sign an offer sheet for another team, and their previous team chooses not to match that offer, their previous team is given compensation from the team that signed their player in the form of draft picks.
This compensation is dependent on the type of contract the player has signed, and can vary from next year's third round draft pick, to the team's first round draft picks for the next three years.
I really hope that helps.
Now, what does all of this mean for the Avalanche?
The Avalanche have a lot of centers on their roster, so it isn't too much of a surprise to see that one of them was not retained. I am, however, a bit surprised that Dupuis was the one let go as he was quite frequently the best player on the ice for the Avalanche during several of their second half games last year.
He never took a shift off, played his role very well, was a big part of the penalty kill, and was the only right handed center on the Avalanche roster.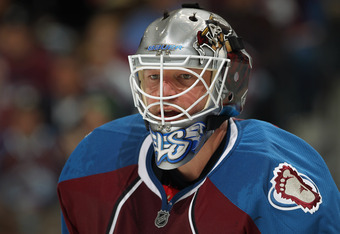 Doug Pensinger/Getty Images
Still, them's the breaks I suppose. I imagine that Dupuis should find a home on a team with not too much of an issue.
Elliott release spells a much larger story for the Avalanche as he was the other part of the trade that sent 2009 - 2010 Avalanche MVP, Craig Anderson, to Ottawa.
Elliott had approximately two good performances in his time here, and has now been shown the door.
I think that all of us in the Avalanche nation are now able to look at that trade and say, emphatically, "that wasn't such a great idea, now was it?" Perhaps somebody other than Anderson was to blame for how that whole situation played out.
This also spells out where the Avalanche will be spending the bulk of their time once the free agency period begins on Friday, July 1st.
The Avalanche desperately need a goalie as they now seem to have two vacancies going with the release of Elliott and Budaj.
Now that Ilya Bryzgalov is off the market with his deal in Philly, the eyes of Avalanche nation all seem to be turning towards another Florida goalie, Tomas Vokoun.
Vokoun is older (35 by the time next season begins) but has always been a solid net-minder. He has spent the last several years on a team in Florida that has never given him much support in the way of offense or defense, but that has not stopped his productivity.
Vokoun's numbers last year were very good.  2.55 goals against average, .922 save percentage, 6 shutouts.
Looking at those numbers alone, one could easily assume that this team made the playoffs, but Florida just simply could not score for the life of them.
Colorado has an offense that is very potent when it is running, and if they are able to stay healthy this year, some chemistry might actually be able to find its way back into the locker room.
I think the Avalanche should be able to offer Vokoun a very hefty contract and still have trouble making the cap floor.
Tomas Vokoun seems like the perfect solution to the Avalanche's great goaltending problem.