LeBron James: The Real Root of the Miami Heat Star's Playoff Struggles
June 27, 2011
Mike Ehrmann/Getty Images
If the Miami Heat's Eastern Conference Finals series against the Chicago Bulls was all the evidence someone had to judge LeBron James' clutchness by, they'd have a hard time proving that he was anything but. Now, though, following what could go down as (considering his talent, momentum coming into the Finals, and how he played in its first seven quarters) the greatest choke job in NBA Finals history, we are all forced to ponder why.
Why did the most physically talented player in the league play so poorly when the one thing left to put on his Hall of Fame resume, the thing he spent the last 11 months taking a PR beating for was right there for the taking? In my opinion, the answer lies in the past. In conjuring this up I am having to do some deep prodding and psychological analysis of someone I don't know to come up with this theory, so it may well be off. Then again, the season just ended and I'm already bored, so why not? 
The science behind what ESPN's Skip Bayless calls the "clutch gene" is inexact to say the least. Boxer Bernard Hopkins would like to think it's about a person's upbringing, a theory which although it may not be totally off, does show discrepancies. Kobe Bryant, Reggie Miller, and Michael Jordan—three of the absolute greatest clutch players in NBA history—all came from solid upbringings and two-parent households.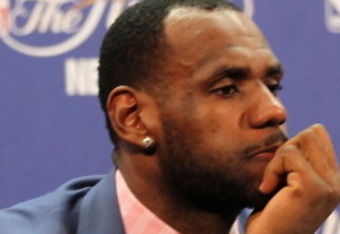 Mike Ehrmann/Getty Images
My theory is that it's rooted in a person's relationship with the game itself. Every clutch player I can think of had some sort of setback or motivation at an early age, forcing them to work maniacally to prove doubters wrong, and in turn develop a special bond with the game. Kobe Bryant admitted to being outplayed on the Philadelphia playgrounds when he first arrived from Italy; Michael Jordan was famously cut from his high school team as a sophomore; Dwyane Wade had to play behind his brother before making his high school varsity team as a junior, then was an underrated college recruit; Derrick Rose was never the consensus No.1 recruit in high school, with analysts praising OJ Mayo, Kevin Love, and eventually his own AAU teammate Eric Gordon more often; Reggie Miller played in the shadow of his older sister, leading Magic Johnson to say he'd never seen a player work as hard as him. The list goes on and on.
Even in making the jump from middle to high school basketball, LeBron didn't struggle much his first year. In fact, he thrived, averaging 21 points per game as a freshman and winning a state championship. By then his coaches were already seeing pro potential, at an age where many future NBA players are still being laughed at for saying that is their dream. While I don't think anyone has been given reason to question his work ethic to this point, it does appear that pretty much never having been the underdog since he was 14 has made it tough for him to have a real hunger in the big moments. Instead he seems hopeful not to disappoint.
When it came to developing his true, unwavering love for the game of basketball and desire to overachieve, LeBron James may have been robbed of that opportunity by just being too talented, until now. His greatest talents-passing, athleticism, natural frame width, appear to be God-given, rather than the end result of countless late night sessions in the gym by himself.
I think that he was such a phenom at such a young age that he realized it would be in his best interest to make the best of his basketball talents, rather than getting the chance to seriously say that's what he wanted to pursue before anyone told him just how talented he was. My biggest example of this came from reading his SLAM Magazine High School Diary when he was a junior. One entry stood out to me in particular from the middle of his football season where he said "I'm not really thinking about basketball right now."
Those words always stood out to me for a couple of reasons. First because it would be hard to imagine many of the other greats taking extended leaves from the game when they were in high school regardless of the circumstances. Second, the fact that he was talented enough to do that and get away with it was even more mind-boggling. Other guys in his class who may have been practicing tirelessly while he was at football practice still never even came close to threatening his consensus No. 1 ranking.
A noticeable difference between him and the clutch guys mentioned is that their moment of adversity helped fuel them to eventually get to the NBA. LeBron's moment is happening long after he's made it, in front of a national audience, which will cause him even more pain and potentially more fuel to have a summer like Michael Jordan did prior to the '96 season and work harder than ever to show up the doubters. All hope is not lost in his clutchness, but if the monster inside him doesn't wake up now, it may never happen because it's hard to imagine a player having more motivation heading into an offseason. Stay tuned.