Gold Cup 2011 Final: U.S. 2-4 Mexico; Mexico Wins Gold Cup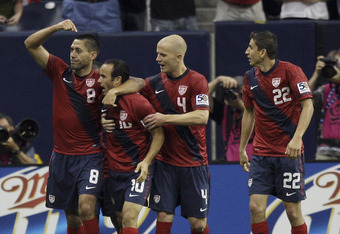 Bob Levey/Getty Images
Well, here we go! For the third straight year, Mexico and the U.S. will face off in the Gold Cup final, this time at the Rose Bowl in Pasadena, Calif.
Mexico sits atop the charts with five Gold Cup titles, but the U.S. can equal that mark Saturday night.
Let's just hope Bob Bradley sends his charges out with a little more fire for the final. Landon Donovan likely will not find himself on the bench like he did in the semifinals against Panama.
At the back, Tim Howard will have to keep out Javier "Chicharito" Hernandez, who has been on a scoring spree since last summer's World Cup in South Africa.
I'll be here throughout the match keeping you updated on what's happening—and hopefully that will be a lot, as it often is when these two rivals meet.
Final Update: Mexico defeats the U.S. 4-2 to win their second straight Gold Cup and sixth overall. Mexico scored four unanswered goals after surprisingly going down 2-0 after 23 minutes.
Racing Santander's Giovani dos Santos (loan from Tottenham) was the Man of the Match with superb footwork and skill throughout, and he was rewarded with a sublime finish for Mexico's fourth goal. Pablo Barrera scored twice on either side of a Andres Guardado goal.
Michael Bradley and Landon Donovan had gotten the U.S. off to the perfect start with goals in the eighth and 22nd minutes respectively, but Mexico's rising superstars were too much for America's hodgepodge team.
---
Game time: 9:00 p.m. EST
TV: Univision
---
Final Gold Cup Final Score: USA 2 - 4 Mexico Fulltime
M. Bradley 8' P. Barrera 28', 49'
L. Donovan 22' A. Guardado 35', G. dos Santos 76'
Freddy Adu finished off his comeback story almost perfectly. He was the man of the match for the U.S., but unfortunately, he didn't have a whole lot of help.
The U.S. midfield couldn't get the ball, and when they did, they just pounded it forward to no one in particular.
Adu was finding lots of space on the right flank, but that won't do much good when no one is in the middle to help you out.
Speaking of, the U.S. was really missing Jozy Altidore tonight. He could've gotten on the end of a lot of those balls, and the story could've been different.
Mexico is shooting straight up from here, and the U.S. is left with a lot of questions.
Thanks for joining me here on Bleacher Report! It was a pretty cracking game to watch.
Mexico scored four unanswered goals, and Giovani dos Santos was clearly the man of the match. This Mexican team has some very impressive youngsters, and just imagine if the whole team were vegetarians.
Sloppy defense and midfield play from the U.S. led to all of Mexico's goals though each also came thanks to a touch of class.
U.S. didn't get the performances they needed from their stars Landon Donovan and Clint Dempsey. After the two combined for U.S.' second goal, both were largely on the outside of play.
Defense is clearly a problem area for the U.S. Bocanegra and Cherundolo are getting up there in years, Onyweu's career has not been the same since his horrible injury in October of 2009 and Lichaj and Bornstein obviously need a lot of improvement.
Very disappointing for the U.S. to go up 2-0 so early especially given how poorly they've been offensively in this tournament, but this Mexico team is young and dang good.
Look out for them in Brazil in 2014 (no one really cares about the Confederations Cup).
U.S. meanwhile was relying on a few too many young and inexperienced players in this tournament.
The big question is, what does this mean for Bob Bradley? He got a few things right this tournament, but he's really been more lucky than smart. Will the U.S. make a change before 2014 qualification starts?
Final whistle: Mexico wins its sixth Gold Cup 4-2.
Kljestan slides in, but luckily it wasn't in his own box. Half a minute to go.
Three minutes to be added on. Donovan, the U.S. magician, has been absent for at least 25 minutes so that's not a good sign.
Mexico has torn the U.S. defense apart here. U.S. had the best defensive record of the tournament. Losing Cherundolo so early hurt, but it doesn't affect the midfielders standing around watching Mexico pass.
Dos Santos forces a corner out of Bornstein. He will be snapped up by a top European side pretty soon.
Dempsey gets booked for complaining to the ref. Is it his fault you were watching the game from the middle of the pitch all night?
Side note, it really shows you how much Oguchi Oneywu's injury hurt him that he's still on the bench.
Dempsey shoots from 30 yards out. Not at all what was needed. Just saw dos Santos' goal again. Ridiculous footwork and skill from the 22-year-old. but why on Earth was Tim Howard that far away from his line?
Chicharito offside again, but this time just barely. That kid is great, and when he learns to read the game a bit better, he's going to be down right scary.
Mexico has four goals, none from Chicharito. Dos Santos deserved a goal though. He's been brilliant.
Ten minutes left for the U.S. to find some magic.
Powerful shot from Bradley but wide. Dempsey and Talavera having words, but Dempsey has not been in this game tonight.
Pretty poor display from the U.S. after going up 2-0 by the 35th minute. Mexico flying here. Dempsey had the one chance to not is a 3-3, but that's about it.
Zavala came on for Barrera in the 75th minute.
GOAL. Howard comes out of his goal, and Mexico takes advantage. Great skill from dos Santos, and he chips it right into the top corner, 4-2
Mexico has become defensive. It's like the teams switched philosophies at halftime.
Adu is finding a lot of room on the right flank. Mexico may be tiring a bit after extra time win over Honduras.
Chicharito tamely heads it into Howard's grateful hands. What's wrong with him tonight?
Crowd is getting behind their team, Mexico. It's getting feisty here after Jones barely fouls Torres.
Great work by Jones to dribble out of his own corner flag after Barrera had fallen down in the box.
71' minute, U.S. with all the possession in the second half, but just can't do anything once they get near goal.
And Goodson heads it to Bocanegra who heads it wide and over.
This article is
What is the duplicate article?
Why is this article offensive?
Where is this article plagiarized from?
Why is this article poorly edited?