WWE CvC 2.0 Play-In: Who Is the Best Superstar to Never Win the Triple Crown?
June 25, 2011
Hello, B/R members, and welcome to what should be one of the greatest Creature vs Creature competitions in the history of this site.
Unfortunately, by the time I decided to join this competition, the deadline was over. But still, I got a second chance, and now I'll have to go through a play-in contest and win in order to join one of the divisions. Click here to learn more about the competition.
I'll go against another opponent and all you have to do is vote for the person you think is better. I still don't know who my opponent is, but good luck to him.
The topic that I have to write about is the "Best WWE superstar to never win the Triple Crown."
Before I start, allow me to explain what a Triple Crown champion is. He's simply a superstar who was able to win a World Title (WWE or World Heavyweight), a secondary title (Intercontinental or US) and a tag-team title (WWE Tag-Team or World Tag-Team). Keep in mind that US Title reigns in WWE are the only ones that count.
So who do you think is the best superstar to never become a Triple Crown champion?
The answer might not look simple especially if you think about it using several concepts. However, I'll try to make it easier to think about throughout the article before revealing my choice.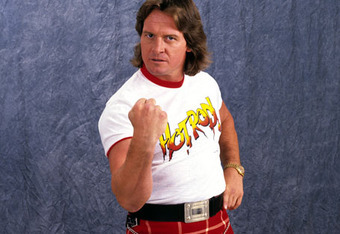 When I tried to decide who fits in the list, I only considered superstars who needed one more championship in order to reach this achievement. So guys like Mr. Perfect, Rick Rude and Ted DiBiase were never considered.
Sure they're among the best in WWE, but to call them the best to never win a triple crown is a bit debatable and might be considered a far-fetched title. I mean they needed more than one title to win.
If I consider the above criteria, then I would even name some others who never won any WWE Championship as best superstars to never win the triple crown. But will this sound logical?
Jimmy "Superfly" Snuka, Jake "The Snake" Roberts, and "The American Dream" Dusty Rhodes are considered as WWE legends and they'll sure be remembered as ones of the best in the company.
But they never won a title in WWE and it would be weird to put them in such a list even if they might be considered better than many others who could fit in this list.
So to make it easier, I considered superstars who needed one championship only. It's more about people who were closer than others.
The second concept I considered here is omitting superstars who never won a primary title or simply a world title. This might be unfair for some people, but I have my own explanation for this.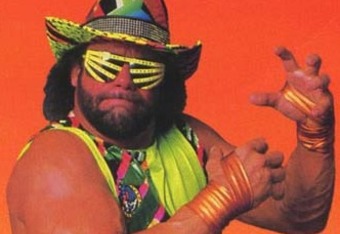 The superstar I wanted to mention is someone who already won a World Title and only needed a secondary championship or a tag-team championship in order to claim the Triple Crown title.
Sure this will make me exclude great superstars like Roddy Piper, Tito Santana, British Bulldog (Davey Boy Smith), Owen Hart, Marty Jannetty and many other superstars. But winning a World Title is a big deal (at least it was in the past) and is a great achievement of its own. Therefore, all these wrestlers fit better in "the best superstars to never win a world championship" list.
I'll be fair and say that most of them are considered as main event materials by today's standards. But, unlike now, titles didn't change hands a lot in the past.
The WWE Championship was won by few superstars in the 80s and the early 90s. And I would even say that the Intercontinental Title was more prestigious in the past, so those gentlemen can be proud about it.
Moreover, if I consider all the superstars who needed a world title in order to win the Triple Crown I'll end up having a very long list that includes several current superstars like Sheamus, Drew McIntyre, John Morrison and Kofi Kingston.
We also have other older superstars like Val Venis, Road Dogg, Rikishi and Goldust. Of course, I'm not comparing any current superstar to a past legend. I'm just saying how long this list would have been.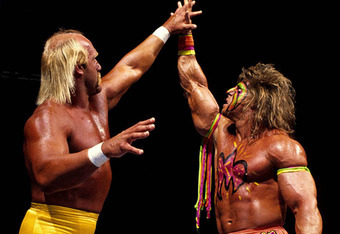 This leaves us with the list of superstars who won a world title but still needed a secondary or a tag-team title in order to become Triple Crown champions.
Choosing from this list is also very tough as it includes great superstars like Hulk Hogan, Randy Savage, Ultimate Warrior, Bob Backlund, André the Giant, Undertaker, Mick Foley, Batista and Yokozuna.
Before I go on, I have a quick question to the readers here. Do the WWWF United States Tag-Team Championship and the WWF International Tag-Team Championship count? If yes, then Bruno Sammartino can be included here as he won those titles in addition to the WWE Title (WWWF at that time) and he only needed a secondary title to win the Triple Crown.
After deep thinking, I thought that Hulk Hogan, Randy Savage, Ultimate Warrior, Bob Backland and André the Giant can be excluded. I know some of you might have dropped their jaws in shock for this but there's a logical reason behind it.
As I said above, in the 80s, titles didn't change hands a lot compared to today. Whether it was the WWE, Intercontinental or the World Tag-Team Championships, we rarely witnessed short reigns.
Furthermore, while top superstars were fighting for the WWE Title, we also had some great mid-carders fighting for the Intercontinental Title as it wasn't just thrown randomly to superstars like today.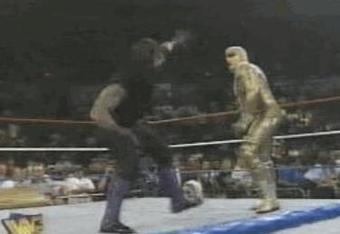 Therefore, it was hard to see superstars win a Triple Crown. Pedro Morales was the only one to do it in the 80s. All the other Triple Crown champions achieved it in the 90s. So I guess it's a bit irrelevant to mention a superstar from the 80s as none of them made this achievement and I would have more than one good choice.
I know that it was harder but I guess that's fair. If there had been more Triple Crown champions at that time, I would have considered a superstar from this list.
Hulk Hogan was so close to win the Intercontinental Title and we all remember his Champion vs Champion match against Ultimate Warrior at Wrestlemania VI. But he still needed a Tag-Team Title (he won one later in 2002) at that time in order to make the achievement.
The only other superstar from this generation to win the Triple Crown is Ric Flair. But he did it after winning the Intercontinental and Tag-Team Titles in the 2000s. And Ric Flair wasn't a WWE superstar in the 80s as he joined in 1991.
Before I continue, it's interesting to note that Ultimate Warrior and Randy Savage only needed a Tag-Team Title in order to complete the series unlike the others he needed an Intercontinental Title or another secondary title.
This leaves us with Undertaker, Mick Foley, Batista and Yokozuna. In my opinion, Undertaker is the best here. Sure Yokozuna was an intimidating superstar in the 90s, Mick Foley was the Hardcore Legend and Batista had a great run in the 2000s. But Undertaker had a better overall career compared to them and he was a better superstar in general.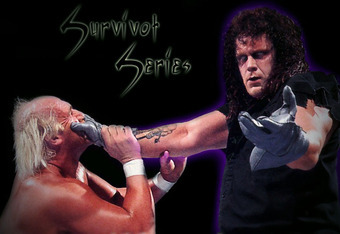 Undertaker is a seven-time World Champion as he won the WWE Championship four times and the World Heavyweight Championship three times. He's also a six-time Tag-Team Champion (unless you want to include his WCW Tag-Team Title reign that he won during the invasion angle). So he only needed a secondary title to win the Triple Crown.
Now that I have revealed my choice, I'll try to analyze the reasons why the Undertaker never won and if he still has a chance to do so.
P.S. Sheamus is another former world champion who only needs one more title before being declared as a Triple Crown champion. He already won the WWE and US Titles so he only needs a tag-team title. I didn't mention him above because he still has a long way to go before being considered among the best.
Could Undertaker have won a secondary championship? Did he have a chance?
My answer is yes because the Intercontinental Title changed hands more frequently in the 90s and the 2000s. During the 80s, the title changed hands 14 times only. But it changed hands 45 times during the 90s and 68 times during the 2000s.
Undertaker debuted in 1990 and this means that he could have gotten one title reign at least during his run especially that it was much easier than the 80s.
He did face Goldust in a casket match for the title at In Your House 8: Beware of Dog (1996) and was so close to win. Unfortunately, however, Mankind interfered and cost him the match.
As for the US Title, it was revived in 2003 and it changed hands 26 times between 2003 and 2010. I think he could have snatched one title reign.
When was the best moment for Undertaker to win?
Throughout his career, Undertaker had many feuds that didn't include titles. In my opinion there were more than one period during which Undertaker could have won an Intercontinental Title. His first WWE Title started and ended in 1991.
His second WWE Championship came seven years later. He could have won one title during this period. As I said above, he did get a shot against Goldust but he failed to win.
He had another two relatively short reigns in 1999 and 2002. Those reigns were during the Attitude Era where most title reigns were short. I guess that an Intercontinental Title reign would have been great especially during his American Bad Ass gimmick.
I mean it did change hands 11 times in 1999, 12 times in 2000, 12 times in 2001 and 10 times in 2002.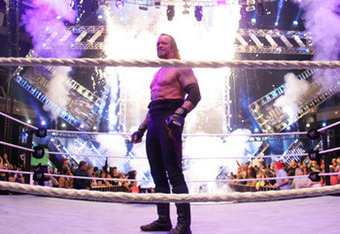 After his fourth WWE Title reign, he waited until 2007 before he finally won his fifth World Title and his first ever World Heavyweight Championship.
The period between 2002 and 2007 could have been great for one Intercontinental reign. He had many feuds and it wouldn't have been harmful had one of them included a secondary title.
So you can notice that there was more than one period that could have been suitable for a secondary title reign. I know he wasn't sitting doing nothing during those periods, and I do know that he was busy having some great rivalries and introducing some awesome gimmick matches. But as I said, one secondary title reign during one of those numerous feuds wouldn't have harmed.
Why didn't he win a secondary title?

Undertaker was one of the few superstars who weren't only about titles. He had many memorable rivalries that didn't include any championship in them. Furthermore, he only won seven World Titles during his 20-year career.
However, if you take a look at top superstars from his generation and other top superstars he existed with as he moved on, you'll notice that he's one of the few left to never win the Triple Crown. So why didn't he win?
Some people might say that the reason he never won a secondary title is because he won a WWE Title only one year after his debut and became a main-eventer since then. And as they say, once you're big, there's no going back.
But Undertaker did have many feuds against mid-carders and he wasn't always in the main-event scene. And winning the World Title directly doesn't necessarily mean that a secondary title is not possible anymore.
Sure superstars like Bret Hart, Shawn Michaels, Stone Cold, Rock, Triple H, Chris Jericho, Eddie Guerrero, Edge and others won secondary titles before winning the World Title.
But still, others like Kane, CM Punk, JBL, Rey Mysterio and even Ric Flair all won secondary titles after winning a world title and thus becoming Triple Crown Champions.
Others might say that he never needed it. I would definitely agree with this as the Dead Man already had a great career. But it's not about whether he needed it or not.
I think that it would have been nice to see him hold it for a brief time and add some prestige to it. It would have benefited some young talents especially when feuding against him for the championship.
I guess WWE never had any plans for a secondary title for him as he almost never got a shot at any of them. I guess they wanted him to stick with his Wrestlemania matches and some other World Title matches every once in a while. Or maybe they thought about it but realized it was too late.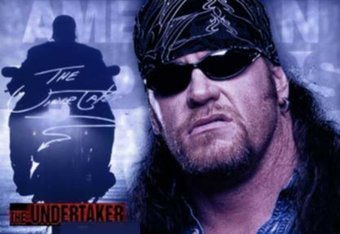 I still believe that they could have given it to him just like they did to the Royal Rumble match in 2007. I mean he won a Rumble match after spending 17 years in WWE and after seeing nearly all the top superstars he wrestled with win it in the past years. So he could have won the Intercontinental Title even if it was for a brief time.
Does he still have a chance?
Right now, I guess that it has become nearly impossible for him to do it. I mean, he's barely wrestling and it seems that he only has one more match left in him for Wrestlemania next year. I think that it has become impossible few years ago when his appearances became rare.
Is it a horrible thing that he's not a Triple Crown Champion?
I guess that this might be a silly question because everybody would answer with a big fat NO. Others might say that they never thought of it and never even heard about it. 
Undertaker is considered as one of the best superstars ever. Despite not being the poster boy of WWE, he was always among the top five superstars during all the eras he wrestled in.
He never needed multiple world championships in order to be over. His gimmick is considered as one of the best in WWE. He was able to stay relevant for more than 20 years.
So obviously he doesn't need a title that might be unknown to many fans. I would even say that he would still be considered great even with less World Titles and even if he never won the Royal Rumble.
In my opinion, the Phenom proved that he's among the best long time ago. And he's also the most respected superstar backstage and the most loyal wrestler to WWE. In other words, he's a real company man.
Undertaker never needed the Triple Crown Title, but I still believe that he's the best to never win it. He had a perfect chance to do it but WWE failed on this part.
So what do you think? Did I convince you or are you lost? I'd be glad to read your thoughts and comments below.
Keep in mind that another person will be going against me and will write about the same topic. All you have to do is vote for the article you think is better.
Again, I wish my opponent a good luck even though I still don't know who he is.