Tampa Bay Rays: Casey Kotchman at the Bat Providing Spark
July 9, 2011
J. Meric/Getty Images
Let's play a game.
Who would you rather have on your contending team?
Player A: He's hitting .225 with 19 home runs and 48 RBI. He strikes out 31 percent of the time and has saved one run to date defensively.
Player B: He's hitting .345 with three home runs and 25 RBI. He strikes out 11 percent of the time and has saved over three runs defensively.
If you picked Player B, you have picked Casey Kotchman over Carlos Pena.
And right now, that choice looks pretty darn good for the Tampa Bay Rays. After losing Pena during free agency to the Chicago Cubs, the Rays were left in a bit of a conundrum. There was no real clear-cut choice to fill the void at first base.
The incumbent was Dan Johnson, who had provided some of the most memorable hits in team history but had not proven himself as a full-season everyday player. In a relatively quiet move, the Rays signed Kotchman to a minor-league deal with an invitation to spring training. He didn't make the major league roster.
Once M**** R****** (yes, I censored that) "retired," the Rays had a hole in the roster to fill, so they called up Kotchman. Since then, it has been an incredible ride.
As of Friday, Kotchman was providing the most consistent offense of any Rays hitter. His .345 average would put him among the best in baseball if he had enough at-bats. But still, with 238 at-bats under his belt, Kotchman has 82 hits already and is proving himself to be an invaluable part of a team fighting to keep pace with the Red Sox and Yankees.
Prior to signing with the Rays, Kotchman had played a relatively uneventful journeyman career. The Rays are his fifth team and, to date, his most successful. For a guy who only hit above .280 in his career once, the success he has enjoyed in Tampa Bay is pretty surprising.
What has changed?
For one, Kotchman corrected a problem related to blockage in his tear duct. He compared this to driving a car with bad windshield wipers. Now that Kotchman has seen his vision clear up, his hitting has seen an immediate improvement. Take a look at these numbers.
Fangraphs provides some very good swing data for players. In looking through Kotchman's swing tendencies this year, there are very few discrepancies between this year and his career averages. However, there are two major differences, and both relate to his contact percentage.
On pitches in the strike zone, Kotchman is hitting a career-low 89.9 percent. And on pitches outside of the zone, he is making contact with a career-high­ 83.6 percent. This is very, very interesting when you consider the circumstances. You would expect a hitter with improved vision to hit more pitches inside the strike zone and swing at fewer pitches outside the zone.
Yet the data show that Kotchman is swinging at a slightly above-average rate at pitches outside the strike zone, and less at strikes. This may be because he knows his hot zones more, or it could simply be much better plate coverage.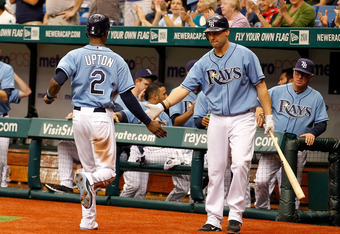 J. Meric/Getty Images
The result? More line drives and fewer fly balls. If you know anything about hitting, you know that such a combination will give you a higher batting average.
Some may look at Kotchman's .376 BABIP (batting average on balls in play) and say that he has been incredibly lucky. Since the league rate is usually about .275 or so, this could be a valid point. But watch Kotchman and you will see that this is no aberration. He is seeing the ball, hitting the ball, and hitting it hard.
When all is said and done with this season, whatever success the Rays have must be at least partially attributed to the emergence of Casey Kotchman. His ability to consistently get on base and create scoring threats is an invaluable asset to a team that needs all the offense it can get.
For a guy who signed a minor league contract and didn't even make the Opening Day roster, Kotchman is really giving the Rays bang for their buck. It's something that Tampa Bay is used to.
But to have a first baseman hitting in the mid-.300s?
That's a very welcome change.