US Open Golf 2011 Scores and Leaderboard: Live Updates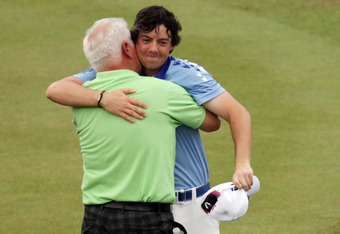 Rory McIlroy hugs his father after winning the 2011 U.S. Open
Ross Kinnaird/Getty Images
Get the latest 2011 US Open scores and leaderboard updates exclusively on Bleacher Report throughout the 111th US Open.
--------------------------------------------------------------------------------------------------------------------------------------
Day 4 Live Blogger: Matt Krummel
Welcome to Sunday at the U.S. Open, and Happy Father's Day to all the Dads out there reading this.
Rory McIlroy again has a seemingly insurmountable lead heading into the final round of a major.
Sound familiar?
Most golf fans remember with heartache watching Rory blow up on Sunday at the Masters, squandering a four-shot lead to begin the day and fading from contention as the afternoon wore on. Today the lead is eight, and Rory looks to be all systems go heading into the final round.
I'll be here all day providing updates and commentary on what could well be an historic day in U.S. Open history. Even though he's not in the field, Tiger Woods (and his U.S. Open scoring records) might be the only thing Rory is chasing today.
You can't make this stuff up.
Enjoy!
--------------------------------------------------------------------------------------------------------------------------------------
Day 3 Live Blogger: John Burke
Welcome to Day 3 of Bleacher Report's live blog of the 2011 U.S. Open. My name is John Burke and I will be taking over the blog today.
Well, it's moving day at the 2011 U.S. Open.
Day 2 was as exciting as one could have hoped. Rory McIlroy continued his fantastic play. Even with a double-bogey on the last hole he finished the day at -11 par.
As in every U.S. Open some big names will not be playing the weekend. This list includes:
Rickie Fowler
Hunter Mahan
Ernie Els
Ian Poulter
I'll be here all day keeping you informed with the latest news and updates out of Congressional.
Enjoy!
------------------------------------------------------------------------------------------------------------------------------------------------
Day 2 Live Blogger: Andrew Kulha
Welcome to Bleacher Report's live blog and coverage of Day 2 of the 11th US Open Championship at Congressional Country Club in Bethesda, Maryland.
The first day was filled with great golf and intriguing storylines and I'd personally like to thank Will Leivenberg for his work updating the blog yesterday
My name is Andrew Kulha and I'll be taking over the reins for day two.
Day one was definitely as interesting as you could hope for on the first day of the US Open. Rory McIlroy had a near flawless first day, and I expect much of the same from him.
On the other hand bigger names like Luke Donald, Lee Westwood and especially Phil Mickelson really struggled on day one. I'm not expecting the same from them on day two.
I'll keep you updated on the latest news, stories and information regarding the US Open, and once the TV coverage kicks in I'll be following that like a hawk to keep you updated.
I'll be following the coverage on ESPN and ABC as well as keeping you updated on leader board scores, opinions and any inside information I can get my hands on!
Well, the golfers are on the course and swinging away, so here's hoping for another great day of golf at Congressional!
--------------------------------------------------------------------------------------------------------------------------------------
Day 1 Live Blogger: Will Leivenberg
As the morning dew gently dissolved off the fairways and greens Thursday morning at the Congressional Country Club in Bethesda, Maryland—the host course for the second major championship of the 2011 season—a talented international field descended upon the course in an all-out competition to etch their names in golf's history books.
However, Congressional is a beast with no single way to be tamed. Measuring just over 7,500 yards, the gargantuan length of Congressional will demand distance as well as accuracy off the tee.
The puzzle only becomes more perplexing as players face the uneven lies, slippery greens and deep sand traps widespread throughout the course.
But this arduous test has a worthy adversary in the world's most elite field of the season. Phil Mickelson is undeniably the fan favorite, entering Congressional with the momentum of five previous runner-up finishes in the US Open, but he has struggled to find a fairway and his chances are already looking slim.
Dustin Johnson's fusion of power, touch and desire to avenge his implosion at this event last year make him another serious threat as well. Johnson had difficulty early in the round and has yet to rebound.
Rory McIlroy, the 22-year-old Northern-Irish sensation, currently holds the lead and will have the weight of multiple major championships where he has contended on his shoulders as he continues this tournament.
Even without Tiger Woods competing due to injury, there's a cutthroat group of golfers that will be aggressively vying for sports glory at the 111th US Open.
--------------------------------------------------------------------------------------------------------------------------------------
The contributors to this blog are:
Day 1: Will Leivenberg
Day 2: Andrew Kulha
Day 3: John Burke
Day 4: Matt Krummel
--------------------------------------------------------------------------------------------------------------------------------------
Scores for the top 10 listed below:
Final Results: Updated 7:44 PM EST Sunday
1 R. McIlroy -16
2 J. Day -8
T3 K. Chappell -6
T3 R. Garrigus -6
T3 Y.E. Yang -6
T3 L. Westwood -6
T7 P. Hanson -5
T7 S. Garcia -5
T9 L. Oosthuizen -4
T9 Charl Schwartzel -4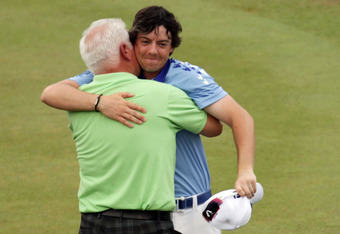 I think it's fitting that the final picture from this year's U.S. Open should be of Rory McIlroy hugging his father on the 18th green after holing his final putt.
A lot will be said about his year's tournament, but there is no second guessing how well Rory played.
He played like a champion.
Congratulations again to Rory McIlroy for winning the 2011 U.S. Open and Happy Father's Day to all the Dad's out there reading this.
Thanks for reading Bleacher Report's coverage of the U.S. Open, be sure to check back for more of the best sports coverage on Internet.
—Matt Krummel
McIlroy breaks the low 36, 54 and 72 hole scoring records at a U.S. Open as well as most strokes under par.
After his heartbreaking loss at The Masters, it's great to see him rebound in such spectacular fashion.
We all better get used to seeing Rory at the top of the leaderboard at majors. This definitely won't be his last one.
—Matt Krummel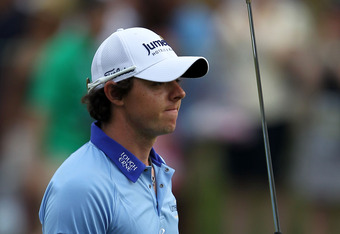 Well there you have it. Rory McIlroy caps an historic week by winning the U.S. Open with a record score of -16 (268).
I think I speak for the golfing world when I say well done, sir.
—Matt Krummel
Sorry for the delay, B/R went down for a few minutes.
—Matt Krummel
Here's to hoping that they fit in a shot of Jason Day's wife.
I know you all remember her from The Masters...
—Matt Krummel
Also, I just finally looked up what Jumeriah is. It's a chain of luxury hotels.
Just thought you'd all like to know. If you're going to Dubai or Abu Dabi anytime soon, I'm sure they cost a small fortune...
—Matt Krummel
I really hope the USGA rethinks its course setup strategy for next year's championship.
I don't like this new, kinder, gentler U.S. Open.
Get rid of the graduated rough. Narrow the fairwarys. Stop watering the greens in March.
Ok, I'm kidding about the last one, but you get the idea.
Am I alone here?
—Matt Krummel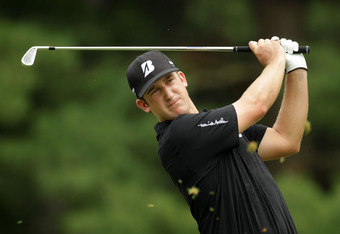 Not much is being said about this, but Kevin Chappell is going to finish as the low American at -6.
If you aren't a big golf fan you probably don't know a lot about him, but Chappell is quietly putting together a very nice rookie season on the PGA Tour.
He has the game to be a great player. Keep an eye on him.
—Matt Krummel
Here's a scary thought. Imagine if McIlroy played college golf. He'd be a senior right now.
Wow.
Biggest. Mismatch. Ever.
—Matt Krummel
The only thing McIlroy has to be careful of is that pull hook he hits every once in a while.
I've been watching his swing pretty closely, and when he hits it he casts his wrists at the top of his backswing. This forces his clubface closed at the top and he has to fight it coming through the ball.
I know that shot pretty well (my miss off the tee looks very similar), and it's tough to fix when it starts going bad.
Other than that, his swing is pretty pure. A lot better than the one Tiger plays with currently.
—Matt Krummel
What are the odds that Tiger Woods is watching this right now? Probably not very good, but if he is I hope he's getting nervous.
I think Rory McIlroy is officially claiming the title of "Most Likely to Make Tiger Irrelevant for the Next 10 Years."
This won't just be a major victory. It's a warning shot to the rest of the world.
—Matt Krummel
The only thing I have left to root for is that McIlroy wins by double digits. I don't even know why I care, but it's all I have left.
Boo to uneventful final rounds in majors.
—Matt Krummel
Rory's first bogey of the day.
You can tell he's pissed. This is a much different look than he had on the back nine on Sunday at The Masters.
Here's another question for the day. If Tiger never regains his previous form, which American will step up to fill the void? I don't think it's Steve Stricker (at least when talking about the long-term). I definitely don't think its Phil Mickelson.
Where was Dustin Johnson this week? Or Gary Woodland? Or Rickie Fowler? Our guys have to step up.
Looking at this leaderboard filled with Europeans is a bit sad for the U.S. Open.
—Matt Krummel
I loved Jacobsen's comment about the "second flight championship."
I was thinking that all day. If I were one of the other guys on the leaderboard, I would totally forget about Rory and fight like hell to get into second. At least it would keep them motivated on the back nine.
—Matt Krummel
This is a great performance from Rory, but no way is it as impressive as Tiger at Pebble Beach in 2000.
He won by 15 shots under incredibly difficult (read: normal for a U.S. Open) conditions. No one else broke par. Not even close.
He'll break all the scoring records today, but for me there will be an asterisk next to each.
I know many will disagree with me, but that's my two cents.
—Matt Krummel
...And just as it hit submit on that last post, Rory almost just hit a hole-in-one at No. 10.
Ok. Well I guess that answers my concern.
—Matt Krummel
I love Jason Day's game. After his strong showing at Augusta this year, I really believe he is poised to become a fixture in the top-10 in the world rankings for years to come.
He has a great swing, great putting stroke and obviously plays well in big tournaments.
Meanwhile, McIlroy continues to enjoy his victory lap. As long as he doesn't dunk a couple in the water at No. 10 this tournament is over.
—Matt Krummel
The people I don't envy today are the NBC broadcasters. Those guys are going to be struggling all day to come up with story lines to fill air time.
I mean, how many times can you talk about how much Rory McIlroy is torching the field?
—Matt Krummel
Watching this tournament today is really frustrating. Why didn't they set the course up harder?
The tees are up on several holes and the pins aren't tucked. I know if rained, but this is like a regular tour event. I love the U.S. Open because it's supposed to be the toughest test in golf.
The USGA really dropped the ball this year.
—Matt Krummel
Ok, so it looks like Rory has it on cruise control early on. Let's turn our attention to the race for second place.
Who has the inside track?
Steve Stricker is burning up the course, but is already on the back nine. Lee Westwood and Jason Day both look like they are stuck in neutral. My pick (for now) is Y.E. Yang. I think he'll be able to feed off Rory a bit and ride that wave to second.
What are your thoughts?
—Matt Krummel
Well that's a pretty good way to start for Rory. A birdie at the first puts even more distance between him and the field.
The lead is now nine shots.
This could be a long day for those chasing him. The real battle here will likely be for second place.
—Matt Krummel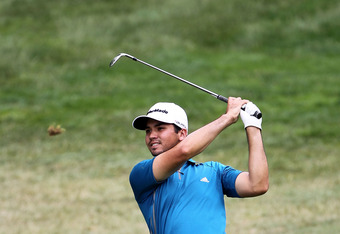 Happy to see Steve Stricker making an early run. He's up to -4 through eight holes today, which puts him in a tie for sixth place.
I know he isn't flashy, but Sticker is the top-ranked American player in the worth for a reason. I hope he starts getting his due.
The lead groups are finally teeing off now. Guys like Westwood, Yang and Day have to come out blazing fast to have any kind of chance today.
It might take a Johnny Miller-esqe final round for anyone to pull this off, but I think 62 or 63 is doable on this course today.
—Matt Krummel
...And we're off.
Am I the only one that hates how late the leaders tee off today?
Watching these guys chug along at even par when the leader is 14 shots ahead is like going to a concert and having to sit through an hour of the opening band's set.
Here's a question for you all. If the unthinkable happens and Rory somehow loses this tournament, is that career crippling?
Post your answers in the comments section.
—Matt Krummel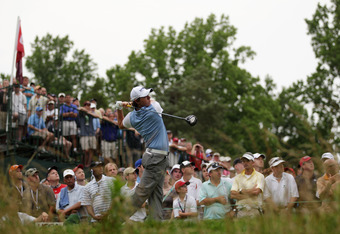 Thanks for reading Bleach Report's live coverage of the 2011 U.S. Open.
My name is John Burke and I had a great time live blogging all the action. We saw some great golf today.
Tomorrow, Matt Krummel will take over the reins.
Have a good night and be sure to tune in tomorrow!
—John Burke
This article is
What is the duplicate article?
Why is this article offensive?
Where is this article plagiarized from?
Why is this article poorly edited?