UFC 131: Power Ranking MMA's Top 10 Heavyweights Before the Card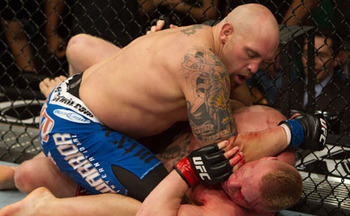 At this point, every MMA fan knows that UFC 131 will be hosting an epic heavyweight showdown between Shane Carwin and Junior dos Santos.
This is a title eliminator bout, with the winner expected to take on UFC heavyweight champion Cain Velasquez before the end of the year when the belt is on the line.
The next two weeks are going to be critical towards deciding who is truly elite an elite heavyweight in MMA, since Strikeforce heavyweight title hold Alistair Overeem takes on Fabricio Werdum in a Strikeforce Grand Prix quarterfinals fight.
On that same card, Josh Barnett can also prove if he is still a legitimate threat in the division when he takes on Brett Rogers….assuming Barnett gets licensed by the Texas athletic commission.
Additionally, since Brock Lesnar will be on the shelf until at least 2012 due to a second bout of diverticulitis, it only seemed fair to leave him out of the current rankings.
With that in mind, let's take a look at who currently makes the cut for MMA's top 10 in the 265 pound weight class.
10. Antonio Rodrigo Nogueira (32-6-1-(1))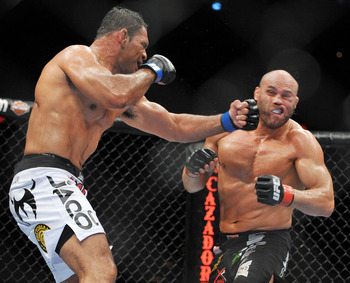 Jon Kopaloff/Getty Images
The legendary Brazilian Jiu-Jitsu ace made his debut in the sport back in June of 1999, and wants to prove he is still among the heavyweight elite.
Nogueira was happy to be added to the UFC 134 card, hosted in Rio de Janeiro, Brazil, to take on up-and-comer Brendan Schaub.
Over the course of his career, "Minotauro" has defeated fellow legends in Dan Henderson, Mark Coleman, and Randy Couture in definitive fashion.
He also holds quality wins over Fabricio Werdum and Josh Barnett, although the former beat Nogueira in a prior encounter.
In his most recent fight at UFC 110, Minotauro looked completely outclassed by Cain Velasquez, getting knocked out just 2:20 into the first round.
It is hard to imagine the former Pride and UFC Interim heavyweight champion wearing gold again, but he is certainly still a tough test for a number of contenders in the division at 35 years old.
9. Josh Barnett (29-5)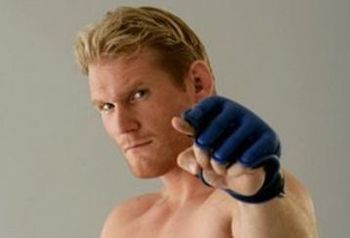 "The Baby-Faced Assassin" is easily one the top five most hated fighters in MMA: but that does not take away how talented the submission specialist is.
In 29 wins, Barnett has made 17 of his opponents tap out. Despite being a regular practitioner of catch wrestling, Barnett has still received an honorary black belt in Brazilian Jiu-Jitsu due to his superior grappling prowess.
Barnett's stock could be sky high right now if it weren't for his three failed drug tests over the course of his career.
Three failed drug tests is unheard of in the realm of any sport, so the fact that Barnett is still able to live out his dream in the cage is really nothing short of a miracle.
A former UFC heavyweight champion, (although the reign was tainted due to Barnett's first failed drug test) looks to prove his worth on June 18 with a convincing victory over Brett Rogers.
8. Frank Mir (15-5)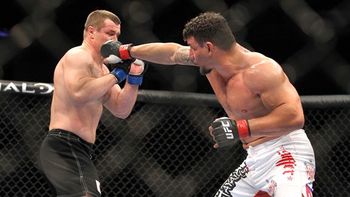 Few fighters have had a career as tumultuous as Frank Mir has. Winning the UFC heavyweight title at just 25 years old seemed to indicate that the sky was the limit for the Southpaw grappler.
Unfortunately, a horrific motorcycle accident in September of 2004 led to about a year and a half recovery period for Mir.
He struggled to make his return to the top, losing to the unimpressive Marcio Cruz and Brandon Vera in 2006.
More recently, Mir has won three of his past four bouts, defeating gatekeepers of the division in Cheick Kongo, Mirko "Cro Cop" Filipovic, and Roy Nelson.
While he was easily knocked out by Shane Carwin during the same span, Mir showed flashes that he could be back to form after a dominant victory against Nelson at UFC 130.
Mir has indicated that he still has aspirations to wear the heavyweight title, as well as looking forward to a rubber match with Brock Lesnar should he be able to make a healthy, victorious return to the Octagon prior to facing Mir later on in 2012.
7. Fedor Emilianenko (31-3(1))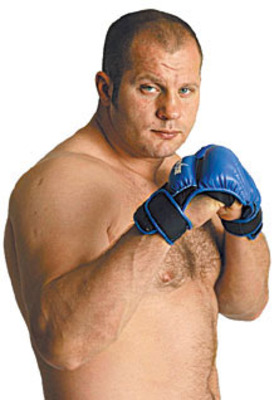 "The Last Emperor" has been a staple in the heavyweight division ever since the early 2000s, and was in the pound-for-pound best fighter discussion for years as well.
The Russian Sambo expert could be on his last legs at 34 years old, after losing consecutive fights against Fabricio Werdum and Antonio "Bigfoot" Silva.
These were the first two legitimate losses in Fedor's career, after riding an unbelievable 27-fight win streak.
Easily the most dominant force Pride has ever seen, Emelianenko hopes to have his swan song by defeating another former Pride superstar in Dan Henderson.
Win or lose against Henderson, it is impossible to take away from what Fedor has accomplished in his illustrious 11-year fight career.
6. Alistair Overeem (34-11(1))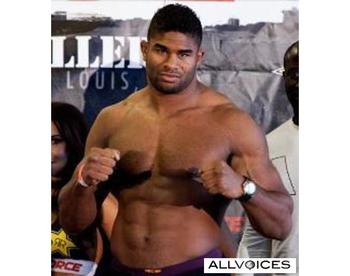 Regarded as one of the most well rounded active heavyweights in MMA, "The Demolition Man's" kickboxing and jiu-jitsu prowess make him a force to be reckoned with.
His incredible size and strength certainly do not hurt his cause either.
Overeem has won six in a row heading into his card headlining fight against Fabricio Werdum.
Werdum submitted Overeem with a kimura back in 2006, so Overeem will not only be looking to silence the criticism that he cannot beat a legit top 10 heavyweight, but he will also be out for revenge.
The reigning Strikeforce champ has made it clear he would love a fight with the UFC heavyweight champion at the conclusion of the Strikeforce Grand Prix.
Avenging a loss to Werdum could very well mean the sky is the limit for this muscle bound 265-pounder.
5. Antonio Silva (16-2)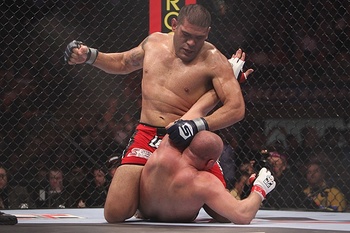 "Bigfoot" is coming off hands down the biggest win of his career, pounding Fedor Emelianenko into oblivion during the second round of their February fight.
The damage to Fedor's eye was so substantial, that the ringside doctor stopped the fight at the conclusion of the second round.
The 6'4" Brazilian, who allegedly walks around at about 290 pounds, has a tremendous jiu jitsu game, but his size and power have give him 11 of his 16 victories by way of knockout.
This dual threat has won nine of his last 10, with his sole loss coming at the hands of fellow Brazilian, and real life friend, Fabricio Werdum.
Silva will take on the winner of Overeem vs. Werdum, so regardless of who his opponent ends up being, fans can expect fireworks in that Grand Prix semifinals match up
4. Fabricio Werdum (14-4-1)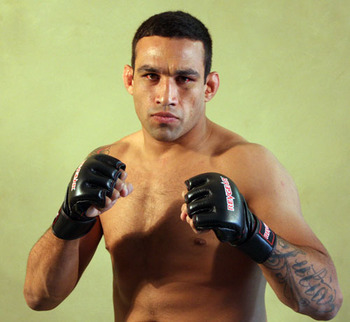 Despite the criticism of his striking, Werdum has a black belt in Muay Thai to complement his black belt in Judo and second degree black belt in Brazilian Jiu-Jitsu.
Nevertheless, it is no question that the ground game is Werdum's specialty.
Werdum is riding high after submitting Fedor Emelianenko in June of last year; which was his second high profile win in a row after defeating the highly touted Antonio Silva in the bout prior.
His winning effort against "The Last Emperor" earned him the Sherdog 2010 Upset of the Year, as well as the MMA Awards 2010 submission of the year.
"Vai Cavalo" (which means go horse, as in non-stop cardio) is 5-1 since 2008, suffering an embarrassing knockout to Junior dos Santos in "Cignano's" UFC debut in October of '08.
Werdum will try and prove that he is worthy of elite heavyweight status when he takes on a much bigger and strong Alistair Overeem in a rematch from 2006.
3. Shane Carwin (12-1)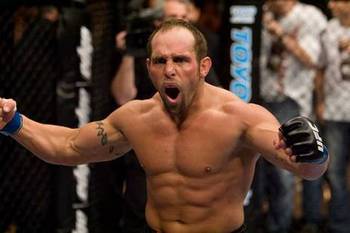 Carwin began his MMA career, going a rarely seen 12-0 before getting a UFC heavyweight title shot against Brock Lesnar.
It looked like Carwin had Lesnar right where he wanted him, but Lesnar's heart, coupled with Carwin's abysmal cardio, allowed Brock to come back and score the submission victory.
Since then, Carwin has taken nearly a year off to surgically repair some nagging injuries in his neck and back.
He has also cut around 20 to 25 pounds to finally improve the area he was lacking the most: cardiovascular fitness.
Considering all of Carwin's 12 wins came by a first round finish, it is almost understandable how poor his gas tank was.
Carwin has a chance to get a second shot at the heavyweight championship if he defeats Junior dos Santos at the main event of UFC 131.
2. Junior Dos Santos (12-1)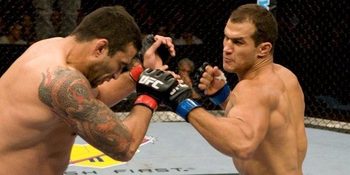 The man who coached opposite Brock Lesnar on season 13 of "The Ultimate Fighter" is ready to prove that he is long overdue for a title shot in the UFC.
Junior is 6-0 in MMA's premiere organization, and has been waiting to take on Cain Velasquez for months.
The champion's torn rotator cuff has had him on the shelf since winning the gold from Brock Lesnar in October, and has now given dos Santos a tough test in Shane Carwin.
If Cignano can get through Carwin, in an intriguing bout between two power punchers, many fans and analysts alike feel that dos Santos can give Velasquez a serious run for his money with his tremendous heart and great boxing skills.
1. Cain Velasquez (9-0)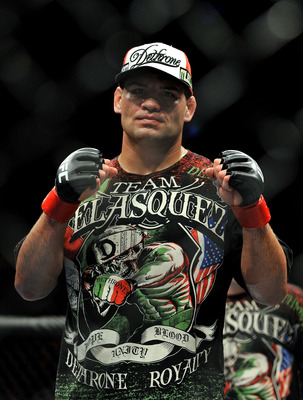 Jon Kopaloff/Getty Images
The undefeated current UFC heavyweight champion is a triple threat in the cage, a big reason while he is yet to face a real challenge in his MMA career.
Despite a wrestling background, compiling an impressive 86-17 record with the Arizona State Sun Devils, Velasquez's boxing acumen is no joke: eight of his nine victories have been by knockout.
Although he has not had to use his ground game much at this point in his career, Velasquez is also a brown belt in Brazilian Jiu-Jitsu.
At least a bit surprisingly, Cheick Kongo is the only man who has went the distance with Velasquez.
Coming off of back to back wins over Minotauro Nogueira and Brock Lesnar, Velasquez looks to be back and better than ever when he defends his belt against the winner of Shane Carwin and Junior dos Santos.
Keep Reading