San Francisco 49ers: 4 Players on the Trading Block Who Could Be of Interest
May 24, 2011
Ezra Shaw/Getty Images
It's been so long since anyone in the NFL has been able to even start talking about trades, free agency or, you know, actual football, it's actually hard to remember who might be available and who isn't.
Forget trying to parse what anyone is worth. Let's be honest. Until a new CBA is signed, everything is speculative at best.
But hey, that's where we get to have a little fun. Like when you were a kid and debated "What if Batman teamed up with Captain America?" (It's happened multiple times actually.) Or when you fire up the old XBox 360 and start trading random players on Madden until you have Uber Team.
As long as they're all holding the season hostage, what's to stop us from kicking around thoughts on who our local teams should be targeting?
The San Francisco 49ers have a pretty solid base, but plenty of room to continue to build.
A few notes before we start, though. There are some positions I don't think the team will/should target for trades. For example, cornerback. Aside from soon-to-be-ex-Raider Nnamdi Asomugha (whom I really don't expect to see the 49ers bid on), there are plenty of free agents worth looking at, even if it's a short-term answer.
Carlos Rogers, Antonio Cromartie and Ike Taylor are all about to become free agents. I'm not sure how much I love the fit of some of those players, but why spend a future draft pick when you can sign a player?
Secondly, I'm not going to try and guess what a team might want for a player. In some cases, we have a good idea. However, if there's no read in the press, there's no point in guessing. Team to team, priorities and values shift too much.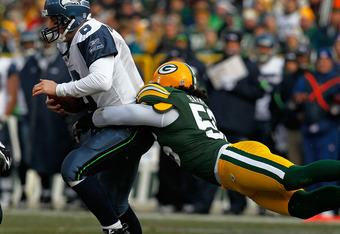 Jonathan Daniel/Getty Images
Finally, if the Niners make absolutely no trades at all, it's not a crisis. This is just speculation and in no way are any of these things about to make or break the 2011 season.
With all that out of the way, let's take a look at four players I think are worth a look.
Nick Barnett, ILB, Green Bay Packers
If the team does one trade once the season gets moving, this should be it. After Patrick Willis there is a significant drop-off at inside linebacker. Meanwhile, Green Bay has a logjam at ILB and having just signed AJ Hawk to a long-term deal, will very likely look to deal Barnett. Barnett still has two years left on his contract and is scheduled to make $6.9 million in 2011 and $7.4 million in 2012. That's a lot of money for their third ILB.
The downside with Barnett is pretty obvious—he's had two serious injuries in his last three years. It's clear that to some extent, age has caught up with him. Add to that the aforementioned significant contract and there is clearly significant risk.
On the other hand, if he can stay healthy, Barnett can be a force in the middle. While nowhere near as good as Willis, Barnett can still compile good stats and across from Willis, would likely have one of his better seasons.
I wouldn't advocate coughing up high draft picks for him, but there's a good chance Green Bay will be happy to get anything for Barnett and free up cap space and roster room for a younger player at another spot.
Christian Petersen/Getty Images
Kyle Orton, QB, Denver Broncos
I know about half the readers of this article rolled their eyes at this one. Not because they dislike Orton but because they still believe in Alex Smith (assuming he signs with the team, which he is expected to).
I'm saying the two aren't mutually exclusive.
Best case scenario is either Smith has a career resurgence or can hang on long enough to make sure rookie Colin Kaepernick has time to get his game up to snuff.
We've seen Smith stumble before though and it's not like the deck is stacked in his favor as he sees yet another offensive coordinator and head coach. On top of it, the team will be installing a new offense on a truncated schedule because even if the Heavens part and miraculously there is a CBA tomorrow, you're still looking at a truncated offseason, which will hurt the team.
The NFC West is once again wide open. The Seahawks aren't significantly better and the Cardinals remain unsure who the heck is throwing the ball for them (rumors say Kolb, but we'll talk about that shortly).
Only the Rams are really a threat, assuming Sam Bradford keeps developing as he did last year. The 49ers have as good a chance as any to end up winning this division.
As it stands, if Alex Smith fails you have a raw rookie and David Carr, the human sack machine. Remember, Carr is the guy who was leapfrogged by both Troy Smith and Alex Smith last year. I don't know about you, but I'm not feeling great about that.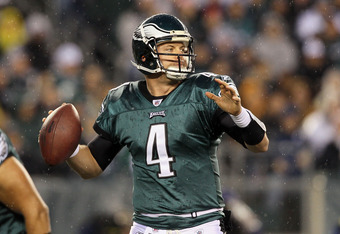 Jim McIsaac/Getty Images
Kyle Orton is who he is. He's not going to be a franchise saving quarterback, but he throws the ball well and doesn't make a ton of mistakes. While he's not often going to bring you back from a big deficit, he's not going to make mistakes that will kill the game.
Orton would be a good fit, but the problem will be price. Denver thinks—and is probably correct—that in this quarterback desperate market, they can get at least a second rounder. I think that's steep for Orton.
If the Niners can work out a better deal, I think having him in the mix would assure the team is in the hunt come December.
Kevin Kolb, QB, Philadelphia Eagles
I said I'd get back to the Kolb/Arizona rumors and here we are. All signs point to this being a pretty locked up deal but until it actually happens we're all just speculating.
Like with Orton, there is a fairly good chance the price on Kolb will be too high. However, I believe it's worth a look.
In his various times as starter, Kolb alternately looked very good and very erratic. I don't hold losing his job to Mike Vick against him when Vick was having a tremendous season. I've also heard enough to believe that Andy Reid might not have been sold on Kolb from the beginning of the season and might not have been willing to give him a full shot.
Under Coach Jim Harbaugh, Kolb would have time to develop into solid passer and be good insurance for both Smith and Kaepernick. He'd be more reliable than the rookie if Smith went down to injury and could possible step in down the road if Smith fails to take a significant step forward.
His erratic games give me some pause, as would the rumored price tag of a first rounder. I would envision Kolb as a backup to start, someone who might step up as a future franchise quarterback.
That makes the asking price a bit steep. Still, something I believe the team should look into, just in case.
Steve Smith, QR, Carolina Panthers
There is no way to put this politely—Smith's 2010 was atrocious. Part of that was injury, part of that was his quarterback and part of it was age.
He still has something left in the tank, though, while the 49ers lack much in the way of very good wide receivers. This could be a very good match.
Both Michael Crabtree and Josh Morgan have had their moments but neither of them has consistently produced big numbers yet. Behind them, it's even less reliable.
While Smith is definitely in the twilight of his career, he has more than enough in the tank for a few more good season. He still can go after the ball aggressively with the best of them and while his speed isn't mind-numbing, he still gets a step off the line.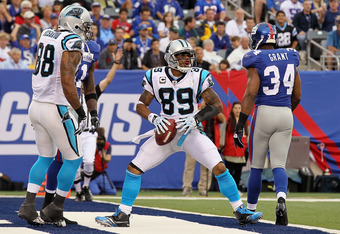 Jim McIsaac/Getty Images
He hasn't played with a solid option in some time and between Crabtree and tight end Vernon Davis, Smith would finally find himself with some room to work as the secondary couldn't cover all three.
Adding a receiver of his caliber would also help Alex Smith have a better chance of turning his career around. If Kaepernick had to step in, having a veteran presence like Smith would make a huge difference.
Smith is ready to move on and the Panthers need picks for their rebuilding effort. It's likely the 49ers could get him at a fair price. He'd be able to give them a very good offensive weapon as well as improve the situation for the players around him.