WWE Over the Limit: What's On the Line for the Participants of Each Match?
WWE's Over the Limit, a PPV that will occur tomorrow night with matches that have had only three weeks of buildup, is currently being overshadowed by the death of the "Macho Man" Randy Savage, and for good reason, as the current match card doesn't really feel interesting, although there are a few matches that could make for good bouts.
The PPV seems to have the makings of at least a decent PPV, but even if it doesn't make up at least a 5-star PPV, there is still a lot on the line for the participants in each match.
Whether the superstars will use what's at stake for them to their advantage or not is still unknown, we at least know that everyone will be wanting to come out victorious at the end of the night and that they all have some odds against them.
They will at least put something on the line whether it's physically or mentally.
Here's a look at what's on the line for each of the participants in each match.
WWE Championship: John Cena (c) vs The Miz in an "I Quit" Match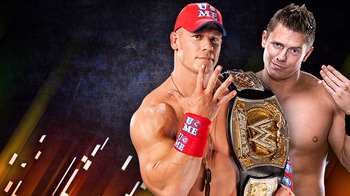 John Cena vs the Miz for the WWE Championship.
After weeks of buildup, this rivalry seems to be coming to a conclusion as these two men will face off in an "I Quit" match.
The WWE Championship is on the line but besides that, there are also more things on the line than just the belt.
John Cena:
For John Cena, he has to put the WWE Championship on the line. He has to put the belt that he just won at the last PPV less than a month ago on the line against a hungry contender and former champion, the Miz.
Not only is his belt on the line but his pride and promise are also on the line. John Cena is a man who's pride is made up of keeping his promises to the fans and at the Rock's birthday celebration, he promised that he would keep the belt for his confrontation against the Rock at Wrestlemania 28.
Knowing John Cena, his "Superman" gimmick will prevent him from losing the belt to the Miz but anything can happen in the world of the WWE, especially if the Miz also has things to lose.
The Miz:
When the Miz lost his WWE Championship, he's been willing to do whatever it takes to get it back. He even won it back at some point but the referee decide to get "smart" and for the first time ever, noticed that a weapon was used by a heel to win a match right when he wasn't looking.
Congratulations ref, but the Miz still got a rematch and he won't be able to be "screwed" this time.
The Miz has nothing materialistic on the line but he does have a few things that are on the line for this match.
The Miz will be putting his mouth on the line as he's basically talked and talked about how he deserves to be champion and how he's going to make John Cena say the words "I Quit" in front of the millions or in this PPV's case, thousands of people watching the show at home or live.
His mouth will also be on the line because it'll be what could cost him the victory as he utters the words "I Quit" in front of the people that he said were going to be spectators of John Cena finally 'giving up'.
The Miz will also put his role on the line because right now, he's the heir to the throne of superstardom in the WWE but to further prove the fact, he needs a championship and if he loses this match, he'll have no title to backup his claims of being the next "top dog."
Jerry "The King" Lawler vs Michael Cole: "Kiss My Foot" Match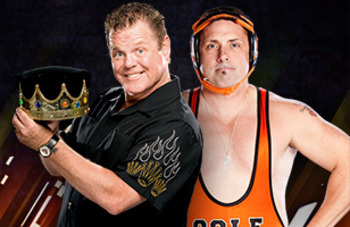 Jerry Lawler vs Michael Cole in a "Kiss My Foot" match is a match that I really hope is over with already. Scratch that, I hope this whole rivalry is over with already.
It's provided less than entertaining television and really wastes precious air time that could be used to showcase the talents of underused stars such as Drew McIntyre and the like.
Anyways, this match has a few things on the line, not that it matters.
Jerry Lawler:
Jerry Lawler is the man in this match who has the most to lose.
He has put his Hall of Fame ring on the line just so he could get a match against Michael Cole. The Hall of Fame ring means a lot to anyone, it means that you are a Legend, not just a Legend but a part of the company itself. If Lawler loses it, his whole career could basically be lost.
Lawler is also putting his pride on the line. Why is he putting it on the line? Well, because if he loses, he'll have to kiss Cole's hideous and possibly infectious foot. Now that's a reason worth defending your pride for, because let's face it, who would like to kiss that?
Michael Cole:
Michael Cole is the one in this match who has nothing to lose and everything to gain.
He is only putting his so-called "undefeated streak" on the line. Aside from that, he has nothing to lose. Not even humiliation will humiliate this man, because he's done enough of that by himself.
This match is basically a costly match for Jerry Lawler but not for Michael Cole.
Intercontinental Championship: Wade Barrett(c) vs Ezekiel Jackson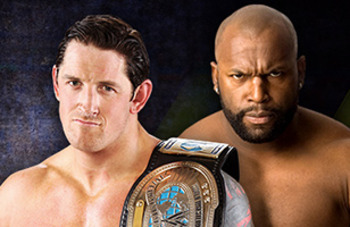 Wade Barrett vs Ezekiel Jackson for the Intercontinental Championship.
A match involving a member of "The Corre" and a former member of that same faction.
After much tension occurred between all four members of the Corre, Ezekiel Jackson was the one who had had enough and left the group to embark on a journey of his own.
Barrett, along with the other members of the Corre, would not just put up with this. They decided to show Jackson that it was a bad move on his part and beat him up to make a statement that the Corre was still intact and possibly better without him.
This match is one of the few on the card that has something on the line for both contestants.
Wade Barrett:
Wade Barrett is putting his Intercontinental Championship on the line. It is a title that he has held for a few months now and is willing to defend it successfully at Over the Limit.
Wade Barrett is also putting The Corre on the line because this match can either prove that The Corre can survive without the services of Ezekiel Jackson or it can show that The Corre needs Ezekiel Jackson to have any credibility.
Ezekiel Jackson:
Ezekiel Jackson on the other hand, is putting his status and push on the line as this could mark the beginning of a push or it can stall and possibly drop his push altogether.
This match and the outcome can mark the beginning of a new chapter in the 'Book of Ezekiel' or it could mark the end of a beginning push.
Credibility is what can define this match as Wade Barrett is basically fighting for the credibility of the Corre and for his credibility as a champion, while Ezekiel Jackson is fighting for his credibility as a singles star who can venture out on his own and still be successful.
R-Truth vs Rey Mysterio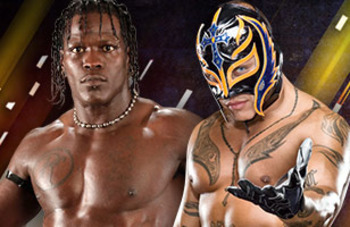 R-Truth vs Rey Mysterio, a match made due to unwelcome circumstances.
Rey Mysterio was supposed to be involved in a feud with Alberto Del Rio, while R-Truth was supposed to be involved with John Morrison, but with an injury to John Morrison came altered plans.
Alberto Del Rio is nowhere in sight for this PPV, while Truth and Mysterio are booked to face each other one-on-one.
This match doesn't really have much on the line but it does have a few things.
Rey Mysterio:
Rey Mysterio doesn't have anything to lose....at all.
At this stage in his career, Rey is a veteran who won't lose credibility as he helps put talent over.
R-Truth:
R-Truth on the other hand, is a heel that is still on the rise. Although he's up there in age, his push is on the line.
A win over Rey Mysterio, who is a top face, can help establish R-Truth as one of RAW's top heels. Otherwise, R-Truth will lose all of his credibility that he has built over the past few weeks.
This match is basically a match where one person will benefit more than the other.
Tag Team Championships: Kane(c) & the Big Show(c) vs CM Punk and Mason Ryan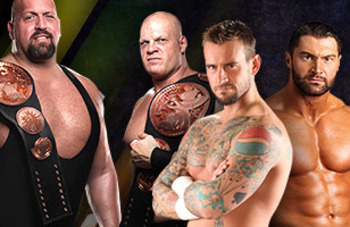 Kane and Big Show vs CM Punk and Mason Ryan for the Tag Team Championships.
This match is similar to the Truth/Mysterio match, whereas one side has more to gain from a win than the other side.
Kane and Big Show:
The tag team champions are putting their WWE Tag Team Championships on the line and that's it. Aside from possibly losing the belts, they have nothing else to lose.
CM Punk and Mason Ryan:
Punk and Mason Ryan on the other hand are putting their Nexus bond on the line as tension has been teased where Ryan may feel superior to the others, a case similar to what happened between Ezekiel Jackson and The Corre.
This match can help show whether the Nexus are still one or if they are done.
Divas Championship: Brie Bella (c) vs Kelly Kelly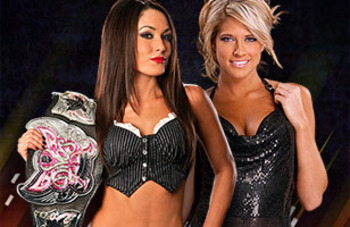 Brie Bella vs Kelly Kelly for the Divas Championship.
Recently announced, this match was made because Kelly seems to be the deserving contender.
There is not much on the line here as is typical of a Divas match due to the way that the WWE treats them.
Brie Bella:
Brie is putting her Divas Championship on the line and is also putting her legitimacy on the line as well because she is going to prove that she is a worthy Diva to be the bearer of the Divas championship.
Kelly Kelly:
Kelly Kelly doesn't really have anything to lose except for her No. 1 contender spot and possibly her status as one of the current top face Divas.
Kelly Kelly has been in a sort of push as of late, and a victory here will only add further proof to that fact.
Sin Cara vs Chavo Guerrero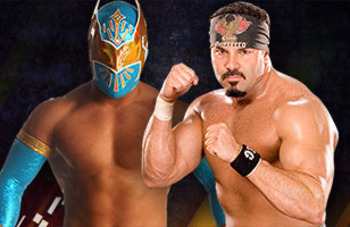 Sin Cara vs Chavo Guerrero, a match of Hispanics.
This match came to fruition after Sin Cara was drafted to Smackdown and Chavo gave praise to Cara, but in a way that made it sound as if Cara admired him.
Cara and Guerrero will now have a match but what is on the line for them?
Sin Cara:
Sin Cara has been put on Smackdown for a reason. Since Smackdown is taped, there is no way he can botch as much as on live TV. But even if he doesn't botch, he's still not used to wrestling the WWE style and that's where Chavo comes in.
Chavo already knows how to wrestle against the lucha style and that can only help Sin Cara for the future.
Sin Cara only has his push to lose. If he loses, it will show that the WWE aren't high on the guy but if he winds, it'll further cement the rumors that he's going to be the next Rey Mysterio.
Chavo Guerrero:
Chavo has been pushed really, really far down the food chain ever since he kept losing to Hornswoggle. He now has a chance to rebuild his career and credibility with this match.
If he loses, he's got nothing to lose except for his current spot on the roster and TV time. If he loses, we may get to see less of Chavo on TV or possibly no more Chavo on TV at all.
A win could really help Chavo more than Cara, but since Chavo's time has passed, we all know that Cara will win as his time is just coming.
World Heavyweight Championship: Randy Orton (c) vs Christian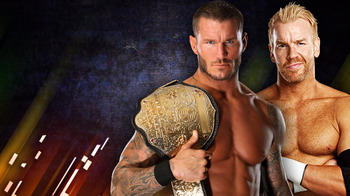 Christian vs Randy Orton for the World Heavyweight Championship.
This is the match that can define putting it all on the line as Christian looks to prove himself as a legitimate main eventer who deserved more than just a two-day reign or in WWE terms, five days, while Orton looks to keep his status as Smackdown's top face and champion.
Randy Orton:
Randy Orton, the man who ruined Christian's dream and lifelong achievement, will be putting his World Heavyweight Championship on the line.
He is not just putting the championship on the line but his spot as Smackdown's top face as well. The bearer of the main championship of the show is usually the top star and if Christian wins, he'll be known and recognized as Smackdown's top star, a role that his former friend Edge left vacated due to a sudden retirement from professional wrestling.
Christian:
Walking into this PPV, Christian is the superstar who is putting the most on the line.
Christian is not only putting his number one contendership on the line as it's do-or-die time for him but he is also putting his redemption, friendship, and career on the line as well.
Christian's friendship is not really on the line but it partly is because Christian was given the belt in honor of Edge and he lost it in a matter of days. The belt was a symbol to his long-lasting friendship with Edge and now that it's gone from his waist, that part that completes their journey together is now gone.
Christian also looks to redeem himself as he looks to prove to Mr. McMahon, the man that is rumored to hold a grudge against him, why it was a bad choice to make him lose his championship and why he should regret making him lose the championship and a possible spot as the face of the blue brand.
Christian also looks to redeem his reign by proving to Randy Orton that he did not deserve to lose the title. He wants to prove that he deserves to hold that belt, not just for his friend, but for himself as well.
Christian's career is symbolically on the line as he wants to show that he deserves a longer reign and that he needs the belt to show that his whole career of putting his body on the line for the fans and the business wasn't done for nothing.
He needs to win to show that his whole career was all about making it in the business and fulfilling his childhood dream. But will he win?
There is hope as I stated in an earlier article, but will this hope coincide with the Over the Limit PPV as Christian could become champion or will the Viper prevail once again while crushing Christian's chances of another and more fulfilling 'Cinderella" moment?
Over the Limit: Is Everything on the Line Worth It?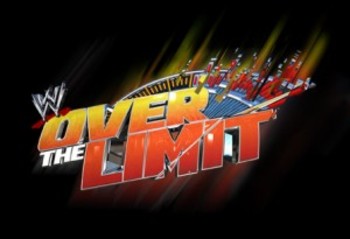 Going through every match, it's easy to realize that many of the superstars involved in them has at least one thing on the line, but will it be enough to drive them to a victory?
Will the superstars rely on what they're risking to try to emerge victorious once it's all said and done?
Will the stars shine for the stars who are risking more or will they shine for the stars who have less to lose?
WWE's Over the Limit will answer these questions because as the show closes, we will find out if the stars who have more to lose will have used that handicap as an inspiration to win their match, but for now, we can only sit and wait until Over the Limit is done.
Keep Reading