Ten Storylines to Watch for in the NASCAR Sprint All-Star Race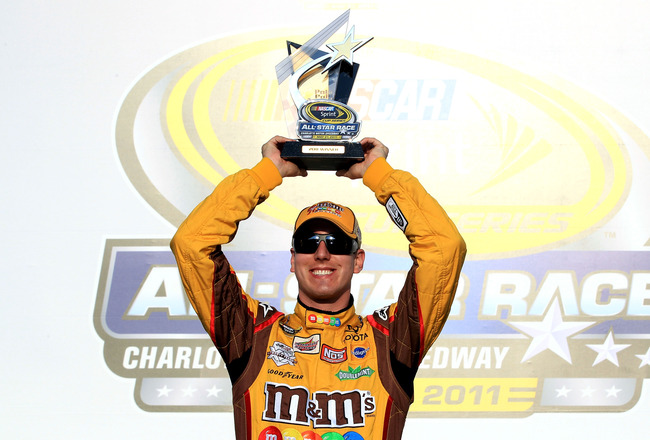 Kyle Busch starts from the pole for tonight's NASCAR Sprint All-Star Race
Streeter Lecka/Getty Images
Unlike its stick-and-ball counterparts, the NASCAR Sprint All-Star race brings out the most in its competitors.
The NFL Pro Bowl, NBA All-Star game, and MLB All-Star Game are, for the most part, glorified exhibitions in which the participants use it as a vacation and the No. 1 concern is "don't get hurt."
Not in NASCAR.
Throw $1 million on the table and the fireworks will start at the drop of the green flag.
Between those fireworks, here are 10 things to watch for in tonight's NASCAR Sprint All-Star Race.
10: Joe Gibbs Engine Woes Continue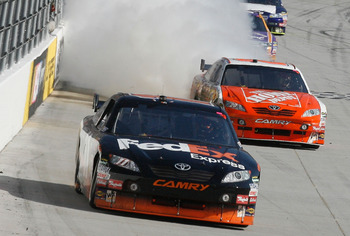 Engine woes have been an issue in 2011 for Joe Gibbs Racing
Geoff Burke/Getty Images
Joe Gibbs Racing announced Friday that Joey Logano would be moving to the rear of the field for tonight's Sprint Showdown qualifier due to an engine change.
This was not comforting news for the rest of the Gibbs racing stable. Especially for Sprint All-Star race pole-sitter Kyle Busch, who has a history of engine troubles in the event.
9: Good Practice for Next Week's Coca-Cola 600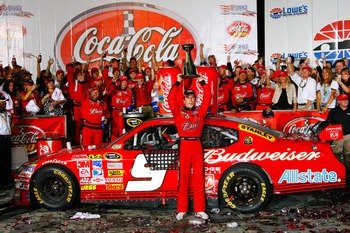 Kasey Kahne celebrates his 2008 Coca-Cola 600 win
John Harrelson/Getty Images
Two of the last three All-Star race winners—Kurt Busch in 2010 and Kasey Kahne in 2008—have followed up with wins in the following week's Coca-Cola 600.
Needless to say, every team and driver will be compiling notes from tonight's Sprint All-Star race in anticipation of returning to Charlotte Motor Speedway next Sunday.
8: Will Joey Logano's 2011 Struggles Continue?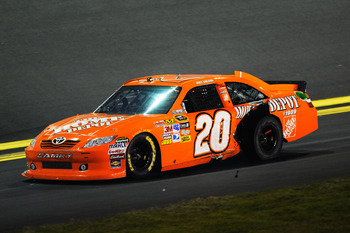 2011 has been a brutal season for Joey Logano and the #20 Home Depot team
John Harrelson/Getty Images
For the driver often called "Sliced Bread," 2011 has been more like burnt toast.
Logano ended 2010 with five top ten finishes in the last six races. But 11 races into 2011, Logano has only one top ten finish, has led just two laps, and has an average finish of 22.5.
The 20-year-old needs a good finish to turn his season around. Unfortunately, he will start from the back after an engine change on Friday.
7: Richard Petty Motorsports Surging with A.J. Allmendinger and Marcos Ambrose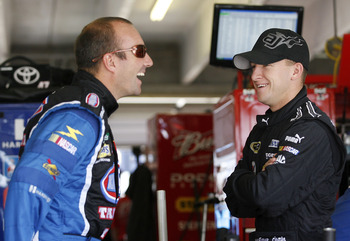 2011 has been all smiles for the RPM duo of Ambrose and Allmendinger
Geoff Burke/Getty Images
What a difference a year makes.
Last year was quite tumultuous at Richard Petty Motorsports. There were rumors of shutting the team down, bankruptcy, and repossessed cars.
Add that to the losses of top driver Kasey Kahne and top sponsor Budweiser and it's quite the accomplishment for there to even be a RPM in 2011.
But the team has made the most of their opportunities this season. Marcos Ambrose and A.J. Allmendinger have run well so far, averaging finishes of 18.4 and 17.5 respectively—both career highs.
It would surprise very few if one of these drivers won the Sprint Showdown tonight to advance to the main event.
6: Stewart-Haas Looking to Rebound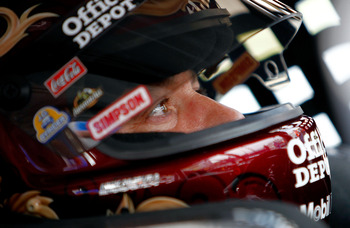 The 2009 All-Star winner would really use another win tonight
Jeff Zelevansky/Getty Images
Two years ago, Tony Stewart won the All-Star race to grab Stewart-Haas Racing's first win.
The 40-year-old would love nothing more to do that again tonight after what has been a rough start to 2011 for him and teammate Ryan Newman.
One just needs to look back to last week's 29th-place finish to realize that things are not the best right now at SHR. Stewart was bad when he unloaded at Dover, and it never got any better.
But there would be one million reasons to forget about the slow start to 2011 if he or Newman could pull out a win tonight.
5: Kasey Kahne Making the Most of His Year at Red Bull Racing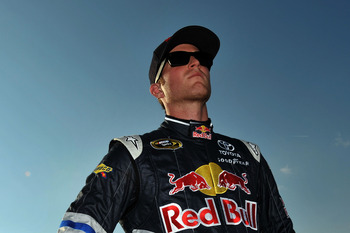 Kasey Kahne's year at Red Bull should garner more interest from 2012 free agents
Drew Hallowell/Getty Images
When Kasey Kahne announced he was headed to Red Bull for just the 2011 season before moving to Hendrick Motorsports in 2012, many doubted he could have success in such a short time.
But with five top tens and several other good runs derailed by wrecks not of his making, there is no reason to believe that Kahne isn't making the most out of his unique situation.
And remember, he's a past winner of this race in 2008.
4: Kurt Busch and Penske Racing Continue to Struggle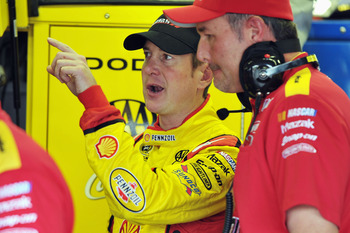 Kurt Busch has been extremely outspoken of displeasure with Penske Racing this season
Drew Hallowell/Getty Images
Don't expect to see the defending race winner in Victory Lane tonight.
Kurt Busch sits in the top ten in points, but the past seven races have been far from top-ten runs for him. After starting the season with four top tens, Busch has found himself complaining about the car more than driving the car.
With no holds barred and no points on the line tonight, if things get testy, expect the elder Busch brother to have at it with anyone in sight—including his own team.
3: Juan Pablo Montoya Needs to Keep an Eye in the Mirror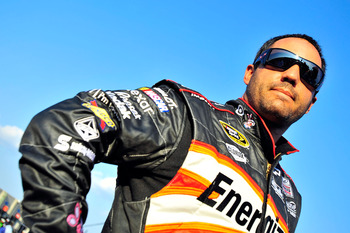 The enigmatic Colombian has made few friends in 2011
Jason Smith/Getty Images
If you surveyed the fans watching tonight and asked who is the most likely to be wrecked intentionally, Juan Pablo Montoya would likely win in a landslide.
The Colombian has made few friends so far this season, but has still run well enough to sit 15th in the Sprint Cup standings.
His well-documented spat with Ryan Newman at Richmond aside, it's been a tough few weeks after a solid start to 2011. Mechanical issues, tire woes and wrecks have dropped Montoya from Chase contention.
And on a night when many will want him taken out, a good run and no DNF would suit Montoya just fine.
2: Kyle Busch Looking for Another Win—Again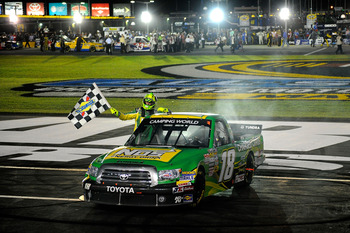 Busch won his 97th career NASCAR race Friday night. Will he add another win tonight?
Jared C. Tilton/Getty Images
The pole-sitter for tonight's All-Star race is coming off his 97th career NASCAR win.
But for Kyle Busch, that's not enough. He wants No. 98 and $1,000,000. And to do it, he will need to reverse his personal history in the event.
In five All-Star races, Busch has four DNF's. And the engine change for teammate Joey Logano doesn't inspire confidence for tonight.
But if Busch can keep his fenders clean, he is a clear favorite to bring home the checkers.
1: Will Dale Earnhardt Jr. End His Winless Streak?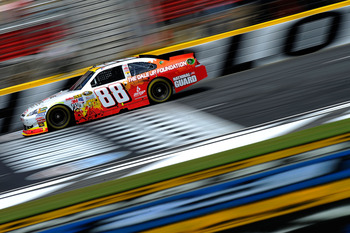 Could this be the night that the streak ends for Dale Jr.?
Jared C. Tilton/Getty Images
Our long national nightmare continues.
NASCAR's most popular driver will likely have two chances to end his winless streak tonight. If he can't win the Sprint Showdown, he is a lock to win the fan vote and advance to the All-Star race main event.
Junior Nation is growing weary. NASCAR needs Dale Earnhardt Jr. to win. And Dale Jr. needs the win too.
His 2011 season has been a great one compared to past years. But the one thing still missing is a win.
And tonight could be the night.
Keep Reading