Comical Clones: 25 Athletes That Resemble Childhood TV Characters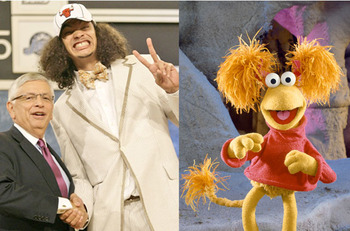 Sports does not lack for colorful characters. Players such as Brian Wilson and Chad Ochocinco are known for far more than simply their accomplishments on the field.
And that is fine and entertaining, but there is another brand of athletes out there just as entertaining, though probably completely unbeknownst to them. I'm talking, of course, about those athletes that look like characters from the shows many of us grew up watching.
And so, in honor of these unintentionally hilarious athletes, we present 25 Athletes that Resemble Childhood TV Characters. You will laugh, you will reminisce and, hopefully, you will share a few hysterical matches you can think of.
And if you do share, leave your first name along with your suggestion in the comments. If it makes me laugh, I'll match up the photos, put your suggestion in the honorable-mention section and credit you on the slide. I'm curious to see what you guys can come up with.
But for now, to the slides!
Keep Reading