NFL Draft 2011: New York Giants Settle for Marginal Nebraska CB Prince Amukamara
April 29, 2011
Chris Trotman/Getty Images
SARCASM
Disappointment.
That must be what New York Giants fans are feeling right about now. 
After all, their excitement must have taken a crushing blow with the announcement of the selection of All-American cornerback Prince Amukamara with the 19th overall pick in the 2011 NFL draft.
After a completely worthless season with zero interceptions, Amukamara was being mock-drafted by these so-called "experts" anywhere from No. 7 to No. 13 overall!  Can you imagine!
These gurus were calling Amukamara a "lockdown cornerback", whatever that means, and justifying his lack of production by bringing up the fact that he didn't get thrown at much.
Quarterbacks probably just wanted more of a challenge.
The popular pick was Amukamara to the Lions, where he would be reunited with former teammate Ndamukong Suh, who somehow got selected to the Pro Bowl despite having just 10 sacks on the season as a defensive tackle (and wouldn't you know, he didn't even play because of his injury-proneness).
Luckily for Lions fans, Detroit did the wise thing and selected the greatest defensive tackle in college football, Nick Fairley, to help pick up the D-line slack instead of picking the overrated Amukamara, who would've been instantly buried on a depth chart resembling the Mariana Trench (ie. Alphonso Smith....and many more).
Leading up to the first round, one analyst, ESPN's Todd McShay, consistently bucked the trend of rating Amukamara the No. 2 corner behind the vastly superior Patrick Peterson.
McShay then brought up the great point that Jimmy Smith was athletically superior and therefore better than Amukamara.  At 6'2", 210 lbs., Smith towers over Amukamara (6'0", 206) and smashed Amukamara's bench press total 25 to 16.
On top of that, Smith's body type is similar to Nnamdi Asomugha's, which means he will probably be as good as Asomugha some day.
Even though Amukamara ran a faster 40 and had a higher vertical jump than Smith, size and strength are the much more important attributes for the cornerback position.
Amukamara supporters might ask, "But what about Smith's off-the-field issues?"
My response is very simple: Nobody cares about that.
And despite all this overwhelming evidence, Smith still fell farther than Amukamara.  How that happened will forever be a mystery.
Anyway, let's get back to the Giants.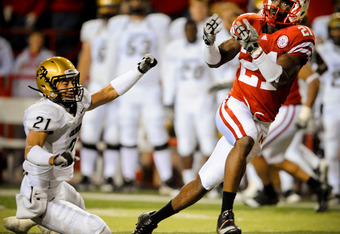 Eric Francis/Getty Images
As I said before, Amukamara had zero interceptions in 2010.  I want to heavily stress that point, because any cornerback who doesn't get interceptions cannot be regarded as an elite player. 
Those of you who are still arguing for the Nebraska product will bring up his junior season, in which he had five interceptions.
Well, there's another very simple, logical rebuttal: Prince Amukamara lost his ability to catch a football.
Any one of those 12 passes Amukamara deflected (a very low total, by the way) should've been intercepted.
So this is for you Amukamara followers, you blind, ignorant bandwagoners from Nebraska who wanted to see Amukamara team back up with your beloved Ndamukong Suh (who was never really that good, by the way; Colt McCoy is just terrible.  Anyone could start at quarterback for the Texas Longhorns and Cleveland Browns):
I hate to burst your bubble, but the Lions were not so ignorant as to draft such a marginal prospect with so high a pick. 
Congratulations to Lions fans, as well as 49ers, Cowboys, Texans and Vikings fans, whose organizations all saw the folly in drafting Amukamara despite so many NFL draft gurus mocking Amukamara to one of these franchises.
I now want to offer my official condolences to you poor, unsuspecting New York Giants fans, who now have to endure watching Amukamara embarrass himself and the Giants organization trying to defend DeSean Jackson, Santana Moss, Miles Austin and Dez Bryant (we all know what happened when Amukamara tried covering Bryant's successor at Oklahoma State).
But look on the bright side, Giants fans:  There's always next year.