Top 100 Sports Movies of All Time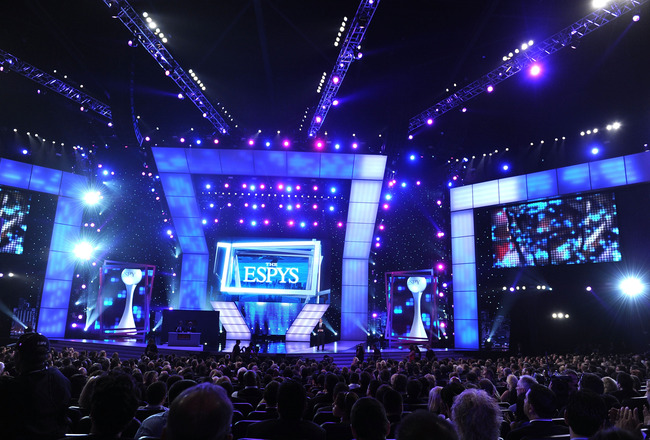 Kevin Winter/Getty Images
Yes, this list is incredibly long. But, there has never been a list as awesome as this, because no one as awesome as me has dared to rate the best movies 100 of all time. Don't worry about the length, each slide is only a few sentences long and is a quick read. Feel free to comment below stating my awesomeness.
Enjoy...
Honorable Mentions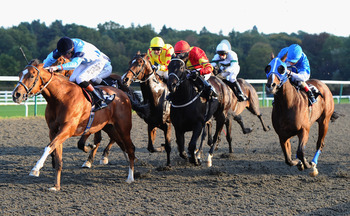 Mike Hewitt/Getty Images
Kingpin (1996)
The Program (1993)
Legendary (2010)
The Bingo Long Travelling All-Stars and Motor Kings (1976)
Tyson (2008)
The Champ (1979)
Radio (2003)
Vision Quest (1985)
Youngblood (1986)
Blue Crush (2002)
Blue Chips (1994)
All the Right Moves (1983)
Kickboxer (1989)
The Benchwarmers (2006)
Over the Top (1986)
North Dallas Forty (1979)
Girlfight (2000)
The Jackie Robinson Story (1950)
100. Dodgeball: A True Underdog Story (2004)
This movie here is one of my favorite sports comedies of all time.
A classic sports comedy mocking the world of wrestling, it shows the great tandem of Vince Vaughn and Ben Stiller.
This is a must see for all fans of comedy.
99. Space Jam (1996)
I'm not sure if there's a movie that meant more during my childhood than Space Jam.
This movie is great for all ages, and who doesn't want to see Bugs Bunny and Michael Jordan on a basketball team?
The movie also features basketball stars Larry Bird, Charles Barkley and Patrick Ewing.
98. Above the Rim (1994)
This 1994 film about an upcoming high school basketball star in New York is sure to entertain.
Tupac Shakur stars in "Above the Rim" as his relationships with his two brothers, one who is a drug dealer and the other a former basketball star who has fallen on hard times.
This movie is a classic.
97. Rookie of the Year (1993)
Here is another great movie for all age groups.
The story is of a boy who breaks his arm, and with a little magic makes his way into a position with the Chicago Cubs baseball team.
While it tends to verge on corny at points, it still reminds us of our dreams of making it to the big league.
96. Heaven Can Wait (1978)
The Los Angeles Rams quarterback is inadvertently removed from his body by an overzealous angel before his time to die comes back to life in the body of a murdered millionaire.
It is incredibly unrealistic, but hey, it's a movie and it kept me entertained.
95. Any Given Sunday (1999)
You can't go wrong with Al Pacino and Dennis Quad.
This star-studded film shows the behind the scenes aspects of a professional football team, run by corruption and modern day athletes.
It's not your typical sports movie, but it's funny and well worth two and a half hours of your time.
94. The Great White Hope (1970)
An African-American boxer in an interracial relationship struggles to survive as the white boxing establishment tries to knock him down permanently.
This film shows the struggle for Black athletes in America and is a classic.
You can never go wrong with James Earl Jones.
93. Out Cold (2001)
A lot of people don't consider this a sports movie, but that's an argument for another article.
The movie is about a snowboarder's plans of operating his own snowboard park, but things get complicated when his ex-girlfriend returns to town.
It has many funny moments throughout.
92. Ali (2001)
This adaption of the great Muhammad Ali had the potential to be phenomenal, but it didn't live up to expectations.
It's still a great movie, but not the proper portrayal of one of America's finest athletes to ever live.
91. The Legend of Bagger Vance (2000)
A golfer low on his luck attempts to recover his game, and his life for that matter, with the help from a pretty extraordinary caddy.
The fact that it stars Will Smith is reason enough to be on this list.
90. Redbelt (2008)
The best parts of this movie are the amazing fight scenes.
Chiwetel Ejiofor stars as a jiu-jitsu instructor who shows off his badassness in this 99-minute film.
89. Cobb (1994)
Tommy Lee Jones is crazy in this movie.
Really crazy! But it's perfect as nobody could play the role of the great Ty Cobb better.
You will not be disappointed with this film, and it is a pretty apt rendition of the legend that was, Ty Cobb.
88. Days of Thunder (1990)
A young hotshot stock car driver (Tom Cruise) gets his chance to compete at the top level of racing in this action packed film.
It was criticized by a lot of critics, but who cares because I'm smarter than them.
87. The Waterboy (1998)
While I'm not a huge Adam Sandler fan, this movie is hilarious.
It pokes fun at the stereotypical southern lifestyle, and is actually pretty accurate.
Watch as Bobby Boucher (Adam Sandler) makes his way from picked on water boy to the star linebacker that sweeps the nation.
86. Mystery, Alaska (1999)
This sports comedy is about the residents of a small Alaskan town who get excited when their local hockey team gets picked to host a televised event.
It stars Russell Crowe (before the crazy enveloped) and it is sure to make you laugh multiple times.
85. Invictus (2009)
Matt Damon leads the South African rugby national team in their quest to win the 1995 World Cup.
Morgan Freeman plays the beloved Nelson Mandela in this true story adaption of apartheid-torn South Africa.
84. Sugar (2008)
Dominican baseball star Miguel "Sugar" Santos (Algenis Perez Soto) is recruited to play for a minor-league baseball team.
83. Champion (1949)
Boxer Midge Kelly (Kirk Douglas) rises to fame, mostly by stepping on other people for personal gain.
It won an Oscar for Best Film Editing and was nominated for five other Academy Awards.
82. The Color of Money (1986)
Fast Eddie Felson (Paul Newman) teaches a cocky but extremely talented young billiards star (Tom Cruise) the ropes of hustling pool.
81. Diggstown (1992)
An incredibly successful business man (James Woods) is just released from prison, and he makes a bet that he can find a boxer that will knock out 10 Diggstown men, in a boxing ring, within 24 hours.
The even more amazing part is that the attempting boxer is 48-years old.
80. BASEketball (1998)
When Matt Stone and Trey Parker, the makers of South Park, make a movie you know it's going to be good. And they didn't disappoint.
BASEketball is a definite must see.
79. The Mighty Ducks (1992)
Gordon Bombay (Emilio Estevez), a young up-and-coming lawyer is haunted by his childhood memories of his old hockey team.
To overcome this, Estevez decides to coach a kid's hockey team in this great family movie.
78. The Karate Kid (2010)
Not as good as the original, but still a great kids movie (HINT: The original is on this list).
This time the karate kid is in China learning the way of martial arts.
77. Rocky IV (1985)
When Apollo Creed is killed in a boxing match against an incredibly powerful Soviet boxer, Rocky decides to take him on in a classic matchup.
Note: The other Rocky movies are on this list as well.
76. Little Giants (1994)
This was one of my favorite sports movies as a kid.
I watched this movie so many times I can still remember every line.
A great film for any age group.
75. Escape to Victory (1981)
These prisoners of war prepare for a soccer game against the German National Team.
Meanwhile they plan their escape while being watched by Nazis.
74. Bend It Like Beckham (2002)
A great movie about a Indian family that disapproves of their daughters wishes to play soccer.
But we all know the best part of this movie is Keira Knightley.
Body of a Goddess!
73. White Men Can't Jump (1992)
Black (Wesley Snipes) and white (Woody Harrelson) basketball hustlers team together so they can get themselves out of a bad neighborhood and start a better life.
A good combo of drama and comedy.
72. The Replacements (2000)
During a professional football strike, owners hire replacement players to play.
Pretty fitting right now with the current NFL lockout.
71. The Longest Yard (2005)
A remake of a classic film.
Not as good as the original film, but still easily a top-100 sports movie.
70. Blades of Glory (2007)
Now I despise most Will Ferrell movies, but I love this movie! It's hilarious and has a pretty good storyline.
69. Love & Basketball (2000)
A romantic drama about two basketball stars who share a love for basketball, and each other.
68. Bang the Drum Slowly (1973)
The story of two friends, a wise pitcher and a witty catcher as they cope with the catcher's terminal illness through baseball.
Robert Deniro is perfect in this movie.
67. Varsity Blues (1999)
In a small Texas town, high school football is all that matters.
Every Friday Night an entire community watches to see how the team will do.
A comedy, romance and sports-drama all-in-one.
66. Big Fan (2009)
Paul Aufiero (Patton Oswald), a hardcore New York Giants fan struggles to cope with the fact that he is beaten up at the hands of his favorite player.
An incredibly underrated movie.
65. The Longest Yard (1974)
Ahh. The original.
You can't top Burt Reynolds.
64. Damn Yankees (1958)
A film adaption of a Broadway musical about a Washington Senators fan who makes a pact with the Devil to help the team win the pennant.
63. For Love of the Game (1999)
Kevin Costner plays a washed up pitcher who flashes through his career.
A drama romance classic.
62. Tin Cup (1996)
Another Kevin Costner film about a washed up athlete.
This time it's about a long range golfer who tries to qualify for the US Open to win the heart of his girlfriend (Rene Russo).
61. The Basketball Diaries (1995)
A young Leonardo DiCaprio stars in this biography about a star's free fall into the harrowing world of drug addiction on a seemingly unbeatable high school basketball team.
60. He Got Game (1998)
A Spike Lee film about a basketball player's father who convinces his son to go to college so that he can get a shorter prison sentence.
The movie stars Denzel Washington who has played many great roles in sport movies.
59. Somebody Up There Likes Me (1956)
An old boxing film about an ex-convict who picks up boxing as a means to make some easy money.
58. Cool Runnings (1993)
This movie has so many great lines.
It's based on the true events of Jamaica starting it's own bobsled team, coached by one John Candy.
And the ending that is one of the bests of any movie.
57. The Harder They Fall (1956)
A shifty fight promoter hires a down-on-his luck sports reporter.
Humphrey Bogart stars as Eddie Willis in this classic flick.
56. Miracle on Ice (1981)
A look into what is arguably the greatest game in American history, 'Miracle on Ice' reenacts that game.
Truly, a must see.
55. Coach Carter (2005)
A very good movie, but not great.
My one knock on 'Coach Carter' is that seems to be an attempt at copying 'Remember the Titans'.
54. Rocky II (1979)
Rocky vs. Apollo Creed 2.0.
Nuff said.
53. Finding Forrester (2000)
A Black teenage (Rob Brown) writing prodigy finds a mentor in a reclusive author (Sean Conery).
He tries to balance his love for writing and basketball in this classic film.
52. Dogtown and the Z-Boys (2002)
A Documentary about the pioneering of the 1970s Zephyr skating team.
51. The Damned United (2008)
An in-depth look at Brian Clough's 44-day reign as the head coach of Leeds United, an immensely popular soccer team.
That ends the first half of the top-100.
50. Ken Burns: Baseball (1994)
Yes it is like 23 hours long, but it's still great to watch.
Also, I guarantee you will learn more in one chapter of the series than reading a baseball history book.
You know it's good if it's a Ken Burns piece.
49. Rock III (1982)
Rocky and Mr. T?
Nuff said.
48. The Hurricane (1999)
Denzel Washington stars as a boxer wrongly imprisoned for murder, and the people who aided in his fights prove him innocent.
And seeing Denzel Washington's six-pack will make you want to get in the gym.
47. Riding Giants (2004)
I'm not a huge surfing fan, but this documentary that explains the origins and history of surf culture is really interesting and fun to watch.
46. We Are Marshall (2006)
A tragic story about a plane carrying the entire Marshall football team that crashes.
This movie is heart warming and is a great watch.
45. The Rookie (2002)
A Texas baseball coach gets his chance in "The Show" when he gets picked up by the Tampa Bay Rays.
44. The Express (2008)
Another Dennis Quaid movie.
This one is about the life of college football star Ernie Davis, the first African-American to win the Heisman Trophy.
43. Secretariat (2010)
This movie is surprisingly great for a Disney movie.
A story about a jockey and a horse's trying to win the Triple Crown.
42. Murderball (2005)
Now this is an intense game.
A film about paraplegics who play a full-contact rugby style of game in wheelchairs while overcoming unbelievable obstacles to compete in the Paralympic Games.
41. Seabiscuit (2003)
Toby Maguire, a jockey needing a miracle, finds a horse that leads him to greatness.
40. Invincible (2006)
The story of a Philadelphia bartender that overcomes all odds to play for the Philadelphia Eagles.
39. Rocky Balboa (2006)
Who cares if Stallone is 8,000 years old?
This movie closes out one of the best film series, and the movie exceeded expectations.
38. Major League (1989)
Only one word captures the greatness of this movie, hilarious.
And for young people, this was Charlie Sheen before the crazy.
37. Green Street Hooligans (2005)
An expelled Harvard undergraduate moves to London, England where he discovers the incredibly violent world of football hooliganism.
36. Talladega Nights: The Ballad of Ricky Bobby (2006)
Don't let the fact that Will Ferrell is in it discourage you from seeing this movie.
It is hilarious and much better than would be expected.
35. More Than a Game (2008)
I'm glad I didn't see this movie until after LeBron left Cleveland for Miami.
Even if you hate LeBron James like I do, this movie actually makes him seem human and not soulless.
34. Rounders (1998)
A young Matt Damon stars as a ameliorated gambler who starts playing big stakes poker to help a friend pay off threatening loan sharks.
33. Chariots of Fire (1981)
Two British track stars, one a Jew and one a Christian, compete together on the 1924 Olympic team.
An inspirational true story and a must see.
32. Cinderella Man (2005)
The story of a washed up boxer with enough left in the tank to make one last comeback.
Ron Howard assembles an impressive cast lead by Russell Crowe and Renée Zellweger.
31. The Karate Kid (1984)
You can't beat the original.
A generation will always associate karate to the teachings of Mr. Miyagi.
30. Happy Gilmore (1996)
One of Adam Sandler's best performances.
A wannabe hockey player, turned golfer takes the PGA by storm with his ridiculous antics and impressive play.
One of the best sports comedies of all time.
29. Searching for Bobby Fischer (1993)
You can make the case that this isn't a sports movie because it's about chess, but it's my list and I count it.
And IMDB agrees with me.
28. Bad News Bears (1976)
The remake of this movie is one of the worst renditions of all time.
An alcoholic pool cleaner coaches a group of local kids baseball team in this classic movie.
One of time funniest movies ever, for any age group.
27. Eight Men out (1976)
A lot of people don't like this movie but I think it's really good.
It somewhat accurately portraits the biggest scandal in sports history, the 1919 Black Sox.
26. Jerry Maguire (1996)
Tom Cruise plays a sports agent who decides to implement a new philosophy in his work, testing it on the only athlete who stays with him.
25. The Pride of the Yankees (1942)
Yes the movie quality is awful, but it was made nearly 70 years ago.
But it has a great story, and tells the life on of baseball's greatest, Lou Gehrig.
When watching this movie, keep in mind when it was made and try to overlook it's weaknesses.
The most underrated sports movie ever.
24. When We Were Kings (1996)
A documentary of the 1974 heavyweight boxing championship between George Foreman and Muhammad Ali.
A must see movie.
23. 61* (2001)
Two teammates, Roger Maris and Mickey Mantle each race to break Babe Ruth's single-season home run record.
22. Friday Night Lights (2004)
Here is a movie that has every great quality.
It's funny, has a good plot and is incredibly entertaining.
In fact, it was so popular that it started a television series.
21. The Hustler (1961)
An up-and-coming billiards player plays a high-stakes match against a veteran champion in a single match.
Won two Oscars and was nominated for seven other awards.
20. The Fighter (2010)
Mark Wahlberg, Christian Bale and Amy Adams star in this instant classic.
The movie has been out for less than a year, but I can already tell that it will go down as one of the top sports movies of all time.
19. The Wrestler (2008)
A receded professional wrestler faces retirement as he finds his quest for a life outside of the ring.
The film won both Oscars that it was nominated for.
18. Brian's Song (1971)
The original, not the crummy remake.
The story is based on the real-life relationship between Chicago Bears teammates Brian Piccolo and Gale Sayers.
The bond between the two teammates when Piccolo discovers that he is dying.
17. Breaking Away (1979)
Yet another Dennis Quad movie.
Breaking Away is the story of a small-town teen, obsessed with the Italian cycling team, who competes for the love of a girl.
16. The Blind Side (2009)
Quinton Aaron, Sandra Bullock and Tim McGraw star in the true story of Michael Oher, a homeless and traumatized boy who with the help of a caring woman and her family became an All-American football player and first round NFL draft pick.
Oher now plays for the Baltimore Ravens.
15. Hoop Dreams (1994)
This documentary follows two inner city Chicago natives as they follow their dreams of becoming basketball superstars.
Both friends are recruited to play for the same elite high school as their idol, former Detroit Piston great Isaiah Thomas.
Along the way, the two face tragedy, joy, and share about inner city life.
14. Million Dollar Baby (2004)
A coarsened trainer (Clint Eastwood) works with a determined female boxer (Hillary Swank) in her attempt to establish herself as a professional boxer.
One of the most iconic endings to any sports movie.
13. Miracle (2004)
The better of the two movies reenacting the 1980 U.S. Olympic Hockey team.
Miracle tells the true story of Herb Brooks (Kurt Russell), who led the 1980 U.S. Olympic hockey team to victory over the nearly unbeatable Soviet Union team.
It's really a movie that every American should see.
12. Rocky (1976)
By far the best of the Rocky movies.
Call me old-fashioned, but I almost always prefer the original, and Rocky is no exception.
Rocky, a small time boxer gets a once in a lifetime chance to fight the world heavyweight champion.
11. The Natural (1984)
Robert Redford, Robert Duvall and Glenn Close star in the story of an average baseball player who comes out of nowhere to become a legendary ballplayer with unbelievable talent.
Nominated for four Oscars, and winner of numerous other awards.
10. Caddyshack (1980)
A great debate can be made whether or not a comedy should be put so high on this list.
But I personally think it's ridiculous not to include comedies with other great films.
Of course Caddyshack should be a top-10 movie, anything less would be a joke. It's one of the funniest movies of all time, and Bill Murray is priceless.
9. Slap Shot (1977)
What better way to follow a comedy than with another comedy?
Slap Shot is a late '70s comedy about a failing hockey team that finds success with violence in games.
8. Bull Durham (1988)
What better way to follow two comedies than with an even better comedy?
Bull Durham is one the best baseball movies of all time, and it will be remembered as one of the most iconic sports movies ever made.
7. A League of Their Own (1992)
What better way to follow three comedies than with a forth comedy?
Okay, I agree that intro has gotten old.
But A League of Their Own is one of the most underrated movies for any genre of all time.
I can list a dozen quotes from that movie that are iconic: "There's no crying in baseball!"
Tom Hanks is perfect and he should have won an Oscar.
6. Rudy (1993)
Enough comedies. Many, consider Rudy to be the best sports movie ever, and they have a valid case.
The story is about a Notre Dame football player who has always been told that he was too small to play college ball.
But his sheer determined to overcome all odds and fulfill his lifelong dream of playing for Notre Dame comes true.
5. Raging Bull (1980)
Robert De Niro plays an emotionally self-destructive boxer with a violent temper.
Through his life, violence and anger leads him to the top of the boxing world, but also destroys his life outside the ring.
4. Field of Dreams (1989)
An Iowa corn farmer (Kevin Costner) begins hearing voices and interprets them as a directive to build a baseball field.
In doing so, the Chicago Black Sox come to use his field.
With the help of Terence 'Terry' Mann (James Earl Jones), Costner begins to understand the meaning of why they have come.
3. Sandlot (1993)
The best children's movie of all time, period.
Protagonist Scotty Smalls moves to a new neighborhood with his mom and stepdad, and wants to learn how to play baseball.
The neighborhood kids take Smalls under their wing, and soon he's one of them.
All children should watch this movie growing up.
2. Remember the Titans (2000)
The true story of a newly appointed African-American head football coach and his team's first season as a racially integrated school.
Denzel Washington does an amazing job as coach Herman Boone and is deserving of an Oscar.
An incredibly inspiring film that everyone should see.
1. Hoosiers (1986)
And here is number one.
A coach with an uneven past and the town drunk train and coach a small Indiana high school basketball team to the state championship.
In his better role as an actor, Gene Hackman stars as the head basketball coach what would be the best sports movie of all time.
Keep Reading