NBA Playoffs 2011: 10 Bold Predictions for the Miami Heat's Postseason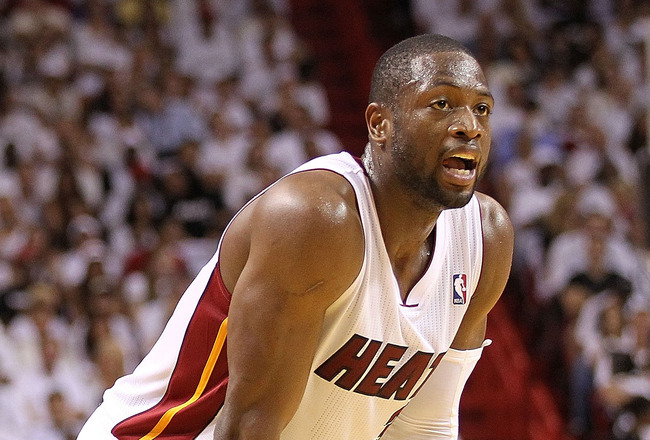 Mike Ehrmann/Getty Images
The Miami Heat who were virtually assembled during the off-season have won their first playoff series.
There is no doubt that this team has cracks in the foundation, like every other team remaining in the playoffs. However this is also a team that has heated up towards the end of the season and they continue to win games.
There are questions being raised about the clutch, about their versatility and about their physicality. Coach Spoelstra looks like a man possessed ready to lead this team to their title.
Here are 10 bold predictions for the Miami Heat for the remaining post season.
Udonis Haslem Returns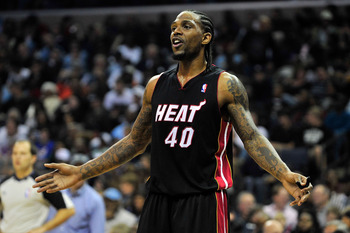 Grant Halverson/Getty Images
The Miami Heat have been mum when asked about the possibility of Udonis Haslem returning.
The Miami-native, Haslem has returned to full practices. He could be back before you know it and could very well be a significant factor in the Eastern Conference semi-final series against the Boston Celtics.
Regardless of when he comes back, Haslem has made enough progress that he should be in a Heat uniform sometime soon and he will definitely help this team win big games.
LeBron James Hits the Game Winning Shot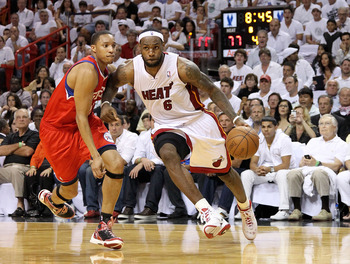 Mike Ehrmann/Getty Images
The Heat are 6-15 in games decided by five points or fewer. LeBron James is due for a big shot. If the Heat expect on winning the title this year, they will have to perform in the clutch.
Despite the numbers, there are times when LeBron James is quiet. He has his nights when he is off. Expect that to change, the Heat are 12 games away from hoisting the championship trophy, LeBron James will be ready for this challenge.
Expect him to hit the big shot when needed, he loves to silence his critics and what better way to do it than hitting the shot everyone says you cannot make.
A Heat Player Gets Suspended During the Celtics-Heat Series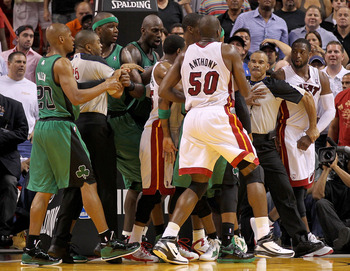 Mike Ehrmann/Getty Images
These two teams do not like each other. They have gotten into it before. On a bigger stage expect more physicality. With the physicality expect more frustration.
With more frustration you get irrational thinking. Finally, after irrational thinking comes swinging elbows and punches being thrown.
The Celtics have a certain way about them, almost as if it were embedded in their identity that they like to ruffle features. They like to get under the skin of the opposition.
Expect a very physical series and also expect the referees to call it tightly hoping it doesn't get under control.
Don't be surprised if a few suspensions and/or fines are handed out during this series.
The Heat Sweep the Boston Celtics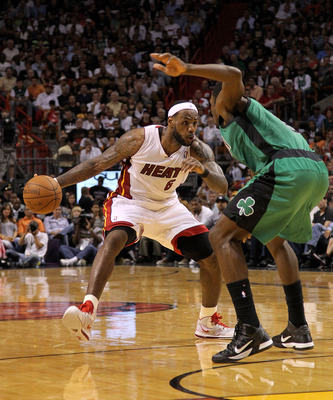 Mike Ehrmann/Getty Images
We all remember April 10th 2011.
The Heat, after being embarrassed by the Celtics on numerous occasions stunned everyone by beating the Celtics 100-77. The Miami Heat, led by LeBron James who had 27 points, finally were able to beat the Celtics.
Now they meet again, this time on a bigger stage. One of them moves on and one of them goes home. The Heat will use April 10th as fuel. They dissected the Celtics and they were able to dominate them.
Sure, it was only one time but the Celtics aren't the same without Kendrick Perkins. The Heat have a chance to do something special here.
Don't be surprised if they kick it up a notch and win four straight against the Celtics.
LeBron James Averages a Double-Double for the Remainder of the Postseason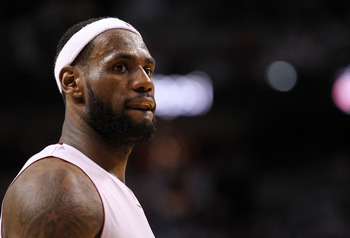 Mike Ehrmann/Getty Images
Didn't think I would see this one coming.
As of right now, LeBron is averaging 26.3 points per game and 10.8 rebounds per game in the postseason.
He is contributing in every possible way that he can and is even getting to the line 11.3 times per game. During the regular season he was getting to the line an average of 8.4 times per game.
He wants to win and is doing it all, while during the length of his career he has never averaged more than 7.5 rebounds per game, he is doing a fine job on the glass this post season.
Expect these numbers to continue and for LeBron James to average a double-double this post season when it's all said and done.
Mario Chalmers Breaks the Record for Most 3 Pointers Made in a Game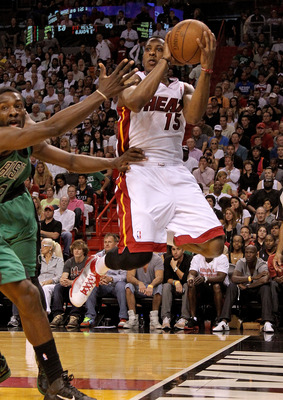 Mike Ehrmann/Getty Images
Let us look at this bold prediction using logic.
During Game 5, Chalmers showed what he was capable of. With so much emphasis on the Big Three, Chalmers found himself wide open at many times.
He went 7-14 from three point line and passed up many open shots. The Boston Celtics will employ the same strategy, guard the big three and leave everyone else open.
If he has the hot hand, Chalmers could definitely make 13 from the three point line, breaking the record set by Kobe Bryant and Donyell Marshall (12).
James Jones and Joel Anthony Emerge with Career Numbers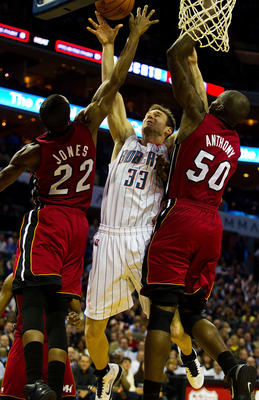 Brian A. Westerholt/Getty Images
Both of these players have been sensational during the first round against the Sixers.
Jones, who also finds himself open is shooting .483% from the field, during the regular season he was shooting .422%. His rebounding is also up by two in comparison to his regular season average.
Joel Anthony has emerged as an x-factor. He is playing 31 minutes a game in comparison to the nine minutes a game he averaged during the regular season. He has not made any impact statistically but did an excellent job covering Thaddeus Young.
He has done such a good job, the Miami faithful started chanting "MVP" during game two of the opening round series.
These two have the potential to be the difference in the remaining post season for the Miami Heat and do not be surprised if these unsung heroes step their game up.
The Big Three Average over 75 Points Per Game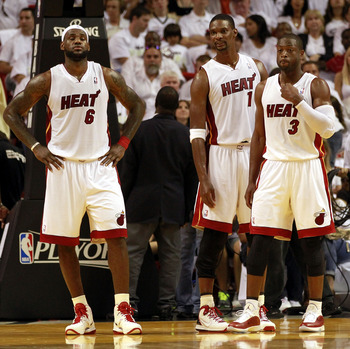 Marc Serota/Getty Images
Five games into the post-season, the Big Three are averaging 66.2 points per game.
Wade, Bosh and James have struggled collectively at times and have been sluggish particular at the start of games, these three do have an "on" button.
They averaged 72 points together this season and realize that the spotlight is always on them. It's time for them to turn it up.
Don't be surprised if the Big Three emerge and put up an aver of 75 points combined for the remainder of the post season, it isn't far-fetched.
The Heat Win the Championship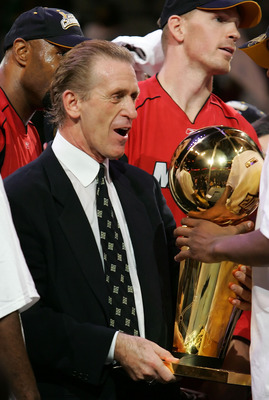 Stephen Dunn/Getty Images
Another prediction that is still in the realm of possibility.
The Heat were built to win it this year. Upper management did everything they possibly could to equip this team with the weapons necessary to win it all this season.
Now is the time.
If Chalmers, Jones, and Anthony continue to step up, this team could win the title. They will have to get past the Celtics and most likely, the Bulls but they could get the job done.
Anthony provides an interior presence, the big three provide scoring and a foundation and Chalmers has hit the long shot when called upon.
Don't be surprised if the Heat win it all this year.
Dwyane Wade Wins Finals MVP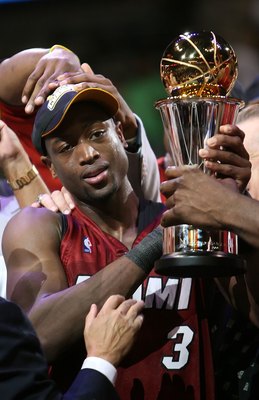 Ronald Martinez/Getty Images
He has been here before.
In 2006, Wade stepped up when he needed to be there for his team. He averaged the third highest total in NBA finals history with 34.7 points per game.
After being down 0-2 in the finals against the Dallas Mavericks, Dwyane "Flash" Wade emerged with 42, 36, and 43 points respectively to lead the Heat to the finals in six games.
He knows what victory feels like, this time he is up against the world and will do everything possible to win.
Don't be surprised if we re-live 2005-06 again with Wade doing it all and becoming the NBA Finals MVP to solidify what has already been a spectacular season thus far.
Keep Reading

Miami Heat: Like this team?