UFC 129 Fight Card: Will Lyoto Machida Really Be Randy Couture's Last MMA Foe?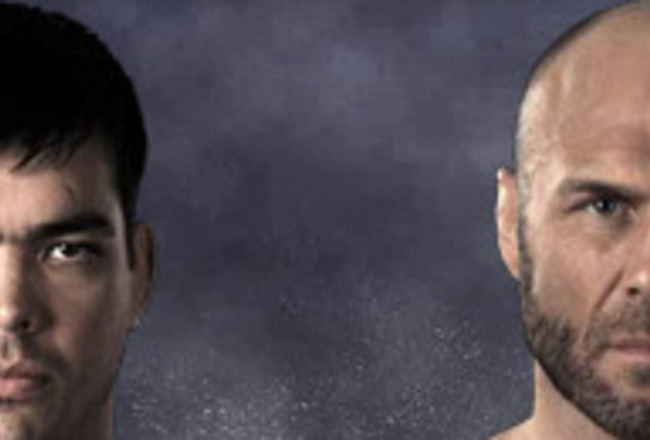 There's never enough that a person can say about the career of Randy "The Natural" Couture.
Unquestionably, this man's career is defined by not only the things he's done in the sport, but by being able to have such classic encounters with some of the best fighters in MMA history as well as holding his own more than well with some of the young lions in today's sport.
He will dive into the upper echelon of the 205-lb. division in his UFC 129 bout with former Light Heavyweight champ and masterful Karate ace Lyoto Machida, a bout that he's said will be his last bout in the UFC and perhaps in Mixed Martial Arts.
Do the words reflect the reality, though? Is this really going to be the last time Couture fights in the cage?
Maybe he does, but then again, maybe he doesn't.
He Will: Every Fighter Has to Know When to Call It a Career
Chuck Liddell and Ricardo Almeida recently called it a career following losses in tough bouts with respective opponents Rich Franklin and Mike Pyle.
Couture is one of the sport's most elegant gems—one of the most valuable legends in the sports world on account of the performances and victories he's achieved at his age, but he's human, and sadly that means he can't go on forever in the sport.
Sooner or later, he has to start thinking about hanging up the gloves and leaving his legacy behind as being one where people remember what he's done.
Sad but true, that's why you're hard-pressed to find an article online that touches on why the UFC Superfight Championship was a big deal back when Ken Shamrock was one of the best in the world, yet you can find a bunch that slam him for taking fights while being way past his prime.
He Won't: He's Damn Near 50 and Kicking Ass Like He Did in His Prime
Come on, let's all admit it: what Couture has been able to do up to this point is as superhuman as any feat that a mortal can accomplish.
Even if it seemed like he didn't do enough to earn the decision over Brandon Vera, he was still able to survive a trip through hell against Minotauro Nogueira, he hung in like a champ against Brock Lesnar before the slip, and he thoroughly shut down the hype train of Gabriel Gonzaga.
The crazy thing about it all?
He was supposed to get his tail handed to him in all of those fights, and although the Nogueira fight was close, Big Nog and Lesnar stand as the only guys to have beaten Lesnar since his return to activity as a UFC fighter.
At 48, we should be more convinced that this fight is a major step back for Machida, not talking about how Machida needs to snap the three-fight win streak of a UFC Hall of Famer to keep his place in the UFC Light Heavyweight division.
He Will: Better Machida Than...James Toney...to Be the Last Fight in Your Career
I don't think I need to explain this one too much.
Couture's last fight was a dominating performance against a guy who couldn't kick or take down somebody and implement his "favorite" aspect of the fight—the grappling aspect—if it meant that he would get Wladimir Klitschko on July 2nd in lieu of David "The Hayemaker" Haye.
Seriously, James Toney only had two chances to beat Couture, and he allowed Couture to take him down instead of trying to engage with Couture and open the doors for himself to use his two chances—his fists—in the cage at UFC 118 in Boston.
Now if Randy Couture is going to retire from MMA, would you rather have the memory of him choking Toney out with the arm-triangle and leaving doors open for people to overshadow the win by noting that it was a "freak show fight," or the image of Couture after UFC 129 and a tough fight against Machida?
I loved watching Toney shake out, but if you're going to have one more fight, I say, "have it against a Black House warrior like Machida".
He Won't: If Machida Wins, People Will Want Couture to Go out with a "W"
Note the video of Liddell-Couture 1, back when Couture was looking for that Light Heavyweight title and Liddell was on top of the mountain.
It was the only time that Couture had beaten Liddell, with Chuck winning the next two times and Randy retiring after the second win Liddell earned over him.
Back then, people thought age was catching up to Couture, but he came back to win the UFC Heavyweight belt at UFC 68 against Tim Sylvia and famously said, "Not bad for an old man".
Yeah, Randy, you're old—that's why all three judges had you at 50-45, which pretty much meant that you kicked Sylvia's ass for all five rounds on the judge's scores.
Old? I don't think so.
Still got it? I should say so.
If Machida proves different, or if the judges say that Machida proved different in fifteen minutes, you can take it to the bank that nobody's going to want Randy to say "peace out" to the sport he helped make famous.
He Will: Machida Is the Arguably the Best Fight That Randy Could've Asked for
Regardless of whether Couture has done anything to earn it or not, he's getting his piece of the upper echelon in Toronto when he takes on Machida.
Why, you may ask?
Simple: The opponents he beat in his last three fights may not warrant it, but asking for a top guy does.
Randy asked for some of the best of the best, knowing that people would watch the fight as long as the marquee read "Randy Couture" somewhere.
Remember, Couture also expressed interest in fighting Mauricio "Shogun" Rua back when Shogun was Light Heavyweight Champion in a non-title bout.
Shogun, to his credit, admitted that he did want his first title defense to come against Couture, and has expressed openness to fighting Couture.
Point of the matter is that two of the best of the best in today's UFC Light Heavyweight class have expressed openness to fighting the legend, and let's face it, Couture's not going to turn down a fight if it sounds like it's a damn good fight.
No wonder he wanted Machida.
He Won't: At 205, Couture Has Quite a Few More Options
It doesn't matter how his fight with Machida goes, because as stated before, it's obvious he has more in the tank than he would like to believe.
He made the fight happen with Machida because he knows that win, lose, or draw, people will want to see the fight.
They know that even at his age, Couture can beat Machida without having to rely on three corrupt Canadian judges, and that makes every possible opponent for Couture after Machida sound like a phenomenal choice for an opponent.
Shogun, Rashad Evans, Rampage Jackson, Matt Hamill...even Jon Jones—they all provide excitement potential when you decide to line them up for Couture, title or no title.
A win over Machida, just like a loss to Machida, will do very little to shut down this argument, as the people will demand that Couture be put against another top-ranked Light Heavyweight, and if there is one thing we know about Dana White, it's that he rarely decides to give the fans the opposite of what they want to see.
He Will: He's Serious This Time
People like to point out the divorce from Kim and other things when they refer back to the first time Randy did this whole "retiring" thing.
It was not truly age catching up with him, but the fact that he lost his belt to Chuck Liddell and needed to get his mind right, that prompted the last "retirement" he had.
This time, it's about not making the same mistake many feel Liddell did, the same mistake many feel Tito Ortiz is making by not punking out of his UFC 132 bout with Ryan Bader, the same mistake that many MMA fans feel Ken Shamrock is making now:
This time, it's about knowing when you have to say goodbye to that thing you've been doing for so long.
This time is that time, as much as it hurts to even type it.
He Won't: Couture's Done This "Retirement" Thing Before
Remember how many tears you held back when you heard Randy say "This is the last time you're going to see these gloves and these shorts in this Octagon" after Liddell went 2-1-0 against him?
You probably felt like you couldn't bear to watch the UFC anymore once Couture left, right? I mean Tim Sylvia, Andrei Arlovski, and Paul Buentello were once the top of the line in the UFC Heavyweight class, but they weren't Randy Couture.
On top of that, Chuck Liddell proved he was untouchable with the win over Couture, and before Rampage came to the UFC, nobody could touch The Iceman.
Seemed like The Natural really was done, right?
Yeah, that was before somebody opened their eyes and realized that Arlovski, Ricco Rodriguez and Wesley Correira were really the only guys that Sylvia had to contend with in the UFC.
After that, Couture came back.
Having his three-fight streak snapped will probably do little to convince anyone that Couture is done.
He Will: He Has a Legacy to Preserve
Three Heavyweight title runs, two Light Heavyweight title runs, MMA classics against Chuck Liddell, Tito Ortiz, Minotauro Nogueira, Vitor Belfort, and Pedro Rizzo, and a spot in the UFC Hall Of Fame.
Pound for pound, he's one of the greatest Mixed Martial Artists of all time, and he's going up against the man who made Karate work and work well in MMA.
What does he prove if he beats Machida and keeps on going, besides proving that Dan Severn isn't the only legend in MMA who can be successful in the sport at an age where he should be content with buying a ticket?
He Won't: The Fans Won't Let Him, and Besides, His Legacy Will Be Unaffected
Nobody like to see a guy lose when he clearly looks past his prime, but Couture just has the face of a guy who is aging .
Everything else about him looks the same way it did when his first bout with Vitor Belfort was stopped—in my opinion, prematurely—by a cut which gave Vitor Belfort the UFC Light Heavyweight Title.
Every skill that has defined the career of Couture--the Dirty Boxing, the Greco-Roman Wrestling, the grappling skills that he does possess—is still every bit as good as it was before Couture earned his nickname "The Natural" and before he earned his rep as a master strategist.
A win over Machida will illuminate that legacy and possibly enhance it a little bit more than it is now.
A loss to Machida, on the other hand?
Nothing.
Couture's the type that can lose a fight but make it a classic battle before he goes down.
He's made a career out of doing it. Expect nothing short of the same next Saturday.
Keep Reading