NBA Playoffs 2011: Breaking Down the Top Storylines in the West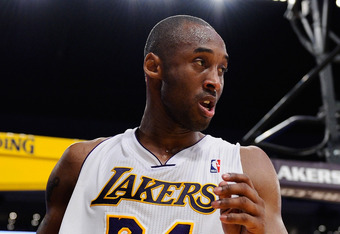 Kevork Djansezian/Getty Images
This NBA season has been one of the best in recent memory.
It has arguably made the NBA's regular season relevant again by bringing drama and excitement. With the playoffs only a day away, it doesn't look like the drama is about to stop. Here are the top storylines to follow for each playoff team:
San Antonio Spurs: Can the Spurs stay healthy?
This Spurs team has definitely been around the block.
They've been riddled with injuries, and it couldn't come at a worse part of the season. Their big three—Manu, Parker, and Duncan—have all gone down with injuries at some point late this season.
Now it looks like Ginobili is going to miss the first game of their series against the Grizzlies.
Gregg Popovich did a great job managing everyone's minutes to make sure his team was healthy for the playoffs, but it may have been in vain.
Memphis Grizzlies: Can the young Grizzlies upset the Spurs without Rudy Gay?
The Grizzlies tied the season series against the Spurs at two apiece.
While they lost their best player, Rudy Gay, to a season-ending injury, they still found a way to win games. Now they're going to face another team with injury problems of their own, and are looking to take advantage of the opportunity.
Oklahoma City Thunder: Thunder are the trendy pick to come out of the West
They're a young team that hasn't even won a road playoff game.
Despite that, many are picking the Thunder to go to the NBA Finals.
They have one of the league's best players in Kevin Durant, a top point guard in Russell Westbrook, and a solidified front-court after trading for Kendrick Perkins. The addition of Perkins has given them a toughness that they didn't have before, and they are a popular pick to give the Lakers a run for their money in the West.
Denver Nuggets: Nuggets look to show Carmelo what he's missing
The Nuggets are 18-7 since they traded away their franchise player, Carmelo Anthony.
There would be no better way to rub it in his face than winning a playoff series or two.
No one could have expected the Nuggets' amazing run after the trade. Their style of play is so different from every other team in that there is no single "go-to" guy. There could be a different person leading the team on any given night.
George Karl had this team overachieving in the regular season, and is looking to continue that in the playoffs.
Dallas Mavericks: Playoff woes
The Dallas Mavericks have won 50+ games 11 seasons in a row. They've been to the finals one time during that period, and lost in a heartbreaking series to the Miami Heat.
As a matter of fact, many of the Mavs' playoff hopes have ended in heartbreak.
Since their finals loss, the Mavericks have lost in the first round of the playoffs three of the past four years. They weren't given any favors with their matchup against the Portland Trailblazers, who are looking to make that record four of the past five years.
Portland Trailblazers: Blazers are the trendy upset pick
Many people have been picking the Blazers as favorites to upset the Mavs and advance to the Conference Semifinals.
They couldn't have asked for a better matchup in the first round.
They had the steal of the year when they traded for Gerald Wallace, and LaMarcus Aldridge has played at an All-star level almost the entire season. Brandon Roy might not be what he used to, but with other players stepping up, this matchup looks like it could be an upset special.
Los Angeles Lakers: Andrew Bynum's knee
There's no doubt that this Lakers team is much better when they have Andrew Bynum healthy.
The Lakers posted the best record after the all-star break, much to do with the return of Bynum from injury. But this past Tuesday, Andrew Bynum injured himself yet again against the Spurs by hyperextending his right knee—the same one that he had surgery on after last season.
It looks as though Bynum will be ready to play in the first game against the Hornets, but his most recent scare definitely has Laker fans worried. After all, they are 2-0 in the finals when Bynum is playing.
New Orleans Hornets: Which Chris Paul will we see in the playoffs?
It seems as though Chris Paul's knee is hot and cold night to night.
One night you'll see Paul favor his knee and play timidly. Then the next night you'll see flashes of the real Chris Paul.
His knee is going to be a major factor for the Hornets. If it isn't feeling right, he won't be able to penetrate and go to the basket like the Chris Paul we all know and love. Only time will tell if he can get back to his old ways.
This article is
What is the duplicate article?
Why is this article offensive?
Where is this article plagiarized from?
Why is this article poorly edited?