Top 10 Reasons to Watch TNA Lockdown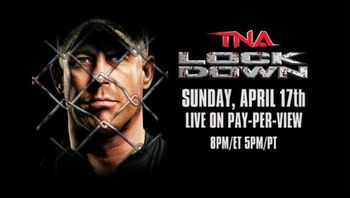 TNA presents the most violent pay-per-view of the year: Lockdown.
To me, Lockdown is the second biggest TNA pay-per-view behind Bound for Glory.
This year's Lockdown card is finished and it is stacked. I'll give my predictions sometime next week, after I see how things unfold in coming editions of iMPACT!
Lockdown 2011 looks great on paper, and I am definitely going to buy it LIVE on April 17th.
Here are the top 10 reasons I am going to buy this pay-per-view.
10. Every Match Will Be Contested in a Steel Cage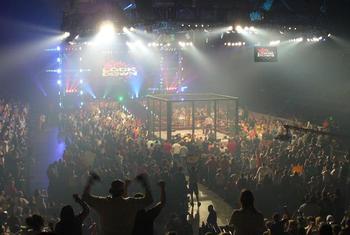 I'll start with the obvious reason.
Every match is contested in a steel cage.
The cage has been used as a weapon for almost all who stepped foot inside of it. In Lockdown 2010, there was blood in every match except for one, Pope vs. AJ Styles.
The cage matches are always good, and there's a good chance that there will be blood.
9. Four-Way Tag-Team Match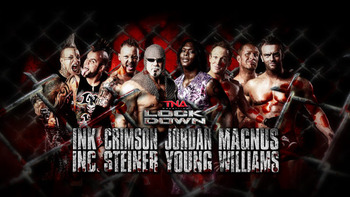 This ought to be good.
Eight guys are locked in a cage and the winning team is granted a TNA Tag Team title shot.
There are TNA's youngest team, Ink Inc. The odd couple, Orlando Jordan and Eric Young. The veteran Scott Steiner and the up coming star, Crimson. The return of the British Invasion.
Every wrestling fan knows that TNA can deliver awesome tag team matchups. This should be no different.
All hell will break loose in that cage.
8. Matt Morgan vs. Hernandez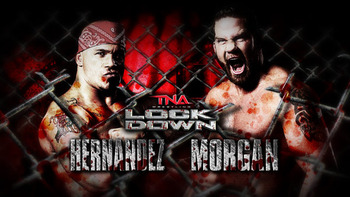 Matt Morgan and Hernandez will finally meet one-on-one in a steel cage.
This feud has been going on for over a year now. There is some serious bad blood between these two. Hernandez cost Morgan his dream of winning a world title and Morgan is angry.
This can be the big blowout end match to their year-long feud.
If so, who will get the better of the other man? What will happen to them after their match? Will Mexican America get involved?
7. Will Mickie James Make Women's Wrestling History, or Have Her Head Shaved?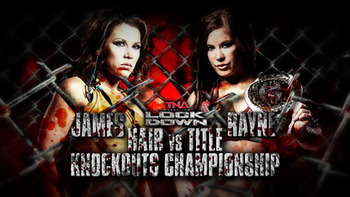 Mickie James is once again challenging Madison Rayne for the Knockouts Championship, this time in a steel cage.
Mickie has offered to put her hair on the line in this match. If she wins, she's the new champion. If she loses, she gets her head shaved bald on national TV.
If Mickie were to win the Knockouts title at Lockdown, she would make women's wrestling history. She would be the only woman to have ever held the women's title, Divas title and Knockouts title.
Lockdown can either be remembered as Mickie making history or Mickie getting her head shaved.
What'll it be?
6. Pope vs. Samoa Joe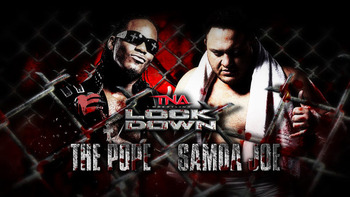 This feud has been going on since late last year.
It has to end, and Lockdown may be the final battle between these two.
Pope has been beating Joe every chance he gets. He outsmarted Joe week in and week out. He beat down Joe's sidekick, Okado, leaving Joe with no help coming into this match.
"The Samoan Submission Machine" didn't need Okado. I think he was holding Joe back.
(Pope vs. Samoa Joe at Against All Odds) "I can not wait for this match! The only thing that would make this better would be if it was in a steel cage!" - Charlie Groenewegen, TNA Against All Odds Card and Predictions.
I have always wanted to see Pope vs. Joe in a cage match. Now, my wish is granted.
5. X Division Xcape Cage Match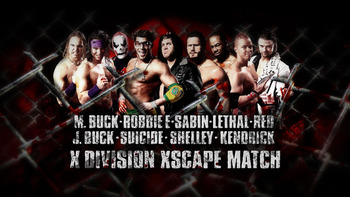 Who said the X Division is dead? It's not at it's strongest, but certainly not dead. Just look at this match.
Generation Me, Motorcity Machine Guns, Suicide, Amazing Red, Jay Lethal, Brian Kendrick and Robbie E all in a steel cage?! This is awesome!
This match can steal the show if given good timing and high-flying spots.
I don't really know who will win, but I have my favorites in this match. I can't find words to describe this match.
Who is Suicide? Daniels and Kazarian are booked for the Lethal Lockdown. Who could it be?
4. Anything About AJ Styles?
Will we see AJ Styles at Lockdown?
For some reason, I have a strange feeling that we will. He may not be fighting in the Lethal Lockdown match with Fortune, but I think he may interfere or distract someone from Immortal.
If we don't see him, will we get an update from Mike Tenay and/or Tazz? Will he be on the phone talking to Tenay, Tazz and the audience?
3. Lethal Lockdown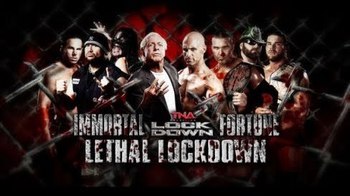 This is what Lockdown is all about. Lethal Lockdown.
Fortune vs. Immortal.
Is Fortune the real deal? Is Immortal truly immortal? Will Daniels turn heel and join Immortal?
Lethal Lockdown matches are always a great addition to any pay-per-view. The matches are always violent and brutal, and the ring is always painted in blood when the dust has settled.
This can be a major step in taking back TNA for Fortune.
2. Angle vs. Jarrett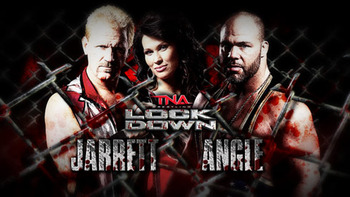 This is another highly anticipated match that I'd kill to see!
These two have a long history with each other. Jeff Jarrett married Kurt Angle's ex-wife, Karen, and left him with nothing—nothing but revenge and a craving for blood.
Angle is red hot and steaming with intensity coming into this match. He wants to destroy Jeff Jarrett once and for all.
Angle stole the show last year at Lockdown in his match against Anderson. I think he can steal the show again.
There is bad blood between these two. I'd be surprised if either man can walk out of this match under their own strength.
1. Who Will Leave Lockdown the TNA World Heavyweight Champion?
Who will leave Lockdown has the world heavyweight champion—Anderson, RVD or Sting?
All of these guys have been beating the hell out of each other every week on iMPACT! Why not lock them in a cage and let them fight?
Finally, these three can settle their differences in a steel cage with the world title on the line.
Keep Reading