The Top 50 Most Impressive Venues in Sports
There are some incredibly impressive venues in professional sports.
But these 50 are absolutely mind-blowing.
Ranging across a variety of professional sports, let's take a look at what the world has to offer. With so many beautiful sights in store, journey with me through the athletic universe.
Begin Slideshow

»
Location: San Francisco, California
Year: 2000
There's just something about a ballpark on the water that's so majestic.
Not to mention that the new home of the Giants absolutely trumps Candlestick Park.
Location: Philadelphia, Pennsylvania
Year: 2004
Although it is admittedly a bandbox, Citizens Bank is one beautiful piece of architecture.
The structure's unique design makes it among one of the best ballparks that MLB has to offer.
Location: St. Louis, Missouri
Year: 2006.
What an incredible place for a baseball game. There's something that's just so aesthetically pleasant about the arch in the background.
It's amazing to see all of the different styles that pervade through the homes of all 32 MLB teams, and Busch is a great example of just how beautiful America's ballparks can be.
Location: West Point, New York
Year: 1924
This one is all about the history that's built into the venue.
With the feel that this stadium gives off prior to every game that takes place, it'd be a mistake not to include it on this list.
Location: East Rutherford, New Jersey
Year: 2010
Bon Jovi was rocking the New Meadowlands stadium when this photo was taken, and it must have really been rocking.
It's a surefire upgrade from the Old Meadowlands, and the eco-friendly design is a very nice feather in the stadium's cap.
Location: Blacksburg, Virginia
Year: 1965
Annually rated as one of the top home fields in all of college football, there is an electric feel at Lane Stadium that is unlike many others.
Under those bright lights, it's pretty easy to see why it's a very challenging place for its visitors.
Location: Eugene, Oregon
Year: 1967
Going with an extremely modern look to it, Autzen makes for a very intimidating place for other Pac-10 teams.
It is one of the most intricately designed venues on the scene, and although it was renovated in 2002, there's a lot to like about its oldest elements.
Location: Pittsburgh, Pennsylvania
Year: 2001
Now this is what a baseball stadium should look like.
It's too bad that the Pirates have been so awful, because a loyal fanbase of a successful team would love to pack this house every single night.
Location: Baton Rouge, Louisiana
Year: 1924
Any place that garners the nickname of "Death Valley" is not a very inviting place for its visitors...unless you're sitting in the stands.
It's the sixth largest "city" in Louisiana when it is filled to capacity, and there's rarely an empty seat on game day.
Location: South Williamsport, Pennsylvania
Year: 1959
The home of the Little League World Series, where Danny Almonte unfairly dominated younger competition.
All jokes aside, Lamade is a field of dreams for most Little Leaguers who take the field on Saturday mornings.
Location: University Park, Pennsylvania
Year: 1960
Head Coach Joe Paterno might be older than the dirt underneath the stadium, but the cat can still coach with the best of 'em.
The field looks beautiful each time that the Nittany Lions grace it, and that hasn't changed since Beaver Stadium opened its doors.
Location: Saratoga Springs, New York
Year: 1863
A wonderful race track that has been open since the midst of the Civil War, Saratoga offers a combination of beautiful scenery and competitive races.
Built by the first chairman of the Jockey Club, Saratoga is packed with history that most venues are severely lacking.
Location: Columbus, Ohio
Year: 1922
When the players aren't busy auctioning off game-time memorabilia and can actually take the field at Ohio Stadium, it's absolutely rocking.
Ohio needs all of the athletic prominence that they can get in the days since LeBron's departure.
Location: Paris, France
Year: 1891
What is it about a clay tennis court that makes it have such a special value?
Perhaps because it is the only surface on this list that is unique to a single sport, and the court at Roland Garros embodies everything that a Grand Slam should have at the event.
Location: Cardiff, Wales
Year: 1999
Buttressing the water, Millenium Stadium is really something special to see when it's lit up in the evening.
Costing 121 million pounds to construct, it's safe to say that it was worth every bit of the investment.
Location: South Bend, Indiana
Year: 1930
The Notre Dame football team hasn't been anything to write home about lately, but at least their stadium is still among the most storied in all of college football.
Just look at the way that they still fill the stands on every single game day; who wouldn't want to proudly take the field?
Location: Baltimore, Maryland
Year: 1992
What other venue has the unique features that Camden possesses?
It was the first downtown retro-style ballpark, and those involved in the design and construction hit the nail on the head with this one.
Location: Gainesville, Florida
Year: 1930
Any place that is called "The Swamp" deserves a spot in this countdown.
Similar to Notre Dame, the Florida football team has definitely seen more prolific times, but this place is a community within a community and everyone wants to be a part of it.
Location: Elmont, New York
Year: 1905
You can't have a Triple Crown winner without success at the Belmont, and with so much history built into the track, it'd be a mistake to leave it off of this list.
Known as the "Test of the Champion," it is considered one of the elite tracks in the long-standing sport.
Location: Mexico City, Mexico
Year: 1966
To serve as the national stadium for the Mexico football team, Azteca had to ensure that it was among the most majestic stadiums ever built.
It is the site where Pele and Diego Maradona lifted the World Cup trophy for the last time, and it doesn't get much more legendary than those two.
Location: Foxborough, Massachusetts
Year: 2002
It's a beautiful place to play football inside Gillette Stadium, but this one extends beyond the 100-yard gridiron.
Patriot Place is an incredible attachment to an already fantastic venue; there's just no place like it, and Robert Kraft and co. did a great job in leading the way for future stadium construction.
Location: Arlington Heights, Illinois
Year: 1927
Arlington Park, home of the best landscaping and lawn care on the horse racing circuit.
With covered seating, crisp air and a rich history of horse races, Arlington is definitely one of the prettiest places to take it all in.
Location: Talladega County, Alabama
Year: 1969
Talladega is located on an old, small abandoned airfield; what other venue can say that?
It is the longest oval in NASCAR at 2.66 miles, so there is plenty of time to enjoy all of the action when it's time for the annual race at Talladega.
Location: Dallas, Texas
Year: 1930
It's a shame that Jerry Jones built a shrine to himself and eclipsed the beauty of the Cotton Bowl.
This one might not be as architecturally impressive as some of the other venues on the list, but with an incredible history since 1930, it would be foolish to leave it unaddressed.
Location: Ann Arbor, Michigan
Year: 1927
The Big House. Just look at this place when it's ready to roll.
Either as an athletic participant or simply a fan of the game, this venue is simply extraordinary when it's time to play football.
Location: Daytona Beach, Florida
Year: 1959
NASCAR founder William France Sr. wanted to give the fans a chance to have a better viewing pleasure while simultaneously permitting higher speed from the cars driving around the track.
Mission accomplished, sir.
Location: Pebble Beach, California
Year: 1919
Widely regarded as one of the most beautiful golf courses in the world, Pebble Beach is a public course that has the highest greens fees in the world.
As anyone can tell by the picture, it is absolutely stunning and would be just as fitting for a vacation as it would to play a round of 18.
Location: Los Angeles, California
Year: 1923
Granted, it was a much more intimidating place when USC was a more prolific football team, but this is about the venue more than the team that plays inside of it.
Adjacent to the USC campus in the heart of Los Angeles, the Memorial Coliseum is one of the most astounding sites to witness a game when it's football season.
Location: London, England
Year: 1877
One of the four Grand Slam tournaments on the tennis circuit, Wimbledon is the oldest tennis tournament in the world.
Additionally, it is considered one of the most prestigious, and it's clearly a great place to watch the best go at their craft.
Location: Yarra Park, Melbourne
Year: 1854
It is the tenth-largest stadium in the world and home to the highest light towers of any sporting venue.
This place is absolutely magnificent and should be considered the blueprint for how to build a stadium in the future.
Location: Pasadena, California
Year: 1921
The oldest bowl game of them all, the Rose Bowl is nicknamed "the granddaddy of them all."
Having been played continuously since 1916, there is not a single team in college football that wouldn't love the chance to play here every single season.
Location: Durban, South Africa
Year: 2009
To even attempt describing the architectural brilliance of this venue would be a waste of words, because there are no adjectives that can capture its essence as it deserves.
It was one of the host stadiums of the 2010 FIFA World Cup and also includes an adjoining indoor arena.
Location: Milan, Italy
Year: 1926
If a venue is going to be the home of both A.C. Milan and F.C. Internazionale Milano, it better be a lot more than just a soccer field.
Before the new classification status was put in place, it held five-star stadium status under the UEFA rankings.
Location: Indianapolis, Indiana
Year: 1909
This race track is home to both the Brickyard 400 (NASCAR) and the Indy 500 (IndyCar), and offers something truly special for the fans that attend.
It is the largest and highest-capacity sporting facility in the world, with almost 400,000 able to fit into this place at the same time.
Location: London, England
Year: 2007
Granted that the Old Wembley had far more history that its newly designed counterpart, just one peek at this place and you'll know why it ranks so highly.
Home to the England national soccer team, Wembley is the second-largest stadium in all of Europe.
Location: Beijing, China
Year: 2008
Debuted during the 2008 Olympic Games, the "Bird's Nest" in Beijing is a testament to what is possible when great minds collaborate on a sporting facility.
Costing only $423 million to construct, perhaps the new Yankee Stadium should take notes as to how to allocate funds properly on a project like this.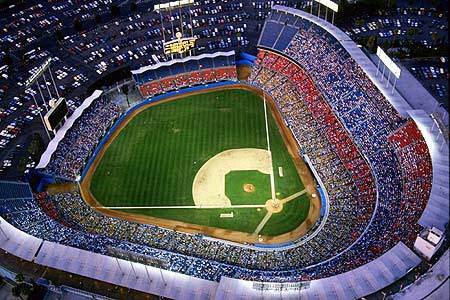 Location: Los Angeles, California
Year: 1962
This is Chavez Ravine to those that know it best, and there are few better places to take in a baseball game.
We're talking about Walter O'Malley's vision here, and the fact that it's still such a beautiful place is a testament to just how much of a pioneer the leader was.
Location: Monte Carlo, Monaco
Year: 1929
If you think those drivers on the NASCAR and IndyCar circuits are talented, you'll get a whole new appreciation after watching Formula-One stars navigate through this tight-wounded course.
Literally embedded within a neighborhood, there's no doubt that this is one of the coolest ideas for a venue that has ever been thought up.
Location: London, England
Year: 1814
With a Victorian era pavilion and a media centre that blows every other venue out of the water, Lord's is the most attractive sporting venue that rarely gets discussed.
Although capacity is just 28,000, it's worth traveling to England to just experience its atmosphere.
Location: Louisville, Kentucky
Year: 1875
Although it was ranked just fifth (of 65) courses by the Horseplayers Association of North America in 2009, Churchill Downs is far better than the rest.
Before the race even gets underway, the spectators are lost in the aesthetic pleasures that the track has to offer.
Location: Chicago, Illinois
Year: 1914
Where else can you find this much ivy? Seriously. This place has country ball written all over it.
And if you don't know the difference between city ball and country ball, take a look at the history of the game to understand its true origins dating back to long before Wrigley was constructed.
Location: Boston, Massachusetts
Year: 1912
The Green Monster, Pesky's pole, the small seats and the obstructed views. How can you not love Fenway Park?
This place is way more than just a venue to play baseball.
Location: Fife, Scotland
Year: 15th century
St. Andrews is the oldest golf course in the world, and it hasn't lost a touch of its brilliance since the 15th century.
Seriously, this place is like a fine bottle of aged vino.
Location: Greater Manchester, England
Year: 1910
The fans of the Manchester United team are among the most diehard in all of soccer, so they need a place that's more than just a stadium to call home.
Luckily for both the team and their fans, Old Trafford is much, much more than just a place to play.
Location: Marina Bay, Singapore
Year: 2007
A tennis court that floats on the water? Yes, please!
It's amazing what types of architectural constructs can be created these days, and the floating stadium in Singapore is a perfect illustration of exactly that.
Location: Evansville, Indiana
Year: 1915
Younger than only Wrigley and Fenway, Bosse Field was home to the filming of A League of Their Own in 1991.
Now utilized as a minor league facility, Bosse has the history of the country in every inch of its makeup.
Location: Chicago, Illinois
Year: 1924
Just one look at that aerial view and it's easy to see why people fall in love with this place.
And with the renovations that they made to the stadium in 2003, there are at least another 75 years worth of football left in this place.
Location: Green Bay, Wisconsin
Year: 1957
"I'm a cheesehead, word to Vince Lombardi."
Dwayne Carter Jr. had it right when he proclaimed those famous words, and Aaron Rodgers finally delivered the trophy to the Lambeau faithful in 2011.
Location: Augusta, Georgia
Year: 1933
Augusta National makes your jaw drop when you get your first look at it.
From hole one through hole 18, there isn't a single part of this course that doesn't make someone say "wow."
Location: Dubai, United Arab Emirates
Year: 1994 (construction began)
A tennis court that is suspended in mid-air over the water that buttresses a seven-star hotel?
Now that's what I call a pie in the sky.