Sebastian Vettel: Is He King of F1 or Baron of Boredom?
September 26, 2011
Mark Thompson/Getty Images
Can you name the current world tennis champion?
You cannot, because the people running tennis are not dumb enough to have a world championship.
Sure, there are tables showing the current ranking of each player, but broadly speaking a tennis warrior is as good as his or her performance in the last tournament they contested, and thus each event is a battle of considerable importance to both fans and participants. If, for example, Roger Federer trounces Rafael Nadal at the French Open, fans of both players know the tables could be turned at Wimbledon the following month.
Every tennis tournament begins on a blank canvas, on which the brushes of skill, mental strength, and fate will paint a new portrait. Maybe the fans will see giants fall and minnows devour sharks. At the conclusion of the tournament the victor will hold some shiny silverware aloft, and then it will be over. Until the next tournament, the next blank canvas.
F1, as I strongly suspect all my readers will know, is a world championship series. And a world championship series has several drawbacks.
Let us examine that cluster of flaws.
The first and most serious is that it can work well only if the outcome is contested all the way to the end, to the very last event in the series. When the outcome is decided before that point the remaining events become largely pointless.
The second follows from the first. Because the championship is determined by the cumulative scoring of points it has the peculiar effect of robbing individual events in the series of any great significance. So X may win at Spa, but it doesn't matter if Y is already well ahead in the points table.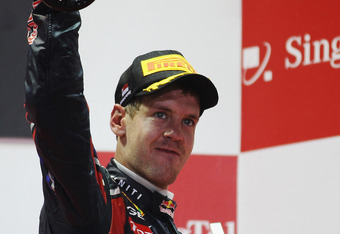 Mark Thompson/Getty Images
The third and final flaw I will point out is this. By racking up points with consistent podium finishes it is possible to win only a single race during a season and still become champion, and that has actually happened in F1.
This year, 2011, F1 has struck the rock of its most serious flaw, and is firmly impaled on a jagged peak of pointlessness. Sebastian Vettel has got the championship in his back pocket. Technically, mathematically, the pocket may not be zipped up tight yet, but the championship will not escape him.
So the F1 circus will move on to Japan, Korea, India, Abu Dhabi and Brazil with no serious purpose. Send in the clowns.
We have been here before.
When Michael Schumacher was at his peak and Ferrari were giving him a machine of dominant quality he became a real problem for the sport. There were rule changes intended to stop him securing the championship early in the season, because F1 had become predictable and audiences were declining.
The rule changes did not have the desired effect, and Schumacher's grip on the championship was maintained until Renault secured a technical advantage and Fernando Alonso took a couple of turns at wearing the crown.
By successfully defending his 2010 championship, and doing so in emphatic style, destroying all competition including his teammate, Vettel threatens to repeat the Shumacher age of boredom. The bosses of F1 will not like that, because the fans will not like it.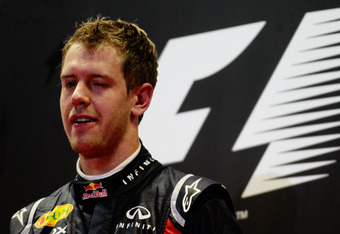 Paul Gilham/Getty Images
So what might happen?
It is entirely predictable that the points system will be revised. Fairly recently it was changed to increase the difference between winning and coming second; expect that change to be reversed.
There are other possible ways to stop a driver seizing a championship lead early in the season and running away with it. For example, points could be reset for the top drivers midway through the season, as happens in the NASCAR Sprint series. It is certain, though, that any proposals for change would be fiercely resisted by those who felt disadvantaged by them; agreement would be difficult to secure.
And if Vettel is as peerless as he certainly appears to be, and if he remains in a top-class machine, it is at least possible that he will hold F1 in a grip of iron for several seasons whatever devious machinations may be devised to thwart him.
It might be premature to class Sebastian Vettel as a great F1 driver, but also crass to dispute the widely-held view that his is an extremely good one. Very quick and very brave, he has thus far displayed no flaws to detract from the cheerfully grinning personality he shows to the world.
But that cheerful grin on the top step of the podium and the accompanying German national anthem may well be things that F1 fans are going to become mightily sick of.
Some may read this article and grind their teeth in rage. Because if the most able contestant gets to the top of their sport and stays there, then what could be fairer?
Nothing could be fairer.
But when boredom comes in the door then fairness is a candidate to be thrown out of the window. That's fair too, isn't it?