2011 Masters Odds: Ranking the Top 10 Favorites at Augusta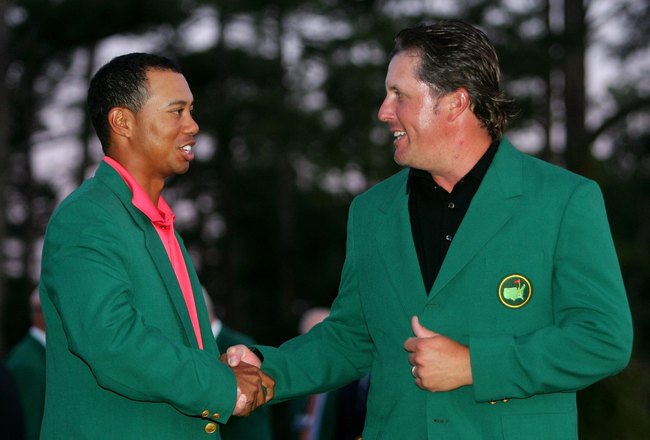 Andrew Redington/Getty Images
The problem with the odds these days lies within the players.
There are just so many players who can win now. In other times, the week would start where only a couple of players were given a legitimate chance of winning and anyone else was an underdog.
These days are long gone.
A quick look at the odds for this week's Masters tournament is evidence of this.
According to many oddsmakers, the players with the best chances have anywhere from 7/1 to 10/1 odds on victory; these are the most lofty odds in recent memory.
For this slideshow, odds rankings were taken from paddypower.com and the top 10 players were chosen for analysis.
10. Bubba Watson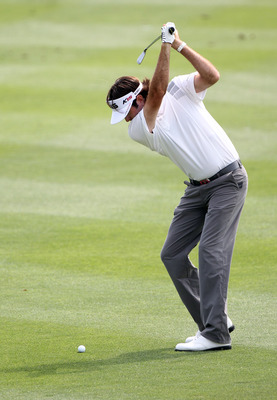 Sam Greenwood/Getty Images
Odds: 28/1
Appearances: 2
Best Finish: T20
Top 10s: 0
Bubba Watson has had a breakthrough year-and-a-half.
With two victories and a runner-up finish in last year's PGA Championship, he has quickly established himself as one of the best players in the game.
With an unconventional swing and unbelievable power, Watson has the ability to out-muscle many courses on the PGA Tour schedule.
His strength is certainly his length. However, Watson does not have any glaring weaknesses.
This season, Bubba already has a victory at the Farmers Insurance Open and a fourth-place finish at the WGC Accenture Match Play Championship.
One potential weakness for Watson is that, for the most part, he is unproven on the grounds at Augusta National. Often, Masters experience is a helpful tool for a successful tournament.
9. Padraig Harrington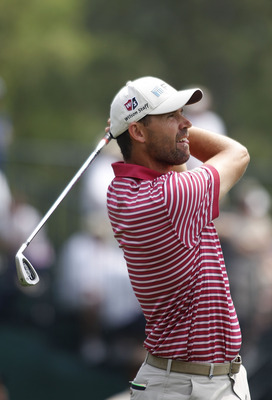 Michael Cohen/Getty Images
Odds: 28/1
Appearances: 11
Best Finish: T5 (2)
Top 10s: 3
Padraig Harrington has certainly had his struggles over the past couple years.
After winning three major tournaments in two years, Harrington decided on a swing change that he still hasn't fully recovered from.
Nonetheless, Harrington loves the grind of a major championship and should never be considered out of it.
Padraig had a strong showing at last week's Shell Houston Open, where he finished T8. This should give Harrington the confidence he needs to have a good week at Augusta.
8. Dustin Johnson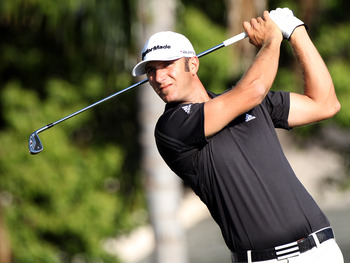 Sam Greenwood/Getty Images
Odds: 25/1
Appearances: 2
Best Finish: T30
Top 10s: 0
Do not let the two major disappointments last season fool you.
Dustin Johnson is a budding superstar and many major championships await this young man.
Much like Bubba Watson, Johnson has the ability to overpower almost every golf course he steps foot on.
At only 26 years of age, Johnson already has four Tour victories to his name, making him one of the best young players in the world.
With three top-10s already this season including a runner-up finish at the WGC Cadillac Championship, Johnson is poised to break through with his first victory of the 2011 campaign.
Maybe this week Johnson will prove that the third time's the charm.
7. Luke Donald
Mike Ehrmann/Getty Images
Odds: 25/1
Appearances: 5
Best Finish: T3
Top 10s: 2
Luke Donald is one of the great ball strikers on Tour, and has the second-best scoring average on Tour this season.
One weakness in his game is the driver. Donald is not a long hitter of the golf ball and is not very accurate either. Donald ranks 176th in driving distance and 105th in driving accuracy. This could prove to be his downfall at Augusta.
Donald already has a victory this season, a win against world No. 1 Martin Kaymer at the WGC Accenture World Match Play Championship. That week, he dominated the field, never being down in a match and never playing the 18th hole all week.
Maybe Donald can bring the success he had against the world's best players that week to the season's first major.
6. Rory McIlroy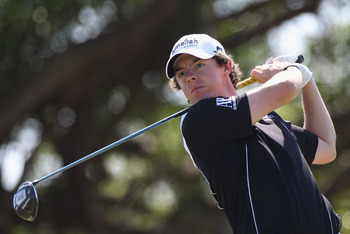 Sam Greenwood/Getty Images
Odds: 22/1
Appearances: 2
Best Finish: T20
Top 10s: 0
Rory McIlroy is another one of the budding young superstars on Tour.
He was one of the few players in the world without a glaring weakness.
McIlroy's best finish this season is a tenth place finish at the WGC Cadillac Championship.
McIlroy had a very good season last year with a win at Quail Hollow and two top-10 finishes in two majors (The Open Championship and the PGA Championship).
Experience will be a factor this week at Augusta for McIlroy as he has only competed in the Masters twice and never finished in the top 10.
5. Martin Kaymer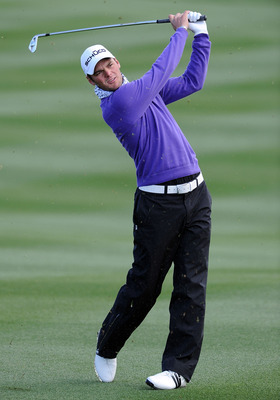 Stuart Franklin/Getty Images
Odds: 18/1
Appearances: 3
Best Finish: M/C
Top 10s: 0
Martin Kaymer is the world's best player.
Again, Kaymer is one of those men with no real weaknesses except maybe experience—but he has a bit of that too.
Kaymer took home the last major that was played, the 2010 PGA Championship, in a playoff against Bubba Watson.
Although Kaymer has never made the cut Augusta, he has preformed well in the other majors, finishing in the Top 10 in each of the other majors last season, including his first major victory.
Kaymer also finished runner-up to Luke Donald this year at the WGC Accenture Match Play Championship.
4. Nick Watney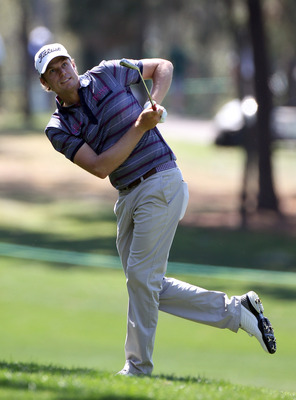 Sam Greenwood/Getty Images
Odds: 16/1
Appearances: 3
Best Finish: 7
Top 10s: 1
Nick Watney is another one of those young superstars looking to breakthrough with their first major victory.
He is also one of only a few young superstars with a top-10 finish at Augusta.
Watney already has one victory this season, a two-shot win over Dustin Johnson at the WGC Cadillac Championship.
At last season's PGA Championship, Watney took a three-shot lead into the final round, he sturggled on Sunday to an 81 and finished T18; Martin Kaymer eventually won.
With five top-10s in only six events this season, Watney has to be feeling confident with his game going into this week's Masters.
3. Lee Westwood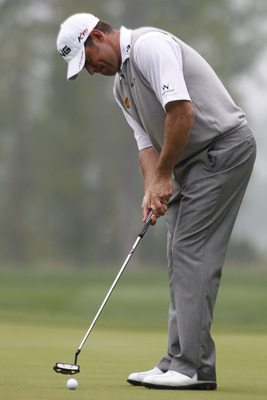 Michael Cohen/Getty Images
Odds: 12/1
Appearances: 11
Best Finish: 2
Top 10s: 2
Lee Westwood is arguably the best player without a Major. The current world No. 2 has not gone without heartbreaks.
In 2010, he finished runner-up at both the Masters and British Open. He also has five top-three finishes in the last three years.
There is no doubt Westwood has been knocking at the door—it is just up to him to finally break it down.
Westwood has struggled a bit this season on Tour, with not a single top-10 in three starts. His best finish is T17 at the WGC Match Play Championship.
2. Tiger Woods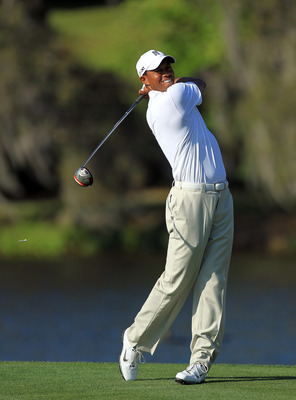 David Cannon/Getty Images
Odds: 9/1
Appearances: 16
Best Finish: 1 (4)
Top 10s: 12
The greatest golfer of this era comes in at No. 2 on this list.
Despite struggles over the last year-and-a-half with his game, Tiger remains an excellent player with the history to back the odds he was given.
One of Tiger's most glaring problems comes with the flat stick. Tiger has struggled with putting over the past year-and-a-half, and good putting is a must to tame the greens at Augusta National.
Tiger claims he is confident in his game now—this is a scary thought for the rest of the field.
The memories of his four green jackets could give Tiger the inspiration to take his game back to those times. Who knows, Tiger could easily claim his fifth green jacket this week.
1. Phil Mickelson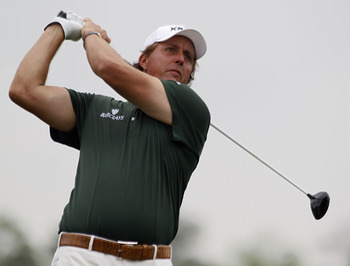 Michael Cohen/Getty Images
Odds: 7/1
Appearances: 18
Best Finish: 1 (3)
Top 10s: 13
Phil Mickelson is the odds-on favourite to take home the 2011 green jacket.
The defending champ has struggled this season up until last week's Shell Houston Open where he took home the title.
Phil already owns three green jackets and a fourth would put him in an exclusive club with Tiger Woods, Arnold Palmer and Jack Nicklaus.
Phil should gain confidence for his performance last week, because in 2006 took home the Bell South Classic and then the next week won his second green jacket.
Who knows? Maybe this year will be same as 2006.
Phil is notorious for his adventures off the tee and risky recovery shots, these will be critical to Phil's success or failure at Augusta.
Along with his win, Phil has a runner-up finish at the Farmers Insurance Open and one other top-10 this season.
Keep Reading