Hispania Racing: Going the Way That so Many Have Gone Before
March 27, 2011
Mark Thompson/Getty Images
I am a Ferrari fan through and through. I have been for all my life, and I have no intention of changing anytime soon.
But like many fans of Formula 1, I have something of a fascination with the teams at the very back of the grid. The teams that don't have much money or resources but try so hard and try to compete with the corporate giants at the front.
The first season I have a clear memory of is the 1996 season, so by that point teams such as Pacific, Simtek and Forti had all just about gone.
The main minnow that was around as I was growing up was Minardi. They were nearly everyone's second favourite team. They didn't start out as a minnow in the '80s, but as things became more and more expensive, the little team couldn't really compete.
They had no money, but they had grit and determination and kept going despite nearly always being near the back. Every so often, Minardi would come along and nick a few points, which was always great to see.
When Minardi finally was gone I thought we had seen the last of the little teams, but the Japanese came in to provide a replacement. Super Aguri was similar to Minardi where it didn't have much money but really pushed with everything they had. Super Aguri did have help from Honda however, so they weren't totally independent.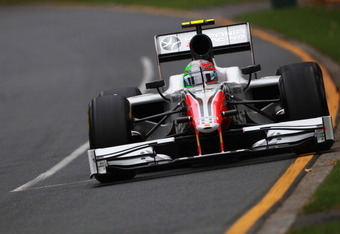 Robert Cianflone/Getty Images
However, I watched their progress, and you could only imagine my delight when at Montreal in 2007, Takuma Sato in the Super Aguri passed Fernando Alonso in the Mclaren. Also during this time frame we had Spyker and Midland, but both of those teams were being run simply so they could be sold later for profit.
Now, both these were small teams with cars that weren't miles too slow, but they weren't ever realistically going to move off the back. Now, I have no problem with these teams. They aren't going to set the world on fire, but they aren't dangerously slow.
There has to be a line between the teams that can produce respectable performing cars and those that cannot.
Again, there are examples from the past of teams that made cars so slow, they were simply dangerous to everyone. The Life team is an example of a team that simply had no place in the sport.
The car was no faster than a Formula 3 car. The Life car was putting others at risk by being on the track with other cars that were so much faster than they were.
When the three new teams that entered the sport in 2010, worries about their cars' performances were naturally put forward. However, Lotus and, to a slightly lesser extent, Virgin Racing produced cars that were not world beaters, but just about respectable.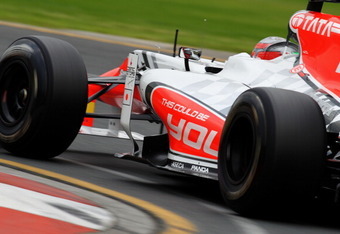 Paul Gilham/Getty Images
Sadly, the same couldn't really be said about Hispania. The car was hurriedly built, not tested at all before the start of the season, heavy and slow. Couple this with the fact that the team had no money at all for development, and they had almost no chance. The car did improve as the team got used to it, but it was still very slow.
But the team had some sympathy from some people with the team being new and having to be rushed. The 2011 season was when people needed to see improvement.
One slightly ominous sign was the hiring of Narain Karthikeyan. It is well known that he is bringing a lot of money into the team, but his previous results in Formula 1 weren't particularly good (the fourth in the United States Grand Prix doesn't count).
Once again, the car was not tested, and their running in practice in Australia was minimal. Then qualifying saw their drivers Karthikeyan and Liuzzi fail to make the 107 percent time by three seconds and 1.8 seconds, respectively.
They were not allowed to compete in the race. Now, with no testing and not much money it is hard to see how they are going to make their car fast enough to compete.
Hispania are quickly becoming a laughing stock. There is little to no respect for the team. Virgin and Lotus are trying hard and producing cars that are respectable. Hispania are working just as hard, but something is very clearly wrong with the team.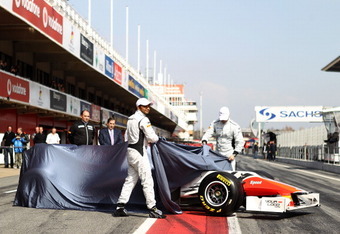 Paul Gilham/Getty Images
Martin Brundle on commentary summed up the Hispania situation rather well when talking about Vitantonio Liuzzi being in one of the cars. Brundle said he couldn't understand what Liuzzi's manager was thinking when he decided to get him that seat.
When it comes to the point that people are saying that you're better off not being in Formula 1 at all than in that car, you know something is very wrong with that team and car.
Hispania try so hard and the fact they made it to Australia it all was, as team owner Colin Kolles put it, "something of a miracle". I would love Hispania to suddenly find some speed at get themselves in to races. But I just don't see it happening anytime soon.
The Hispania F111 is a lot better than I originally thought it was in terms of looks. But in terms of performance, there were no surprises. Also, if the team keeps failing to qualify, it isn't going to encourage any sponsors to help them and it may cause some sponsors to walk away.
I just think it is a little sad to watch a team try so hard and then struggle so much. But you never know, it could all come good yet.
I wouldn't be surprised though to see Hispania join the list of teams such as Forti, Simtek or Pacific.
Hispania, good luck.