College Football Rankings: 20 Coaches Who Are Fireproof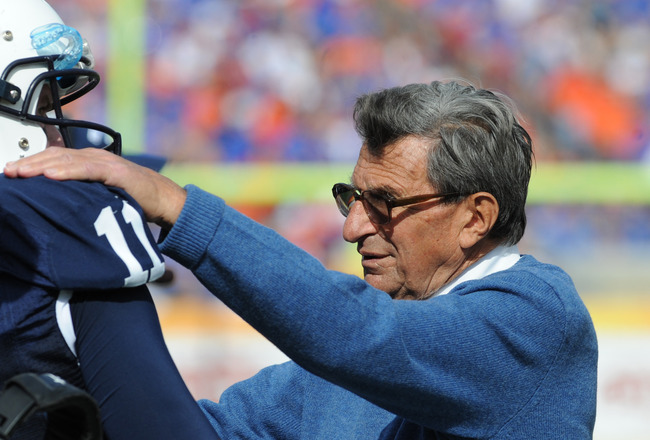 Al Messerschmidt/Getty Images
As of this coming season, nearly half of all NCAA Division I football coaches will be in either their first, second, or third year in such role.
To prove indispensable in the college ranks has become increasingly difficult, as a media savvy fan base has become increasingly intolerant of failure.
To stay, you have to win, and do so consistently. It's as simple as that.
It is by no coincidence then, that many of these guys of this list have exhibited a tendency to coach successful football teams.
And more important to that success than any recruiting class*, each of them has established a unique philosophy to change the culture of their program.
Added emphasis was placed on coaches unfirable while at the helm of big time football schools.
(Honorable Mention: Howard Schnellenberger-Florida Atlantic, Urban Meyer-CBS.)
(*potentially not true)
20.5 Mike Leach, CBS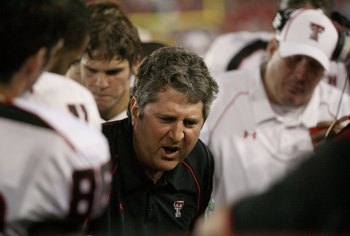 Thomas B. Shea/Getty Images
20. Larry Blakeney, Troy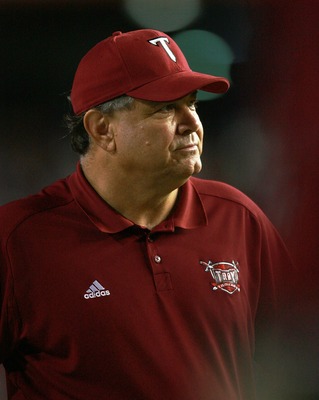 Doug Benc/Getty Images
Tenure: 20 years
Larry Blakeney became the 20th head football coach of the former Troy State University in December 1990, and has since overseen the non-USC version of the Trojans transition from the Division II ranks, to Division I-AA in 1992, to Division I-A in 2001.
He has posted a 62-49 D I-A record, along with a cumulative 161-82-1 mark. His teams have been to five bowl games since joining the Sun Belt Conference in 2004, going 2-3 in those contests.
19. John Gagliardi, Saint John's (Minn.)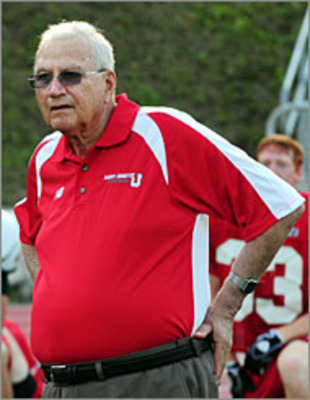 Tenure: 57 years
Along with Chris Ault and Joe Paterno, Gagliardi is one of the three active coaches in the College Football Hall of Fame.
His career record is 478-129-11—the 478 representing the most wins of any coach in the history of college football.
His teams have won four national titles; the first was the NAIA National Football Championship in 1963, the last was the NCAA D III title in 2003.
Gagliardi has been a head coach in college football since he was 22 years old.
(By comparison, at 22 I was still misreading my defensive assignments as safety of the 'Giant Brown Ravens' intramural team. Nothing about my career so far indicates it ending in the College Football Hall of Fame.)
18. Mike Riley, Oregon State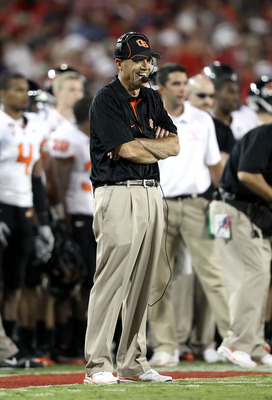 Christian Petersen/Getty Images
Tenure: 8 years
In 1997, Mike Riley was hired to place Jerry Pettibone as head coach of the Beavers. His tenure would have lasted to date had he not left in 1999 for a short stint in the NFL as coach of the Chargers.
His Oregon State teams have posted a 69-54 record under his watch, and have gone 5-1 in Bowl games.
Riley recently signed a three-year extension through the 2019 season.
17. Gary Pinkel, Missouri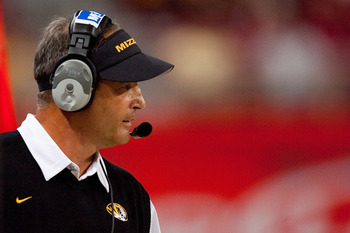 Dilip Vishwanat/Getty Images
Tenure: 10 years
Since arriving from Toledo in the year 2000, Pinkel has led the Tigers to a 77-49 record, while taking them to seven bowl games in those 10 years (they've gone 3-4).
In 2007, Pinkel's Missouri team earned the AP's No. 1 spot at the end of the regular season, which they held until losing to Oklahoma in the Big 12 championship game.
16. Chris Ault, Nevada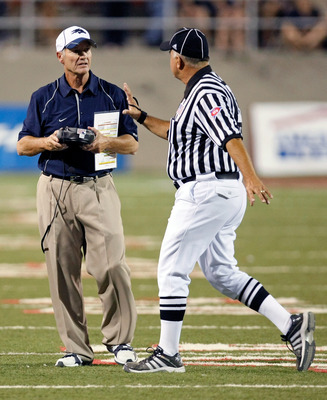 Ethan Miller/Getty Images
Tenure: 35 years…with a little vacation time in the early and late 90s.
Ault is one of only five college coaches to reach 200 wins, and as noted, is one of the three active coaches in the College Football Hall of Fame. He sports a career 219-97-1 record with the Wolfpack.
And as for his job security?
During the latest period of coaching hiatus for Ault, CA took up duties as Nevada's athletic director. In that position, he was responsible for the hiring, and firing, of his successor. "Ault, as the athletic director, was the one responsible for the termination of head coach Chris Tormey (in 2004)." He named himself as Tormey's replacement three days later.
Apparently, Ault had aced the interview process.
Chris Ault's not leaving Nevada until he decides it's time to go.
(quote from Wikipedia; they of the trustworthy news.)
15. Greg Schiano, Rutgers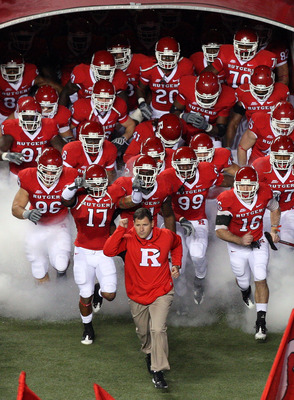 Jim McIsaac/Getty Images
Tenure: 10 years
During Schiano's tenure, the Scarlet Knights have seen their first foray into the top 25 since 1976, gone 4-1 in bowl games, and posted a cumulative 59-63 record.
Schiano won most national coach of the year awards in 2006 after leading Rutgers to an 11-2 record that included a win over Kansas State in the Texas Bowl.
The only way Schiano's leaving Rutgers is to take another job.
14. Gary Patterson, TCU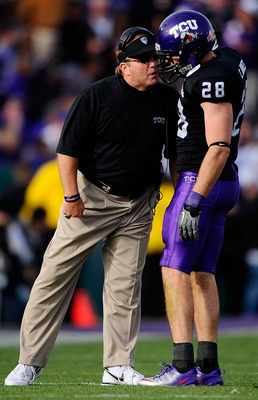 Kevork Djansezian/Getty Images
Tenure: 10 years
Patterson's teams have gone 98-28 during his time at Texas Christian, placing him second on the TCU career victory chart behind only Dutch Meyer.
Via source of the day Wikipedia: "Patterson is the only coach in school history to record six 10-win season."
During his penultimate year to date, 2009, Patterson and the Horned Frogs registered a perfect 12-0 regular season, which earned them a No. 4 BCS ranking until they fell to likewise undefeated Boise State in the Fiesta Bowl.
13. Mark Richt, Georgia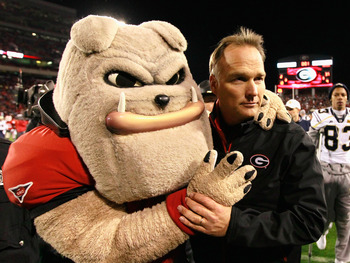 Kevin C. Cox/Getty Images
Tenure: 10 years
Richt replaced Jim Donnan at the start of the 2001 season.
His tenure has included 10 bowl appearance (7-3 record), five AP top 10 finishes, and a combined 96-34 record.
Mark Richt is also proactive; he is one of the only college football coaches with his own website.
12. Nick Saban, Alabama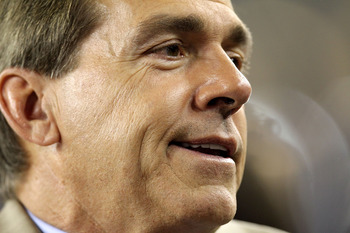 Ronald Martinez/Getty Images
Tenure: Four years
After a short lived stint as coach of the Miami Dolphins, it seems like Nick Saban has settled back into the college ranks for the long haul.
His Crimson Tide teams have posted a 43-11 record (25-7 in the ultra competitive SEC), while going 3-1 in bowl games.
In 2009, Alabama defeated Texas in the BCS National Championship game, capturing the title and capping off a 14-0 season.
After that year, the University of Alabama announced it would be unveiling a statue of Saban prior to the 2010 season. Essentially, that means nothing short of an uprising will remove Saban from power.
......
On a related note: Mark Gaines is handsome.
11. Kirk Ferentz, Iowa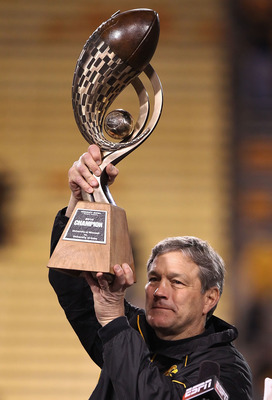 Christian Petersen/Getty Images
Tenure: 12 years
"Captain Kirk" Ferentz is Iowa's 26th head football coach.
He has led the Hawkeyes to a 53-43 Big Ten record (89-60 total), while guiding them to nine bowl games in his 12 years (6-3).
Four times have his teams finished in the AP top 10, and their No. 7 finish in 2009 was the school's highest ranking since 1960.
On a number of occasions, Ferentz has turned down opportunities at the NFL level. Iowa has shown him similar loyalty, and there is no reason for them to do otherwise.
Epilogue (added 3/4/11):
A cool tidbit via hawkeyelongue.com:
"4 of [Ferentz's] 6 Bowl Game wins have come against BCS Top 15 teams:

#15 Florida in the 2004 Outback Bowl
#11 LSU in the 2005 Capital One Bowl
#9 Georgia Tech in the 2010 Orange Bowl
#12 Missouri in the 2010 Insight Bowl"
And this rather eloquent contribution from Beau Hudson, once again proving that if you smear egg on my face, I will give you a link...
"Iowa has been bowl eligible each of the last 10 years (didn't go in 2007 with a 6-6 record)."


10. Jeff Tedford, Cal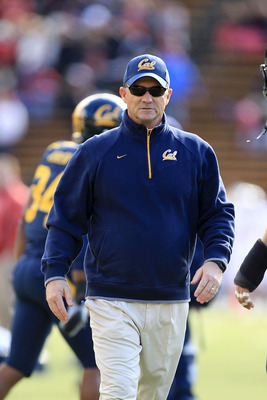 Ezra Shaw/Getty Images
Tenure: Nine years
With a 72-42 record in his nine years at Cal, Tedford is widely recognized as the man who revitalized the Golden Bears football program.
Since he took over in 2002, Tedford's teams have appeared in seven bowl games (5-2), and finished in the AP top 25 three times.
Tedford has already recorded the second most career victories in school history (behind only Andy Smith).
Known as a quarterback guru, JT has seen QBs Trent Dilfer, David Carr, Akili Smith, Joey Harrington, Kyle Boller, and Aaron Rodgers selected in the first round of the NFL draft while under his watch (at Fresno State, Oregon and Cal, respectively).
9. Pat Hill, Fresno State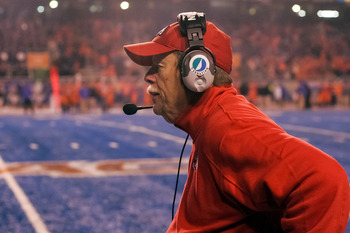 Otto Kitsinger III/Getty Images
Tenure: 14 years
Head coach of the Bulldogs since 1997, Pat Hill has led his teams to a combination 108-71 record. They've gone 75-36 in the WAC, and 4-7 in bowl games.
Beyond that, Hill has notably improved the academic performance of the Fresno footballers.
Wikipedia: "During Hill's tenure, the team has produced (as of 2005) 65 Academic All-WAC players, compared to a total of nine in the entire history of the program before Hill's arrival."
That kind of stuff matters in football.
8. Mack Brown, Texas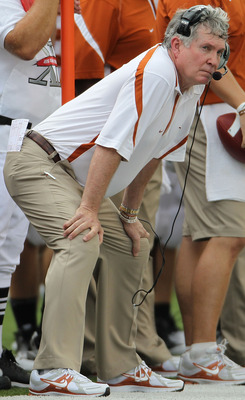 Ronald Martinez/Getty Images
Tenure: 13 years
In 13 seasons with the Longhorns, Mack Brown has recorded a 133-34 record, while going 82-21 in the always competitive Big 12. His teams have been to 12 bowl games, winning eight.
The Brown Texas teams have place in the top 25 a total of 12 times, the top 10 seven times, and won the national championship once (behind Vince Young in a historic 41-38 defeat of then undefeated USC).
Brown is a two-time Big 12 coach of the year.
His "coaching stance" is among the best in the nation.
7. Steve Spurrier, South Carolina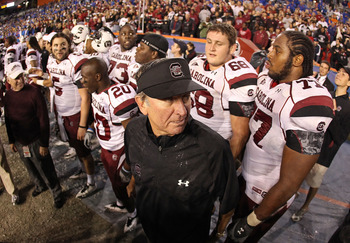 Mike Ehrmann/Getty Images
Tenure: Six years
Spurrier hasn't quite recaptured his Florida magic, but with South Carolina, he's dating below his league. In that sense, he's bought himself some leeway.
Spurrier has gone 44-33 since taking the Gamecock reins, and last year his team produced the first top 25 finish in his tenure.
Five times they have been to bowl games, going 1-4 in those contests.
6. Bob Stoops, Oklahoma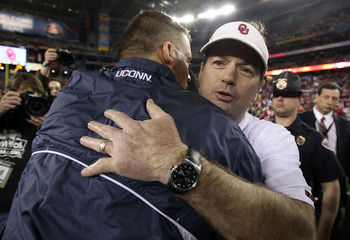 Christian Petersen/Getty Images
Tenure: 12 years
In 1999, Stoops was hired as head coach of the Sooners in hopes of reviving what had become a disappointing program. It took him one year.
Under Stoops, Oklahoma has gone 129-31, won one national championship (2000), and seven Big 12 championships. He was the AP National Coach of the Year in 2000.
The Sooners are a perennial powerhouse, and have recorded eight top 10 finishes in Stoops twelve years as coach.
5. Les Miles, LSU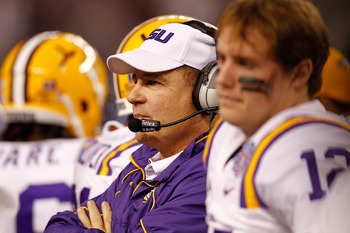 Chris Graythen/Getty Images
Tenure: Six years
Taking over for Nick Saban in 2005, Miles's Tigers teams didn't miss a beat.
They've gone 62-17 in the ensuing six years, posting a 5-1 record in bowl games, and scoring a National Championship in 2007. In three of LM's six years, LSU has finished in the AP top 5.
Miles showed loyalty by not reciprocating Michigan's interest, and he it stands to reason he's not leaving anytime soon.
4. Bill Snyder, Kansas State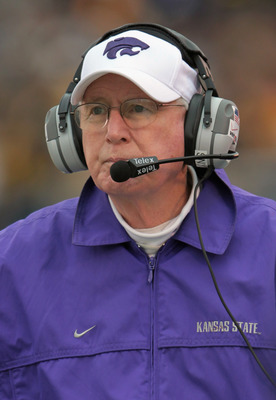 Jamie Squire/Getty Images
Tenure: "Two years"
The football stadium at Kansas State is called 'Bill Snyder Family Football stadium,' so bear in mind, they're not firing him without a renovation.
Snyder served a 17-year stint as the Wildcats head coach from 1989-2005, during which time the team went 136-68-1. That from a team that had reached five wins only twice in the 17 years prior to his arrival.
Hall of Fame coach Barry Switzer on Snyder's work at KSU: "He's not the coach of the year, he's not the coach of the decade, he's the coach of the century."
Snyder returned from retirement in 2009, and has since gone 13-12 while appearing in one bowl game.
3. Jim Tressel, Ohio State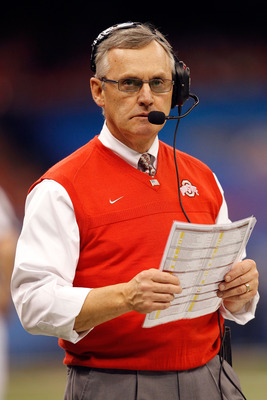 Matthew Stockman/Getty Images
Tenure: 10 years
Jim Tressel was hired before the 2001 season to replace John Cooper, becoming the 22nd football coach in Ohio State history.
During his tenure, Tressel has exhibited proclivities for winning, professionalism, and sweater vests. His teams have posted a combined 106-22 record, while appearing in three BCS national title games.
They are 66-13 in conference, and seven times have finished the season in the AP top 5. He is 6-4 in bowl games and has won the Big Ten seven years.
More important than all that—Tressel is 9-1 against Michigan. There's no way he's getting fired.
2. Frank Beamer, Virginia Tech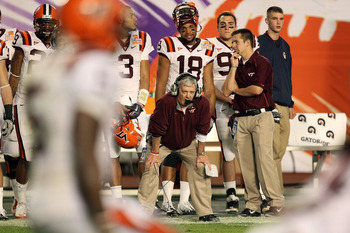 Streeter Lecka/Getty Images
Tenure: 24 years
In December 1986, Frank Beamer took over a Virginia Tech program that was something far short of relevant, and has since turned it into a perennial contender.
Beamer's teams have appeared in 18 bowl games, and seven times have finished the season in the AP top 10.
The only accomplishment not yet achieved under Beamer is a national championship. (The Hokies came close in 2000, but lost to undefeated Florida State in the Sugar Bowl.)
Beamer's teams are known for their propensity to produce on special teams—"Beamer Ball"—and in recognition of that, here's a cool tidbit form Wikipedia: "Since Beamer's first season in 1987, a player at every position on the defensive unit has scored at least one touchdown, and at least 25 different players have scored touchdowns while on Virginia Tech's special teams."
Beamer's career record is 240-118-4, and his "coaching stance" rivals even Mack Brown's.
1. Joe Paterno, Penn State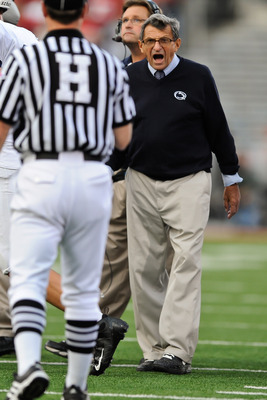 Jamie Sabau/Getty Images
Tenure: 45 years
Along with Chris Ault and Joe Gagliardi, Joe Paterno is the third active member of the College Football Hall of Fame.
He hold the record for most victories by a Division IA coach, and has led Penn State to more bowl wins then any other coach in college football history. He is 24-12-1 in bowl games.
Paterno has won two national championship (1982, 1986), and is serving in his (this is incredible) 61st season on the Penn State coaching staff.
He has been coaching the team since 1966, which makes his tenure as top dog of the Nittany Lions a staggering 45 years long. He is 401-134-3 in that time.
JoePa had come under criticism in recent years regarding his ability to do the job as a man in his 80s, but the Nittany Lions have since rebounded with several strong seasons.
It would be sacrilegious to force Joe Paterno out at this point. When he leaves Penn State, it will be on his own accord.
Keep Reading