With Jim Harbaugh Hired, San Francisco 49ers Need To Get Their Quarterback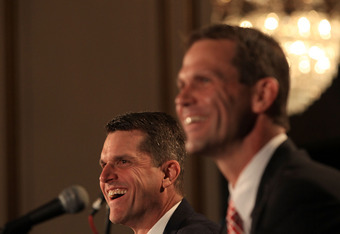 Ezra Shaw/Getty Images
I just got back from the Jim Harbaugh press conference a while back and after listening to what he had to say, it became apparent that his hardest task is to find the next franchise quarterback. Along with general manager Trent Baalke, Harbaugh faces his toughest test yet.
After three days of intense negotiations with teams seeking his service, San Francisco 49ers head coach Jim Harbaugh won't have much time to rest. The new head coach said that he was going straight to work immediately following his introductory press conference Friday afternoon.
"I'm extremely excited for this press conference, for tonight's work, for tomorrow's work, and get started on knowing this football team, knowing the National Football league, knowing our division, knowing our conference and with great excitement and enthusiasm," Harbaugh said in his opening statement.
One of the most important things that he has to work on is finding the team's franchise quarterback. Since the team's last playoff appearance in 2002, the 49ers have inserted eight different starting quarterbacks. With Harbaugh, this is a chance for him to give the 49ers a fresh new start. He pointed out some specific characteristics that he wanted in a quarterback.
"Athletic instincts, accuracy, timing, decision making, leadership, intelligence, and you could keep going on and on here, and they're all important," he said. "They're important like to a carpenter, the hammer, the saw, the nails, the ruler—you need 'em all. So we're trying to find those men and develop those characteristics and those abilities."
Ezra Shaw/Getty Images
Harbaugh said that he was going to look through the roster before venturing out to free agency and the draft to find the right fit for the team. He needs to strike gold after years of frustration at the quarterback position.
With Trent Baalke as the new general manager and overseer of the final roster, both he and Harbaugh will have to look deep and hard to get that starting quarterback. No longer will the 49ers be burdened to continually give quarterback Alex Smith another chance. Smith is a free agent and it is very unlikely that he will return to the 49ers.
A clean slate for a fresh start for the 49ers is what the team needed. And getting Harbaugh, a former quarterback and mastermind behind Stanford star Andrew Luck, to do the job gives the team optimism.
The vision that Harbaugh set out during the press conference was simple: losing wasn't an option. In order to win, the new head coach said that he would bring back the West Coast offense to the 49ers. The offensive system that was established by Bill Walsh has not been used by the 49ers for some time and finding a quarterback to fit the system will be a challenge.
Right off the free agent market, signing a West Coast quarterback like Matt Hasselbeck could be a possibility. Trading for disgruntled quarterback Donovan McNabb could be an option as well. It's a clean slate that Harbaugh has a chance to make a big splash with. It's the opportunity for Baalke to prove to the 49ers that he was the right man for the hire.
Ezra Shaw/Getty Images
Unlike former head coach Mike Singletary, Harbaugh values the quarterback position.
"Well, all the positions are important on a football team, everybody's role is important," Harbaugh said. "But the quarterback does touch the ball every single play. So maybe I'm a little biased, but I think it's the most important position on the football team, and I think it's the most difficult in all of sports.
"If you ever had the opportunity to go to a practice...just to stand 10 yards behind the line of scrimmage and 10 yards behind the quarterback where he's taking the snap, and watching as he drops back and the chaos that is going on all around him and in front of him and all the things that he has to think of simultaneously, and in a split second, real time, you realize that that is the toughest position in all of sports."
Take it from a former quarterback to understand the difficulty of the position. Now he and Baalke are on a mission to find the next great quarterback for the 49ers.
And we know that he's already working on it.

This piece was originally published on Examiner.com.
Samuel Lam is a beat writer covering the San Francisco 49ers on Examiner.com. You can follow him on Twitter @SLam49ers.
This article is
What is the duplicate article?
Why is this article offensive?
Where is this article plagiarized from?
Why is this article poorly edited?

San Francisco 49ers: Like this team?