Notre Dame Football: Urban Meyer or Skip Holtz Will Follow Brian Kelly
December 16, 2010
Sam Greenwood/Getty Images
Brian Kelly is a good football coach.  It is clear from his past records that his teams have improved under his leadership.  Because of his success, ND offered him the head coaching position.  I have followed Kelly since he was head coach at the University of Cincinnati.  He transformed UC into a Big East powerhouse, leaving behind higher expectations for the football campus and improving practice facilities for the team.  All great accomplishments.  But from my observation before the season and now, I do not think Kelly will lead ND to a national championship. 
Kelly knows that consistently going 9-3 and 10-2 at ND will not be acceptable.  Though these records would be an improvement from the previous three head coaches, ND wants someone to deliver a championship and if the ND Administration does not believe Kelly can deliver a national championship, then they will look to hire someone else. Especially if Urban Meyer is available and Skip Holtz continues to show that he can be a good head coach like his father.
Though I think Kelly is a good coach and will be more successful than Charlie Weis, I do not think he will have the same effect on Notre Dame's program that he did for Cincinnati's.  Kelly is an innovative offensive mind while also being a good motivator and encourager of his players.  His players love playing for him.  Kelly is charismatic and smart, he knows what to say to the media and what to say to his players. He is any athletic director's dream as far as Public Relations. But I do not think he will be able to deliver a championship and here is why: The Peter Principle... 
In a 1969 book by L.J. Peter and Raymond Hull, the hypothesis is that people will be promoted until they reach a position that they are incompetent to complete.  If you are competent at one level, you will be promoted to a higher one and if one is competent there, another promotion occurs until one reaches a level of incompetence.  One principle of competence is that at higher levels, one must have people who function at high levels.  Hence, successful college football programs will always have assistants that move on to either head coaching jobs or higher level assistant posts.  Kelly, on the other hand, essentially picked coaches that he knew and many who followed him from Cincinnati.  His staff is almost entirely composed of men who have worked for him or who he has affiliation with at his previous schools.  This is an illustration of the Peter Principle.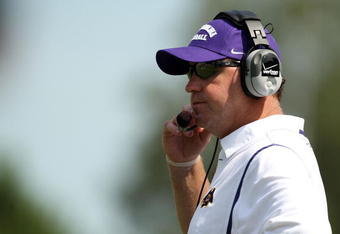 Streeter Lecka/Getty Images
Though these coaches had success at a lower level, coming to Notre Dame would not insure their success.  Only Tony Alford remains from Weiss's staff, but he has been switched from running backs to receivers coach.  It would be better to have hired coaches who had success at higher levels.  Had Kelly retained defensive coordinator Jon Tenuta, I would not be writing this article, but he has replaced Tenuta, who is widely held as an excellent assistant, with Bob Diaco, who also served with Kelly while at University of Cincinnati.  Though the University of Cincinnati was very successful, the defense was a weakness of the team.  The hiring of Diaco over Tenuta is an illustration of the Peter Principle. Kelly should have kept Tenuta but Kelly brought in his own staff, largely people who worked with him at his other coaching stops. 
If Cincinnati to Notre Dame were a lateral move, Kelly would be fine but I argue that Notre Dame is at a higher level and therefore needs coaches of equal or greater competence.  For example, Kelly hired no one from the NFL.  There are many coaches out there at top notch schools and NFL teams that would come to Notre Dame. 
Kelly has had a rough year which was compounded by the tragic death of Declan Sullivan.  Some have called for Kelly to be fired over this incident.  Kelly salvaged the season by defeating USC for the first time since 2001, but his final record was 7-5.  Both Willingham and Weis had better first years.  I hope I am wrong as I am not a Notre Dame basher and have followed the Irish football team since the days of Dan Devine, I just do not think Kelly will be able to deliver what he knows ND is expecting. I predict that after Kelly's tenure at ND, the Irish will look to either Urban Meyer or Skip Holtz to lead them.  In a few years, Urban Meyer may be healthy enough and ready to return to coaching and if he is not or is at another job, Skip Holtz is showing he is a chip off the old block.