New York Yankees: Top 5 Choices for Captain If Derek Jeter Leaves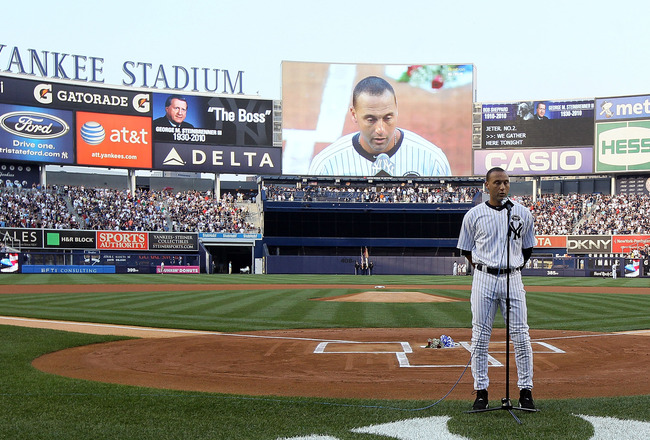 Jim McIsaac/Getty Images
To be clear, in no way do I think the New York Yankees and Derek Jeter will part ways. He's been the face of the franchise for over a decade, free from controversy, and a consistent performer.
The Yankees want and need him back. Only Miguel Tejeda and Orlando Cabrera would be adequate free agent replacements if you ask me. Followed by Jhonny Peralta and Juan Uribe, if they want to get a bit younger at the position.
Derek Jeter wants to be back. Anywhere else in the league, his value is diminished. A lot of Jeter's value is based on those pinstripes, not what he actually does on the field. And without Mark Teixeira at first base, his error total would skyrocket. Added to his age, he'd soon be relegated to DH on another team.
The fans want him back. Enough said!
I don't think the Yankees would name a new captain if Jeter leaves. But let's pretend the world ends and Jeter does find another team to play for. Who would take over as a leader and/or captain for the Yankees?
5. CC Sabathia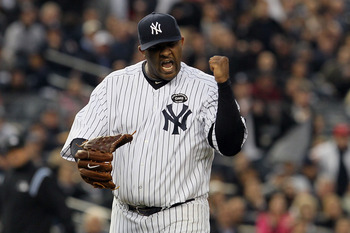 Jim McIsaac/Getty Images
It's not unprecedented for a pitcher to be a captain for the Yankees. Clark Griffith was the first EVER captain in Yankees history in 1903. Babe Ruth and Ron Guidry also held the title in the past.
Sabathia is a warrior in every sense of the word. He's gritty, he gets the job done on the mound, and is willing to throw his arm off to get his team a win . He's always fired up in the dugout and attentive to what's happening in the game. He's also under contract until 2015, so he'll be around for a while.
He's pitched 230 innings in both seasons he's played for the Yankees, with an ERA in the low 3's. Not to mention racking up 40 wins.
4. Nick Swisher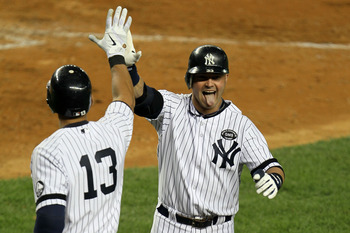 Chris McGrath/Getty Images
Who doesn't love Nick "Swishalicious" Swisher? The guy is fun to have around, fun to watch, and his game continues to improve since donning pinstripes.
He's the anti-Yankee. He's not clean cut, or super professional with a stick up his... But the fans love him, mostly the ladies. A friend of mine recently said, "I'm don't want a boyfriend ever again, unless it's Nick Swisher." Yes, it's that serious.
He's not the greatest in the outfield, but he gets the job done for the most part. He draws walks, gets on base, and comes up with big hits.
3. Alex Rodriguez
Stephen Dunn/Getty Images
Good ol' A-Rod. The highest played player in game has to be considered. Entering 2011, Rodriguez will have played more games with the Yankees than with any of his other teams. He will have played eight years with the Yankees, seven with the Mariners, and three with the Rangers.
As the years roll by, Rodriguez will be approaching milestone after milestone. With the captain title, he would probably feel a bit more motivated to accomplish them. But it'll also be some added pressure, and we all know how well he does in pressure situations.
He continues to put up good numbers. He's shed his post-season demons. And seems generally happy in pinstripes.
2. Mark Teixeira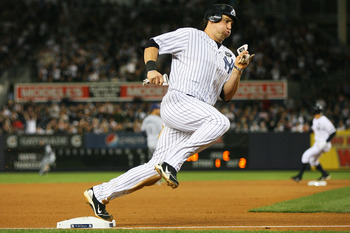 Andrew Burton/Getty Images
Okay, Tex had a career low .256 batting average last season. But he still managed to blast 33 home runs and drive in over 100 runs. I don't expect him to hit .250 every year, so a big year for Teixeira is due.
This guy leads by example. Defensively sound. He single-handedly made the Yankees one of the top infield defenses in the MLB.
When he went down in the playoffs, I think TBS was able to pick up audio evidence of hearts breaking in and around the stadium.
Who wouldn't want this guy as a key clubhouse figure? He's never involved in any controversies. He simple plays baseball the right way.
1. Robinson Cano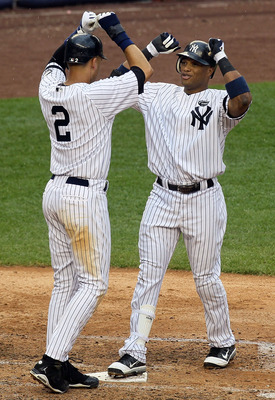 Jim McIsaac/Getty Images
Robinson! Robinson! Robinson!
If there ever were a quiet leader, it would be Cano.
Entering his prime, Cano's potential is out of this world. Each year he seems to add another dimension to his game. 2010 garnered him an All-Star appearance, third in the MVP voting, a Gold Glove, and a Silver Slugger award, all of which build his confidence level. It's only a matter of time before he's at the top of the game.
Most notably, he only had 3 errors last year! Coming off seasons of 13, 13, and 12.
Also, his walk numbers are climbing and his average is leveling out around .310. Cano won't be hitting .388, but there's a reason why he's received comparison's to Rod Carew. All that's missing now are stolen bases in order to become a complete 5-tool player. But I don't see that coming anytime soon, if at all.
He's a good mix of youthful exuberance, and performance on the field, very much in the mold of the late 90s version of Jeter. Take the reins Robinson.
Keep Reading

New York Yankees: Like this team?