Florida Marlins Managerial Search: The Final Four Fish Considered a Catch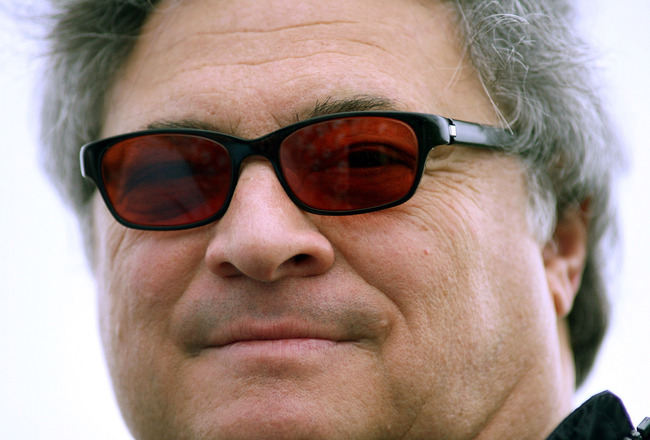 Marc Serota/Getty Images
As more and more of the offseason days have rolled on by it has become more and more apparent that the Florida Marlins are not leaning towards retaining Edwin Rodriguez as their manager next season. The current interim manager received a strong recommendation from the players and a approval of the front office in the work he has done.
Rodriguez went an even 46-46 after taking over for Fredi Gonzalez and inheriting a series of bullpen woes and freak injuries along the way.
The consensus among many as been that the front office will look to hire an experienced manager who isn't a calm presence but a vocal leader who can work well with a young roster.
While Edwin Rodriguez sure wasn't helped by the lack of having a healthy Ricky Nolasco, Hanley Ramirez, Josh Johnson, and Chris Coghlan in September, he was never suppose to be on Jeffrey Loria's managerial hot seat to begin with remember?
The process for hiring the new manager is expected to take anywhere from 2-3 weeks depending on the availability of a couple of candidates.
Nevertheless, the Marlins should be able to get their man if they act boldly. What manager wouldn't turn down a new era of a ballclub that will have new uniforms, new name, new stadium, and an emergence of young talent (Mike Stanton, Logan Morrison, and Gaby Sanchez) surrounded by Hanley Ramirez, Josh Johnson, and possibly Dan Uggla.
If a new manager is indeed at the helm on Opening Day 2011, it would mark the sixth different manager for the Marlins since 2002, when Jeffrey Loria took over in ownership of the franchise. But despite all those changes for the Marlins, their NFL and NHL counterpart Dolphins and Panthers have undergone the same number of managerial changes since 2002.
The Dolphins have had five different head coaches since 2002 (Dave Wannstedt, Jim Bates, Nick Saban, Cam Cameron, and current head coach Tony Sparano). The Florida Panthers have also had five different head coaches in the same timeframe (M.Keenan, R Dudley, J.Torchetti, J.Martin, and P.Deboer).
Whether further ado take a look at the four big fish the Marlins have lined up as their possible four managers of the future.
Jim Fregosi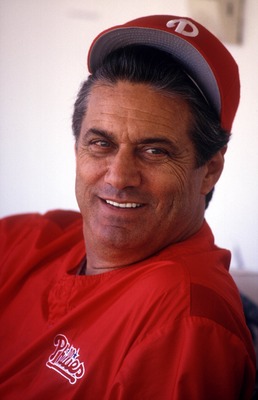 Jonathan Daniel/Getty Images
Age: 68
Managerial Record: 1028-1095 (.484)
Accomplishments: Reached 1993 World Series as manager of the Philadelphia Phillies (lost 2-4 against the Toronto Blue Jays)
The Latest: Jim Fregosi's name has gained steam in recent days as a candidate for the Marlins managerial job. Fregosi would certainly fit the profile of an experienced manager with a fiery attitude that the front office has been wanting. Currently, he is a scout for the Atlanta Braves who figure to target former Marlins manager Fredi Gonzalez, coach Terry Pendleton or quite possibly the "retired" Joe Torre.
Cons: Out of his 15 years as a manager, Fregosi has only had 5 winning seasons and is 68 years of age which doesn't look good if the Marlins plan on keeping a manager for at least five years which the franchise has yet to do in their nearly 20 year tenure.
Bobby Valentine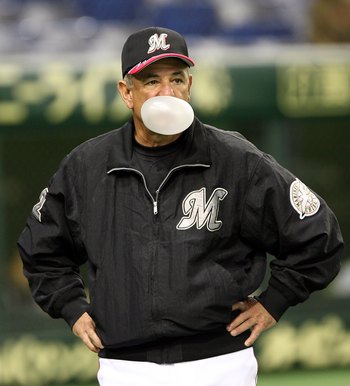 Koichi Kamoshida/Getty Images
Age: 60
Managerial Record: 1117-1072 (.510)
Accomplishments: Reached 2000 World Series as manager of the New York Mets (lost 1-4 against the New York Yankees in the Subway Series). Won Japan Series as manager of Chiba Lotte Marines in 2005.
The Latest: Bobby Valentine's name has been see-saw when is has been referenced with the Marlins. At first it looked like it was a done deal and that Edwin Rodriguez was a stopgap in leaking pipe left behind by Fredi Gonzalez. Then days went on and Edwin Rodriguez temporarily became a replacement until the offseason and here we are.
Bobby Valentine will only get the job if Jeffrey Loria gets his way and why not? He is the owner of the franchise but whatever happened inside the front office which halted his arrival remains to be seen.
But by all accounts he is still a candidate to manage the Marlins because they haven't spoke against not hiring him and it wouldn't be breaking any rule since they don't have an official manager and Bobby V isn't a MLB manager of another franchise.
Cons: Money might be the deciding factor in hiring Bobby Valentine at the end of the day. Reports were that money as the reason that Valentine wasn't hired in the summer but that didn't seem to be the case.
Bo Porter
Doug Benc/Getty Images
Age: 38
Managerial Record: None
Accomplishments: None
The Latest: Hiring Bo Porter over Edwin Rodriguez would be surprisingly for the Florida Marlins. While he is a candidate it would stump many if the Marlins after all the hoopla went and hired a young manager. Let's not forget that young managers Joe Girardi and Fredi Gonzalez didn't get along when it mattered and were axed prematurely. So a move like this is unlikely but possible on the horizon.
Cons: While regarded highly by the Marlins, Porter is not even 40 years old, heck Jamie Moyer a decade older than him. The Marlins also interviewed Porter and could have hired him midseason but stuck with E-Rod. Perhaps it could have been for evaluation but Porter was fired by the Arizona Diamondbacks after the regular season.
Tony Peña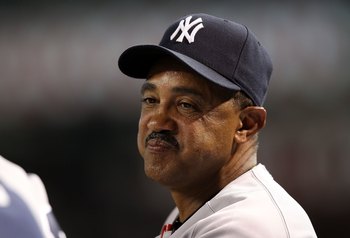 Christian Petersen/Getty Images
Age: 53
Managerial Record: 198-285 (.410)
Accomplishments: 2003 AL Manager of the Year with the Kansas City Royals; World Series title with the New York Yankees as bench coach in 2009.
The Latest: Tony Peña would make for a good fit for the Marlins. Peña is a former four time Gold Glove catcher, and catchers usually make the better managers. He could certainly be a boost with the poor defense the Marlins have had since 2005.
Being bilingual, Peña would be able to communicate with latino players such as countrymen Hanley Ramirez and Leo Nuñez.
He would bond well Edwin Rodriguez if the Marlins retain Edwin as a bench coach and it could make for a great mix, almost like a managerial combo with Peña leading the charge of course.
Cons: Even though he has been with a winning franchise in the Bronx since 2005, his track record hasn't proven he can win games especially in poor markets like when he managed with the Kansas City Royals. The Marlins also face the prospect of having Tony Peña emerge as a candidate for the Yankees job if Joe Girardi leaves for Chicago or St. Louis.
Keep Reading

Miami Marlins: Like this team?