Tom Cable: Love Him or Hate Him, He Is the Oakland Raiders Coach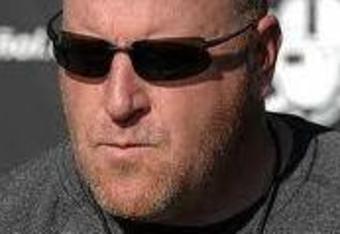 If all else fails I'm sure there's a role in the upcoming Sopranos Movie

Since being beaten by the Tampa Bay Buccaneers in the Super Bowl following the 2002 season the Raiders have struggled. Struggled is not the proper word to describe how the Raiders have played but we will go with it.
Bill Callahan was the coach at the time and was fired the following season when the Raiders (clearly suffering the famed Superbowl hangover) went 4 and 12.
Norv Turner got a shot for two seasons in which he went 9-23 collectively. Then came Art Shell Part Dos, who won a meager two games. Young, rebellious offensive genius Lane Kiffin came along and won a total of 5 games over a year and a half.
That brings us to the present. Currently the Head Coach is the often criticized Offensive line guru, Tom Cable. He has had to earn every ounce of respect he has gotten.
Most wrote him off as band aid when he was appointed the mid season replacement during 2008.
His on the field record isn't really any better then his predecessors. He's been called a puppet among other things. He was criticized for his lack of creativity in play calling.
Other people were not fond of him singling the former number one quarterback out for his poor play, work ethic, and physical conditioning. He was nearly brought up on assault charges for allegedly punching a former coach in a meeting.
After last season many fans and media people were calling for Cable to be out as the Coach. Few thought he should stay on.
In the 2005 draft Alex Smith was chosen number one overall by the San Francisco Forty Niners. Since being drafted he has had four different offensive coordinators and has delivered sub par results.
The frequent changes and different philosophies are often blamed for Alex's lack of development and progress as an NFL Quarterback. Aaron Rodgers, the other option the Niners considered drafting in 2005 has flourished and is now considered and elite quarterback in Green Bay.
The difference in Green Bay that's credited for Rogers success is the consistency he's experienced in coaches. He has had essentially the same coach and system in which to learn the entire time.
Tom Cable has been given the chance to succeed simply by being allowed time to affect change where change has desperately been needed.
Instead of whole sale changes this year, subtle ones have been made. Offensive guru Hue Jackson was brought in to develop some young offensive talent as well as call the plays. The number one overall pick with all the potential in the world was let go and the team moved on.
The Raiders had what many considered being a top draft class in the April draft. The off-season was filled with work and progress and not the usual drama. No scandals, contract disputes, coaching disputes or anything of that nature. The thought of a productive and successful season was on the minds of the entire Nation.
Then came week one. The Raiders experience a blowout loss in Nashville. The QB of the future looked shaky. The Offensive Line which should be a strength looked like an Achilles heel.
The play calling looked suspect. The defense didn't seem to be able to stop the run. Nothing looked right. Hands were hovering over the proverbial panic button.
Week two came around and a much weaker team was on the schedule. A team that won the rights to the number one overall pick last year by having the worst record last season.
The team was able to pull out a win but not before doing something they were not supposed to have to have done.
The head coach and the offensive coordinator made the decision at half time to pull what was believe to be the future at Quarterback in Jason Campbell.
They put in undersized and under talented Bruce Gradkowski. The move ignited a spark in the team and they were able to pull out a win.
This set of a land slide of debate once again among media and fans. "Was it necessary?" "Was it to early?" "Did they go against the owner's wishes?" "Is there going to be a controversy?"
The NFL is a business like any other business. It's about getting results. Results are measured by one thing: wins.
Tom Cable has been said to be on the hot seat this year. Being on the hot seat is not a fun or desired place to be. One thing became clear on Sunday, he intends on getting off of that seat. He is going to do what he believes is needed to win.
Campbell wasn't getting it done. Jackson went to Cable and suggested a change at Quarterback to Gradkowski. He green lit the change and voila it worked out and they won the game.
Tom Cable is a different coach then most of the other coaches in the NFL. Being the coach of the Oakland Raiders takes a different person.
Plenty of coaches have tried and failed. He earned a bit of respect from me for not being afraid to give Campbell the hook when there was still time to salvage the game.
Yanking Campbell was a move he new was destined to get him on SportsCenter Sunday night.
If Gradkowski is given a similar hook in an upcoming game and Campbell is re-inserted will it be the correct decision? If the Raiders win, yes.
Are the Raiders going to win the West and make the playoffs? Let's not get crazy. Let's go one game at a time.
Is Cable the right guy to continue coaching this team? If he keeps winning, yes.
Will Campbell be back in as the starting quarterback at some point? At some point, it's more then likely. It's likely for no other reason then staying healthy in the NFL is not easy. The guy has a lot of talent and a lot of potential. He might just need time.
As this season continues to unfold us armchair quarterbacks will continue to criticize what goes on. Cable will be referred to by many non-flattering names. It comes with being an NFL coach.
Mr. Davis isn't getting any younger. Say what you will about him. One thing you can't say is he doesn't want to win. He wants to win above all things. He wants to bring another Lombardi trophy to the East Bay.
All the people that are in the inner circle know that Mr. Davis is still one of the sharpest football minds around. He doesn't give a dang about what anyone thinks. He is going to plow ahead and do what he thinks is right to win.
Tom Cable is who Mr. Davis chose and believes in him, the rest of the coaching staff and the players on the roster. If they don't get it done, somebody will be brought in who will.
This article is
What is the duplicate article?
Why is this article offensive?
Where is this article plagiarized from?
Why is this article poorly edited?

Oakland Raiders: Like this team?