For The Love Of God Hang Up Your Gloves: 10 Fighters Who Should Call It Quits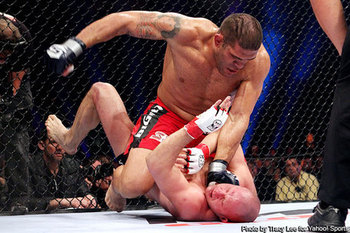 With recent losses for Fedor Emelianenko and Tito Ortiz, I thought it was time to make a slideshow about fighters who have had their glory days but may now be coming to the realization that they should retire, a difficult decision for any athlete.
I write this article as a fan of MMA and knowing that all of the fighters that I am writing about were great, some more so than others, but still great.
The past year-and-a-half has been up and down for many great fighters with some deciding to retire like Chuck Lidell while others decided to keep fighting like Tim Sylvia.
So with that in mind, I decided to make the list to give my thoughts on who needs to just give it up before they end up ruining their legacies, seriously injuring themselves in the cage, or they are getting up in years.
10. Rich Franklin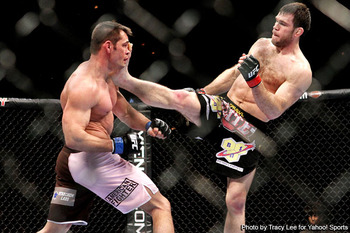 MMA Record: 28-6 1 NC
Last Fight: Unanimouse Decision loss vs. Forrest Griffin at UFC 126
Next Fight: TBA
Age: 36
Future Hall of Famer Rich Franklin finds himself in purgatory right now. Since losing the MW title to Anderson Silva, Rich hasn't been able to win more than two fights in a row.
This inconsistency hasn't allowed him to move up the ranks in either the MW or LHW division, leaving him as a gatekeeper.
That kind of bouncing back and forth between winning and losing it's doubtful that Rich will ever get another title shot. I expect that he will be used as a litmus test for either Tito Ortiz or Ryan Bader in the coming fight cards if his fight against Lil' Nog doesn't happen.
9. Tito Ortiz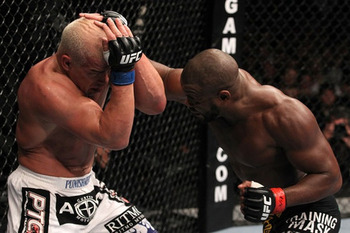 MMA Record: 16-9-1
Last Fight: TKO loss vs. Rashad Evans at UFC 133
Next Fight: TBA
Age: 36
Tito might have found himself a lot higher on this list if it hadn't been for his recent Cinderella story. After going winless since 2006, Ortiz was on the brink of being released by the company that he had been with for all but one of his fights.
Yet Ortiz shocked the world and soundly defeated upstart LHW Ryan Bader by submission in the first round. Then when Phil Davis couldn't take part in his fight with Rashad Evans and Lyoto Machida turned the fight down, Tito stepped up to the plate after originally turning the offer down.
If Tito won this fight, many felt he could find himself back in the title picture after being out for such a long time. Then the fight happened and both Rashad and Tito put it all on the line, with Tito almost winning his second fight in a row by Guillotine choke.
Yet fate had other ideas as Rashad rallied back to land a nasty knee to Tito's chest and then finish him with punches.
Tito showed with the Bader fight that he still has the passion to put in the work and win. With the Evans rematch Tito showed he has matured by giving props to Rashad after their fight and for not taking the fight on such short notice as an excuse for losing.
I feel Tito will have one maybe two more fights before deciding to retire in hopes that he can win before riding off into the sunset which is understandable. I just hope the Tito we've been seeing recently is a passing fad because.
8. Fedor Emelianenko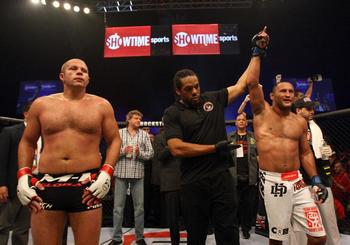 MMA Record: 31-4 1 NC
Last Fight: TKO loss vs. Dan Henderson at Strikeforce Fedor vs. Henderson
Next Fight: TBA
Age: 34
Now, before you fanboys decide to stop reading in order to rip me a new one in the comments section, hear me out. Full disclosure, I was never the biggest fan of Fedor nor was I a hater, but I realize what he has done for this young sport, he has had some great matches and can truly be considered one of the all time greats.
Yet that does not change the fact that something has definitely changed in "The Last Emperor" in the span of his last few fights.
From what I've seen and read from fans and haters alike is that Fedor isn't has crisp in his striking as he once was and that he has been making some rookie mistakes, especially in his last two losses.
Fedor needs to retire so that he can maintain his legacy while not going down the road of Chuck Lidell who kept fighting after his best years were way behind him and losing almost all of his final fights.
I can understand if Fedor wants to go out with a win but he should realize it may be too late for that, if he wants to fight just for the sake of fighting, then he needs to be sat down and told how bad of an idea that is.
At this stage in his career I feel Fedor is best suited to be a coach for the next generation. We have been hearing that Shane Carwin has been wanting to train the Fedor, just imagine the wealth of knowledge that Fedor can pass on to a behemoth like Carwin.
Yes, if Fedor does retire he will always face criticism for never fighting in the UFC, but let's face it, haters are gonna hate no matter what happens.
7. Wanderlei Silva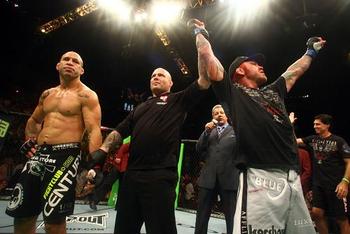 MMA Record: 33-11-1 1 NC
Last Fight: KO loss vs. Chris Leben at UFC 132
Next Fight: TBA
Age: 36
Wanderlei Silva is a legend in the sport and a shoo-in for the Hall of Fame, yet he has met a crossroad in his career. Since coming back to the UFC Wandy has gone 2-4 with two of those losses coming by way of knockout.
After getting demolished in his last fight against Chris Leben, Wandy's chances of getting another title shot in the UFC are slim to none. His only chance of getting a title shot is if he goes on a run gets three or four strong wins in a row, which could prove difficult in a stacked MW division with fighters like Chael Sonnen, Vitor Belfort and Brian Stann.
This is even more difficult since Wanderlei recently stated that he wants to fight ten more times before retiring.
At 36, it seems even more impossible that Wandy can pull this off, though anything can happen in MMA. The man who has the record for most wins and knockouts in Pride unfortunately was not the same fighter when he came back to the UFC which is disappointing.
If he plans on sticking to his desire for nine more fights, I hope he picks up a few more wins to go along with the work he puts into giving the fans exciting fights, though no one would blame him if he decided to retire.
6. Mirko Cro Cop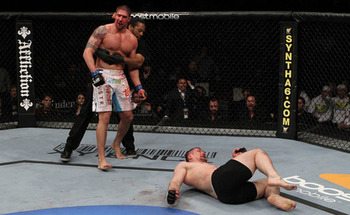 MMA Record: 27-9-2 1 NC
Last Fight: KO loss vs. Brendan Schaub at UFC 128
Next Fight: vs. Roy Nelson at UFC 137
Age: 36
It shouldn't be a surprise that Cro Cop makes this list as like Wanderlei Silva, he wasn't the same fighter that he was in Pride.
After being given a warmup fight against Eddie Sanchez, Mirko was involved in a title eliminator match against Gabriel Gonzaga and what would become one of the most shocking moments in UFC history when Gonzaga knocked Cro Cop out using Cro Cop's signature headkick.
Since then picked some strong wins before being put up against a newcomer to the UFC heavyweight division, someone you might have heard of, Junior Dos Santos. To say Dos Santos beat him is an understatement, the fight would eventually be stopped in the third round due to Cro Crop sustaining an injury from a punch.
After beating Anthony Perosh and Pat Barry, Cro Cop would face Frank Mir. The two would have a fairly uneventful match until the final minute of the match when Mir would knock Cro Cop out with a knee to the head.
Cro Cop would be knocked out in his next fight as well, this time against TUF alumni Brendan Schaub.
After the Dos Santos fight Cro Cop had stated that he wasn't feeling the hunger anymore to fight although it was all he knew in his life. It seemed that that sentiment has carried through with his last batch of fights.
It seems that his next fight against Roy Nelson may be a "loser leaves the promotion" as both men have lost their last two fights, so Mirko may be able to redeem himself with a strong win over "Big Country."
If he loses again, it may be the last time we the fans see Cro Cop in the Octagon. Hard to imagine that a headkick could lead to the fall from grace that it did.
5. Tim Sylvia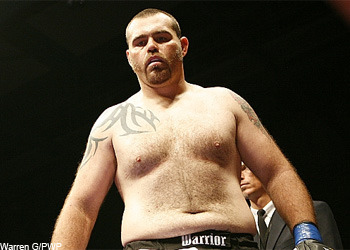 MMA Record: 28-7
Last Fight: TKO loss vs. Abe Wagner at Titan FC 16
Next Fight: vs. Brian Heden at Fight Tour
Age: 35
This one is just sad.
At one time, Tim Sylvia was one of the most feared Heavyweights in MMA, being a two time Heavyweight champion and having wins over Andrei Arlovski, Brandon Vera and Jeff Monson.
But if you looked at Sylvia today you would see a shell of the man he used to be. Now fighting at Super Heavyweight, Sylvia doesn't even appear to be trying to cut any weight.
After losing to Minotauro Nogueira and Fedor Emelianenko, Sylvia would suffer his most embarrassing loss by way of nine second knockout to boxer Ray Mercer. Sylvia would bounce back with four straight wins over lower level fighters before hitting another disaster milestone by losing to Abe Wagner.
If you don't readily recognize Wagner's name you may remember him from the tenth season premier of The Ultimate Fighter where he was dominated by Jon Madsen in a beating so brutal that afterward, EMTs could see the fracture in Abe's skull through the massive cut on his head.
Sylvia came into the fight with Wagner incredible heavy, even for Super Heavyweight and was soundly beaten in 32 seconds by Wagner.
Sylvia is continuing to fight after this loss, though he really shouldn't as he is clearly fighting still for the check and to keep his name in people's minds when they read about MMA or talk about it with their friends.
4. Andrei Arlovski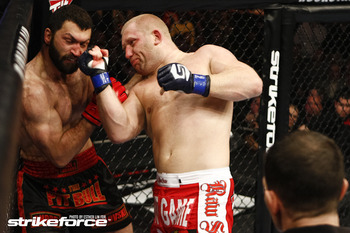 MMA Record: 15-9
Last Fight: KO loss vs. Sergei Kharitonov
Next Fight: Ray Lopez at Pro Elite 1
Age: 32
Another one that should not come as a surprise.
Another former UFC Champ who has really gone downhill over the years. The main problem with Arlovski is that he has really shown what a weak chin he has, with seven of his nine losses coming by way of TKO or KO.
After he left the UFC, Arlovski would win two more matches and being the only person to finish Roy Nelson. Then he would fight Fedor Emelianenko and get knocked out in glorious fashion in the first round.
This would be the first of four straight losses as well as the first of three of those losses by knockout.
Andrei needs to have someone sit him down and tell him how dangerous these constant knockouts are. Now it's just becoming sad to see.
3. Jens Pulver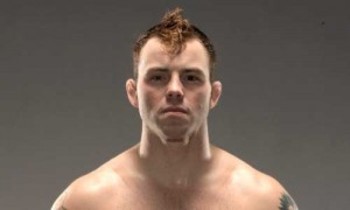 MMA Record: 24-15-1
Last Fight: Submission loss vs. Brian Davidson at Titan FC 18
Next Fight: Coty Wheeler at MMA Pit Fight: Genesis
Age: 36
This is one of the rare times that you can pinpoint specifically where someone started a downward spiral. For Jens Pulver it was when he knocked out in under a minute against UFC newcomer Joe Lauzon. He would then lose his next fight to rival TUF coach BJ Penn.
Pulver seemed to make a change for the better when he announced he was moving down in weight and fighting in the WEC. His Featherweight debut was successful as he would defeat Cub Swanson by submission, it would be his last win for three years.
During that time, he would lose six fights with only one of them going the distance.
He would finally get a win against Mike Lindquist for a regional promotion. Don't fret if you don't know the name as Lindquist is so bad, other can fighters would say he's bad with an 8-23 record. Jens would win the match after that but then go back to the loss column at a Titan FC show this year.
From being one of the top ranked Lightweights in the world to fighting cans in regional promotions in hopes of getting a win, Jens Pulver has really fallen down.
It seems he is only doing this for the check and that he really isn't trying like he used to when he was in his prime, which is unfortunate considering he may be inducted into the UFC Hall of Fame someday.
2. Ken Shamrock
MMA Record: 28-15-2
Last Fight: TKO loss vs. Mike Bourke at King of the Cage: Platinum
Next Fight: vs. James Toney
Age: 47
Truly the saddest fall from grace in all of MMA.
As one of the founding fathers of MMA, Ken Shamrock should have done like Royce Gracie did and realize when it was time to retire. Instead, he hasn't gone on to win against a quality opponent since he beat Kimo at UFC 48, and that's stretching it.
From getting destroyed every time by Tito Ortiz to losing to testing positive for steroids after fighting a can fighter, it can't get any lower for Shamrock.
But wait it can, if you haven't heard, Ken is scheduled to fight over the hill boxer and 0-1 MMA fighter James Toney in a modified rules fight. Virtually everyone has lambasted this fight for being a "freak show" fight and an utter joke.
Ken has taken the high road and calling all of his critics idiots for not thinking this would be a great fight. As for the modified rules, they entail a 30-second rule for ground fighting where fighters are stood up no matter what after being on the ground 30 seconds, a rule soley to the benefit of Toney.
If he wins, he beat a loudmouth that has no business in a MMA fight. If he loses, he gives credence to Toney in his MMA vs. Boxing argument.
1. Dan Severn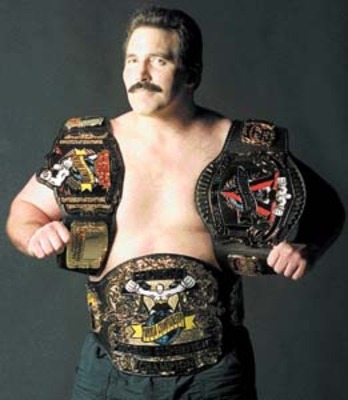 MMA Record: 99-18-7
Last Fight: KO loss vs. Lee Beane at Paul Vandale Promotions- The Beast Comes East
Next Fight: TBA
Age: 53
It should come as no surprise that the number one spot goes to the oldest fighter on the list. Severn is in no way a fighter who had a fall from grace but rather a guy who should retire because he's had over 100 professional MMA fights along with a professional wrestling career.
He has stated that he wants to get his 100th victory then retire, so here's hoping that it comes sooner than later.
That way he can enjoy retirement and still be able to coach new fighters at his training facility in Michigan.
Keep Reading