MLB Steroid Era: Chances Notable PED Users Have Of Place In Hall Of Fame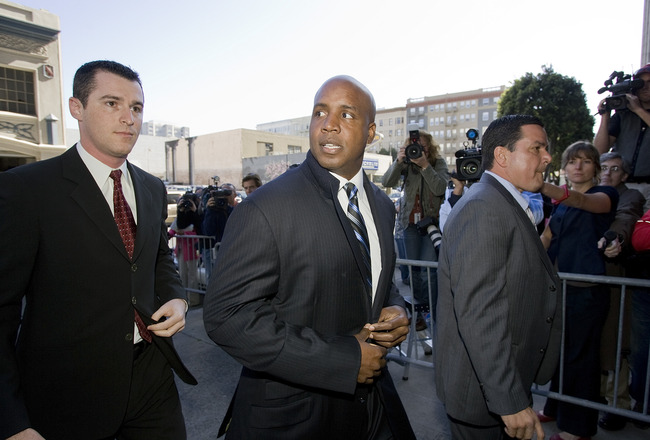 Barry Bonds is Major League Baseball's career home run leader with 762.
David Paul Morris/Getty Images
The Steroid Era has been around pretty much since the early nineties, a span of about nearly 20 years. With a grueling 162 game regular season plus postseason play, it adds up to playing nearly 200 baseball games if you want to go ahead and count Spring Training.
The contract status, fatigue and desire to stay on a big-league roster are all reasons why players, even the best ones, have used performance-enhancing drugs to stay on the field and perform at a high level. It has affected baseball's "greats" and it certainly has tainted the game of baseball, their game, and their Hall of Fame status in Cooperstown, New York.
The big question is whether any suspected user or player linked to the steroid era will make it into the Hall of Fame. Is it fair to perhaps not vote in a borderline hall of famer like Chipper Jones than an Alex Rodriguez? Chipper Jones will make it because he was clean during a tainted era of baseball and players such as Jim Thome and Frank Thomas get a bonus for not going to the dark side of baseball and staying clean while achieving less than perfect Hall of Fame numbers.
So what about the players such as Barry Bonds, Andy Pettitte, Alex Rodriguez, Sammy Sosa, Mark McGuire, and of course Roger Clemens? What are their chances of getting in at all and when will they get in? Find out...
Sammy Sosa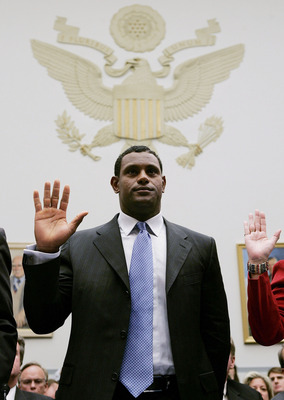 Sammy Sosa belted 292 home runs from 1998 to 2002 including a trio of 60 homer seasons in 1998, 1999, and 2001.
Mark Wilson/Getty Images
Sammy Sosa re-energized baseball shortly after the strike of 1994, it was only then he began hitting 30 home runs a season. Sosa was a steady outfielder for the Cubs from 1993 to 1997 delivering with a total of 170 home runs in that span.
Then came 1998, Sosa went from 36 home runs in 1997 to 66 in 1998. His average also jumped from .251 to .308 and from 1998 to 2002 when Sosa was one of the league's best home runs hitters, he had a .306 batting average. Before 1998, Sosa had only one season which he had a .300 and that was 1994, a strike shortened season.
There is no doubt Sosa made the game better with his power but he did it the wrong way and because of it he will have no doubt a hard time getting in. His friend, Mark McGuire has had a hard time getting much a vote because of the admission to PEDs and Sosa is no exception.
In addition to Sosa reportedly being on the 2003 list of 104 players who tested positive and the corked bat incident, Sosa's chances of making the Hall of Fame are slim. Sosa wasn't known as much a hitter with a career batting average that stands at .273 and stole 234 bases, a bulk of them which were prior to 1998 before Sosa left his speed behind for his juiced power.
I believe even with younger voters getting in Sosa has no chance of getting in because he was known for his home runs more than anything else he ever did.
Hall of Fame Eligibility: 2013 - 2027
Chances He Gets in at all: 5%
Mark McGwire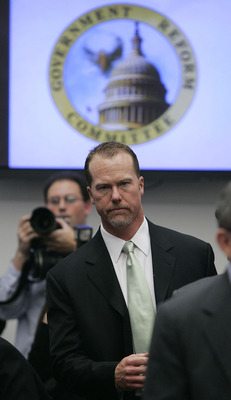 Mark McGuire had 135 home runs between 1998 and 1999.
Win McNamee/Getty Images
Like Sosa, McGuire also brought the game of baseball from the 1994 strike to the spotlight in the late nineties. McGuire hit 39 home runs in 104 games in 1995 which wasn't a mind-blowing number but when you do it in 317 at-bats it most definitely is.
In his rookie season, McGuire hit 49 home runs (rookie record) but didn't eclipse that total until nine seasons later when he hit 52 in 1995 and then 58 between Oakland and St. Louis.
McGuire hit a then MLB record 70 home runs in 1998 and 65 in 1999, challenging Sammy Sosa as it became known as a nationwide affair everyone tuned in to watch to see who would set the MLB home run record for a single season.
Yet after pleading the fifth when at Capital Hill about his steroid use if at all, McGuire was looked upon as a user because he wouldn't admit he did or not and thats what tarnished McGuire's chances of the Hall of Fame.
Was Mark McGuire going to head into the Hall of Fame without the steroids? Yes, and that's why he is getting any votes at all on the ballot. McGuire didn't need steroids, he won a World Series in 1989 and was a great outfielder yet he used them to boost his ability.McGuire owns the MLB record for most home runs per at-bat with 10.61 per.
Yet like Sosa, McGuire wasn't known for much other than just power, his career average is .263 (1626 career hits) and his last season was pretty much a giveaway of what he really is, hitting .187 (56 hits), 29 home runs in 97 games. Not bad but he wasn't a great hitter without the juiced power.
With the admission of his steroid use, it deflates any chance McGuire had and the fact that he didn't win any World Series when he was at his peak with the Cardinals shows that he really wasn't much of a factor besides the tainted home runs.
Hall of Fame Eligibility: 2007 - 2022
Chances He Gets in at all: 7%
Barry Bonds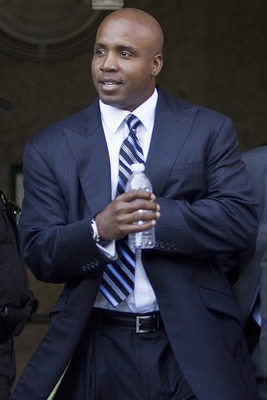 Barry Bonds hit 73 home runs in 2001, a Major League Baseball record.
David Paul Morris/Getty Images
The difference between McGuire and Sosa to Barry Bonds is quite a lot. For starters, Bonds has more stolen bases and walks combined than both of them. And of course, he currently holds baseball's hallowed record of career home runs with 762.
Barry Bonds without the steroids was going to the Hall of Fame, in fact let's say Bonds played only played ten seasons in Major League Baseball from 1986 to 1995. Bonds would have finished with a .286 batting average, 292 career home runs and 340 stolen bases.
For playing ten seasons in the big leagues which can be looked at as Bonds' clean seasons, than Bonds is in the Hall of Fame without the steroids. If he would have retired in 1995 at the age of 30, there is doubt Bonds would have been in the Hall of Fame in 2000. Let's go further and add three more seasons prior to his suspected steroid use (1996-1998). Bonds would "finish his career" with 411 home runs and 445 stolen bases, a 400-400 man, and make it into the Hall of Fame in 2003, right before the news of steroid usage broke out.
The bottomline is Bonds is a Hall of Famer without the steroids, he may have used them to get him healthy and stand out with McGuire and Sosa dominating the scenes in the late nineties and playing only 102 games in 1999 may have been his first strike with the PEDs.
The thing with the voting is whether voters will look at his early numbers and block out the tainted numbers of the 2000s and consider Bonds a Hall of Famer based on his early production and not as a home run leader. He is the only member of the 400-400 club (and 500-500 club) and I doubt steroids help you steal bases. Bonds was born to be a Hall of Famer yet will the voters see it that way?
Hall of Fame Eligibility: 2013 - 2027
Chances He Gets in at all: 30%
Rafael Palmeiro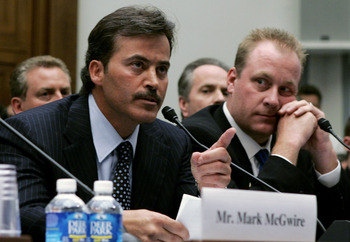 Palmeiro had his infamous moment when testifying about the use of performance enhancing drugs in baseball in 2005.
Mark Wilson/Getty Images
"Let me start by telling you this: I have never used steroids, period. I don't know how to say it any more clearly than that. Never."
Yep, but you did take steroids whether before or after this infamous statement. Rafael Palmeiro is one of a group of 27 major leaguers who have 3,000 hits, 24 reside in Cooperstown, the other two, Craig Biggio (Hall of Fame bound in 2012) and Pete Rose (banned by MLB) aren't. Palmeiro has 3,020 big league hits and three Gold Gloves so the guy may have other credentials for Hall of Fame stature. But then again there was always a time where 500 home runs would get you Hall of Fame stature, not anymore.
But, admitting to the government with your finger pointing that you didn't take performance-enhancing drugs and four months later you turn up positive for banned substance is not a good way to get in the Hall of Fame. While Jose Canseco is the poster boy for this Steroid Era, Palmeiro can be the audio clip in the background of that poster in a tainted baseball wing at a special museum of baseballs best juiced players.
We don't know when he took steroids or not, it's not definitive and therefore we can't know if he did it in 2005 or in 1993 when his power numbers rose from 22 home runs in 159 games in 1992 to 37 in 160 games in 1993, at a time where Jose Canseco was also with the Texas Rangers.
If you have ever read his book "Juiced: Wild Times, Rampant 'Roids, Smash Hits, and How Baseball Got Big", Canseco claims he injected Palmeiro with performance enhancing drugs but while Canseco has been right about people such as A-Rod, can we even believe if he is telling the truth, he even said he injected Pudge Rodriguez, rubbish.
Hall of Fame Eligibility: 2011 - 2025
Chances He Gets in at all: 18%
Andy Pettitte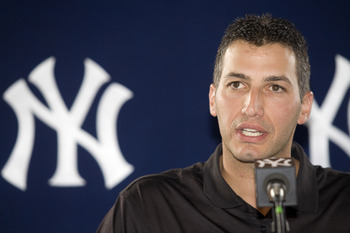 Andy Pettitte at a news conference in Tampa, FL discussing his alleged PED use.
Robert Browman/Getty Images
Unlike his former friend, Roger Clemens, Pettitte actually has a chance of making the Hall of Fame earlier and perhaps at all. Why? Pettitte came forward with a creditable story about why he used HGH after his name was on the Mitchell Report in 2007 and he used because he was injured in 2002 and 2004.
Andy Pettitte might not make it in on the first ballot, think somewhere around 50-60 percent of the vote on his first go around and then gradually increasing afterwards. Pettitte will get in and its get a matter of when after his PED use.
The fact that Pettitte has a postseason record of 18 wins (6 clinching wins) and five World Series titles in years he wasn't involved with HGH, makes it highly likely he'll get in and it'll be his attitude and approach about his use that gets him over the impressive stats he has.
He may be the first guy involved with PEDs to get in, even over a Barry Bonds because he came forward and admitted he made a mistake rather than denying it like many of the others.
My prediction is that Andy Pettitte gets in within the first three years of eligibility when him getting 50% of the vote the first time then 62% or so and 75% or so on the third try. He will be the reason that maybe you let others in as well.
Hall of Fame Eligibility: Five years after he retires (maybe 2016 or 2017)
Chances He Gets in at all: 65%
David Ortiz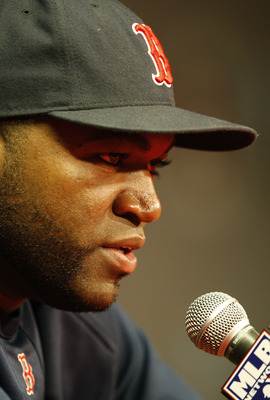 Jacob de Golish/Getty Images
David Ortiz was said to be on the 2003 survey list of players who tested positive for a performance drug and it came at a time that Ortiz's power numbers began to rise yet when you look at it is he a legit Hall of Fame hitter even without the steroids?
The answer to that is no and I'll tell you why. Edgar Martinez, who was on the ballot this past year received 36.2% of the vote and we'll have an uphill battle in making it with 75% of the vote it depends on the pool of players from here on out and there is quite a lot. Martinez might make it in on last years or not at all and although David Ortiz has more home runs than Martinez mostly as a designated hitter, the performance-enhancing drugs may down him.
Whether voters consider the Designated Hitter as a crediable position for any Hall of Famer will go a long way in helping Ortiz espically if Martinez ever gets in.
Yet Ortiz is a World Series hero and what it comes down to is if the voters consider Ortiz legitimate or not. He is having a great season with Boston this season so he is on the right track and if Big Papi gets to 400 home runs he'll increase his chances of making the Hall of Fame but the voting from the Steroid Era leftovers will be tough.
Consider this though by the time he retires and is in his final year of eligibility in in the mid 2030s perhaps many of the younger voters will see that Ortiz was a World Series hero and elect him in who knows still chances he gets in are slim.
Hall of Fame Eligibility: Five years after he retires (Maybe 2019)
Chances He Gets in at all: 15%
Manny Ramirez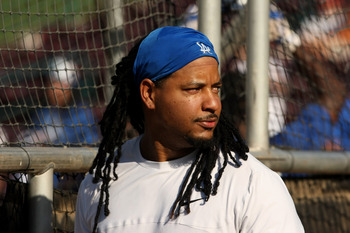 Stephen Dunn/Getty Images
Manny Ramirez has been linked to performance-enhancing drugs twice, in the infamous 2003 list and in 2009 when he got suspended 50 games for violating the drug policy. He used a fertility drug that is used in cycles between steroids and that hurts him yet Manny's numbers have been steady he has never hit 50 home runs in season and is a career .313 hitter and on his way to 600 home runs.
He is on the same plane as Alex Rodriguez and Rafael Palmeiro who have other credentials to make it but the steroids bring them down.
In my opinion, Manny Ramirez gets in eventually, he isn't a Barry Bonds, Mark McGuire or a Sammy Sosa who were rampant users and got eye-popping numbers. Manny Ramirez might get in on his final years of eligibility maybe within his final five years.
He may have been involved but there is no denying he can hit even in a injury riddled 2010 season, Ramirez has hit .317 in 61 games. I think Manny would still be a 500 home run hitter with a .300 average without counting some padded steroid stats if you will and he would make it.
Hall of Fame Eligibility: Five years after he retires (Maybe in 2019)
Chances He Gets in at all: 50%
Roger Clemens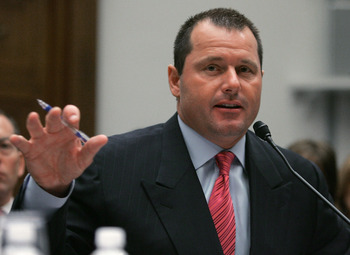 Mark Wilson/Getty Images
The Rocket is blasting off into dangerous territory with the recent moves he has made, including avoiding a plead deal to save himself from jail time and a trip to the slammer for lying about his steroid use will not help him get into Cooperstown.
At whatever time he used performance enhancing drugs, Clemens pretty much tainted his career, many would say he started using them when he arrived in Toronto where his career turned around after a mediocre four year stretch from 1993-1996 with Boston.
I still think Clemens gets in maybe on his last year but he is digging himself into a hole that he will not be able to get out of and might not get into the Hall of Fame. He even said he didn't pitch in the Majors to be the Hall of Fame. His ego will be the difference between enshrinement and being given the back by the Hall.
All he had to do was admit he took PEDs and not get himself into trouble and for what reason and maybe he might be in a different situation but his chances are getting slim with what he is getting himself into.
Hall of Fame Eligibility: 2013 - 2027
Chances He Gets in at all: 20%
Alex Rodriguez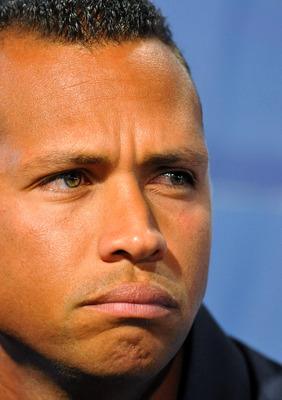 Al Messerschmidt/Getty Images
Alex Rodriguez's admission of using steroids after denying allegations from Jose Canseco and in an interview from Katie Couric, he went from the guy fans went to as an example of avoiding steroids to one with the steroids surrounding him along with the others who have used.
Still A-Rod has built quite the career that has included over 300 stolen bases and a .303 career batting average. I believe if Alex Rodriguez reached 800 career home runs he will get in sooner but not as early as the first few years. A-Rod also has a couple of Gold Gloves to add to his career and three MVP awards (two of which he has achieved in "clean" Yankee years).
Like Bonds, A-Rod is a base-stealer and great hitter even without the power, if voters see A-Rod as Hall of Fame talent and take out 100 home runs or so from his career as an estimate to his steroid use he would still be among the top five in home run hitters.
My prediction is that A-Rod will get in but not right away, he might have to wait at least five to ten years before really having a spike when younger voters come along. His ego is also going to a big minus to his enshrinement, like Bonds and Clemens, his ego will come a long way in determining where he gets in if at all.
Hall of Fame Eligibility: Five years after he retires (maybe 2022 or 2023)
Chances He Gets in at all: 60%
Keep Reading