The Legend of Josh Hamilton: Tempering Enthusiasm for the Texas Ranger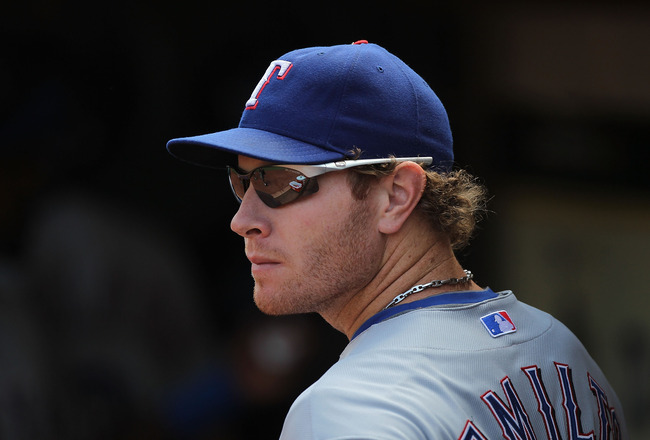 Jed Jacobsohn/Getty Images
In a recent CNNSI.com column, Tom Verducci posits that Josh Hamilton is now the best player in baseball. The premise for this supposition is laid out nicely in the following passage from Verducci's column:
"The legend of Josh Hamilton, Texas Ranger, is growing on a nightly basis. There is nobody like him in baseball, and possibly nobody this good, this big, this fast and this unique—a 6'4", 235-pound sledgehammer of a hitter who can run balls down in center field and fly around the bases and hit for such a high average—since Mickey Mantle in his prime."
Another tasty piece of Hamilton-love comes later in the column when Verducci states:
"In 65 games since June 1, just when the Texas heat is supposed to wilt players, Hamilton has hit .423. He also sets himself apart from other great sluggers because he is one of the game's best base runners and can play Gold Glove-caliber defense in the middle of the field."
Hamilton is having a fantastic season, no one can doubt that. And, with the Texas Rangers running away from the rest of the AL West and poised to win their first division title since 1999 and only the fourth in team history, Hamilton is a bona fide AL MVP candidate.
But perhaps Verducci's enthusiasm needs to be tempered a bit.
A Center Fielder?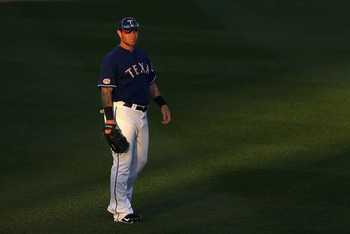 Christian Petersen/Getty Images
Simply put, praising Josh Hamilton as a big, strong center fielder is silly.
In 102 starts this season, Hamilton has started in center field 26 times, left field 81 times, and designated hitter eight times (if he were so big, strong, and athletic, he'd be in right field, not left field, when not playing center).
Gold Glove Caliber Defense?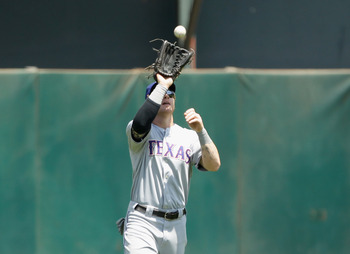 Ezra Shaw/Getty Images
A few flashy plays and nice catches aside, Hamilton is your run-of-the-mill defensive outfielder.
According to Fangraphs.com, Hamilton ranks fifth out of 14 qualifying left fielders in Ultimate Zone Rating.
According to BaseballReference.com, Hamilton has -10 total fielding runs above average, which ranks 171st out of all players to have played left field in 2010.
And according to ESPN.com, Hamilton is 13th out of 15 qualifying left fielders in Zone Rating.
Rangers Ballpark in Arlington: The Friendliest Hitters' Park in Baseball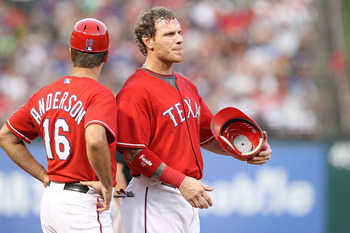 Ronald Martinez/Getty Images
Hamilton plays for the Texas Rangers, which means that he plays his home games at Rangers Ballpark in Arlington. "The Ballpark" just happens to be the friendliest hitting environment in the American League.
The result?
Hamilton's .359 batting average is inflated by the fact that he hits .396 at home, and .321 on the road. His 26 home runs are inflated by 18 home runs at home, compared to only eight on the road. His 1.041 OPS is helped along by a superhuman 1.196 OPS at home, which towers over his measly .878 OPS on the road.
Hamilton has posted a .396/.444/.752 at home and .321/.378/.500 on the road.
It would appear that Hamilton's "legend" is more of a creature of his environment than of his natural god-given ability.
Compare Hamilton's road batting average to Joe Mauer (.336), Miguel Cabrera (.343), Adrian Beltre (.331), Robinson Cano (.333), and Justin Morneau (.375), and you begin to get just a taste of what a difference a ballpark can make.
Hitting in Texas After June 1st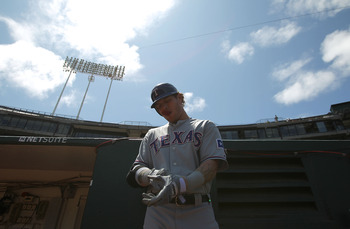 Jed Jacobsohn/Getty Images
Verducci makes a big deal out of the fact that Hamilton is hitting .423 since June 1st, "just when the Texas heat is supposed to wilt players."
Actually, the only players that the "Texas heat" wilts during the summer months has traditionally been the pitchers.
Over the last several years, the Rangers strongest hitting months have traditionally been either June or July.
In 2006, the Rangers hit a season high .287 in June. In 2007, the Rangers hit a season high .286 with an .805 OPS in June. In 2008, the Rangers had a season-high 38 home runs in June, and hit .291 in July. In 2010, the Rangers hit a shocking .311 as a team in the month of June.
Make no mistake about it: Hamilton's .423 since June 1st has been amazing. Let's just not pretend that he did it in hitter-adverse conditions.
Left-Handed Hitting vs. Right-Handed Hitting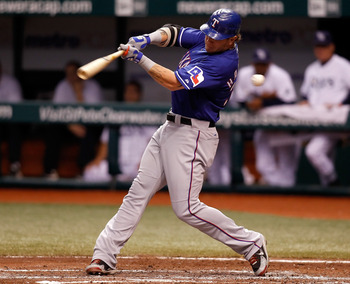 J. Meric/Getty Images
Part of Verducci's premise is that Albert Pujols has, until now, been considered the best player in baseball, but now that torch is being passed to Hamilton.
That may be, but before we get too carried away, can we acknowledge a key difference between Hamilton and Pujols?
Hamilton is a left-handed hitter, while Pujols is a right-handed hitter.
Throughout baseball history, the leader boards have been dominated by the left-handed hitters. Babe Ruth, Lou Gehrig, Ty Cobb, Stan Musial, Tris Speaker, Ted Williams, and Barry Bonds were all left-handed hitters. And while these guys were all great players, it must be acknowledged that Major League Baseball is a left-handed hitter's world.
The majority of pitchers are right-handed, which means that left-handed hitters have the match-up advantage the majority of the time.
Thus, comparing Hamilton to Pujols is, in some respect, comparing apples and oranges, and that has to be acknowledged.
For what it is worth:
Josh Hamilton vs. left-handed pitchers: 159 PA: .260/.316/.425/.741
Albert Pujols vs. right-handed pitchers: 384 PA: .321/.422/.552/.974
Conclusion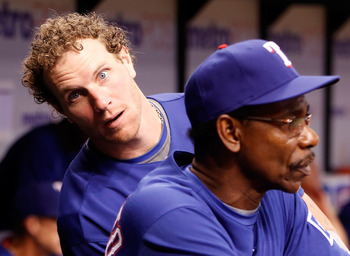 J. Meric/Getty Images
If I had a vote, and I had to cast it right now, I would probably vote for Robinson Cano for the AL MVP, followed by Evan Longoria, Josh Hamilton, and Miguel Cabrera, in that order.
Hamilton is having an amazing season for the Texas Rangers, and their run to the top of the an admittedly weak AL West division has been one of the stories of the 2010 baseball season.
Nevertheless, to call Josh Hamilton the best player in baseball is to ignore the fact that as a left-handed hitter playing in the American League for the Texas Rangers, he is in one of the most hitter friendly environments in all of baseball, and comparing his statistics to those of other players on other teams in other ballparks around the major leagues is misleading.
So, let's not go calling the guy the best player in baseball simply because he is on a hot streak and made some nice plays in center field, shall we?
Keep Reading

Texas Rangers: Like this team?