Colorado Rockies Lineup Changes Are Here To Stay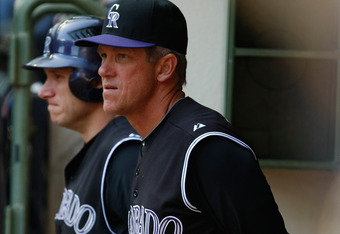 Scott Boehm/Getty Images
The Colorado Rockies are 3-3.
The reality is, the Rockies should be 5-1.
They blew a 3-0 lead on Wednesday in Milwaukee against Doug Davis, a pitcher who they have owned over the last few years. Then they missed opportunity after opportunity after opportunity in a 14-inning loss on Saturday night against the Padres.
The game in Milwaukee was the first of what looks to be a common situation for the Rockies. A day game after a night game meant that Tracy was able to play several of his new toys on the bench.
When Tracy took over as manager last May, the only real major league talent on the bench was Seth Smith. Ryan Spilborghs was still in the starting lineup and Carlos Gonzalez was showing why he should not have been in Triple-A. So Tracy was working with the likes of Omar Quintanilla.
Not this year.
In the offseason, general manager Dan O'Dowd went out and re-signed Jason Giambi, Melvin Mora, and Miguel Olivo.
The problem for many Rockies fans is that it seems like Tracy is in a big hurry to play with all of his shiny new toys. While it is important for Helton to be rested so that he can remain valuable late in the season, Tracy chose to rest him when the club was facing Davis, a pitcher Helton has hit to the tune of .462 in his career.
In the same game, Tracy chose to rest Clint Barmes and play the far-less defensive second baseman Mora.
That put Mora and Giambi on the right side of the infield with the extremely ground-ball-oriented Aaron Cook on the mound. Tracy also inserted Olivo in at catcher, putting Chris Iannetta on the bench.
Helton was quoted as saying that the move made sense because it was a day game after a night game. But why couldn't Helton have sat out the night before, resting his 37-year-old body and keeping him available to face Davis?
Playing Helton on Wednesday would have put a better defense on the infield with Cook on the mound, and when fly-ball pitcher Greg Smith was on the mound, put the inferior defense on the diamond.
To be fair, Helton was scheduled to be in the starting lineup on Sunday, but after playing every inning of Saturday's four-and-a-half-hour game that ended around midnight, Tracy decided to give him the day off.
It is also important to note that if Tracy is intent on keeping a sharp bench, he needs to find time for each player to take regular at-bats.
Many Rockies fans know that it is important to get Helton rest, but they argue that it is early in the season and that there are several off days built into the April schedule to get the best hitter in franchise history a chance to take a breath.
The fact is, the way that Tracy is handling it might not be perfect, but he is doing the right thing.
When a guy like Helton, who hates sitting on the bench, is willing to acknowledge that he was good for nothing more than a singles hitter in the playoffs, it is time to give him consistent rest. Not rest down the stretch when the team will need him the most, but rest early and often so that he can be a meaningful part of the games in September when the season is on the line.
It is also good to give a guy like Giambi a couple of days when he gets four at-bats. He needs the chance to stay fresh and keep his eye at the plate. One thing that Rockies fans have noticed is that Giambi may not always get a hit, but he never gives away an at-bat.
The man knows the strike zone arguably better than any player in the league.
The reality is, it probably doesn't hurt to give Barmes a few days off here-and-there as well. While Barmes goes through hot streaks at the plate that make him hard to replace, he also goes through cold streaks that have fans wishing Ubaldo Jimenez was at the plate instead.
Mora is a superior hitter, and giving him regular reps will give a boost to the offense, even though the defense may take a step back when he plays.
So the big issue with Rockies fans is that it seems as if Tracy has a bench day, when he essentially has three of the more talented players on the bench at the same time.
The question fans need to ask themselves is if they would rather see the bench players out there all at once, creating a weaker team one day, or have them get starts sprinkled in with the regulars, stretching out the days when a weaker team is on the field.
That question is honestly hard to answer.
A lineup may be able to overcome a weaker defender, but not two. A lineup may be able to overcome one weak spot in the lineup, but not two or more at once. The fact is, the Rockies' bench is full of guys who really could be starting everyday on other teams in the league.
Tracy must find a time to use them, and when he does, the team is really not taking that big of a step back.
But the reality is for Rockies fans, Tracy may tinker with the way he is using his reserves, and may find it more advantageous to pick and choose his spots, rather than just picking a day game after a night game. But he is going to continue using his bench players on a consistent basis.
So get used to it.
This article is
What is the duplicate article?
Why is this article offensive?
Where is this article plagiarized from?
Why is this article poorly edited?

Colorado Rockies: Like this team?