Five Things We've Learned about the Houston Astros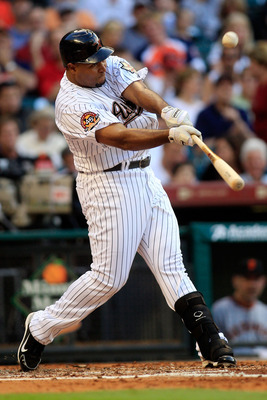 Three games does not a baseball season make.
Yet, there comes a moment where honesty must overtake optimism, and the honest fact that this will be a very long season for the Astros must be accepted.
A listless three-game sweep at the hands of the visiting San Francisco Giants—lowlighted by Wednesday's 10-4 loss—provided at least five notable signs that indicate the 2010 Astros may be headed toward the franchise's worst season in 20 years.
As the team takes Thursday off in preparation for a weekend series against the two-time defending National League champion Philadelphia Phillies, we'll take a look at what went wrong over the first 27 innings of the season.
5. Tommy Manzella's Glove Love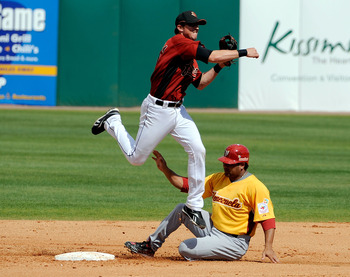 It's not all bad, Astros fans.
Tommy Manzella may never be confused with Jimmy Rollins or Troy Tulowitzki with the bat, but the rookie may be the best defensive shortstop the club has had in years.
In his first two games, the 26-year-old has shown impressive range and made several plays that Miguel Tejada— last year's SS—would have never produced in his prime.
Manzella has a bright future, and while his 1-for-6 start at the plate is way too small to analyze, his strong season at the plate in Class AAA in 2009 is an indication he will eventually hold his own offensively. On a better team, he'd probably be a Gold Glove contender.
4. Let the Castro Administration Begin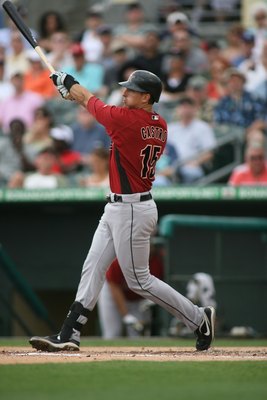 J.R. Towles can't hit.
In other breaking news, water is wet and Sarah Palin is a conservative.
Delaying the free agent clock is just one reason why catcher Jason Castro was sent down to Class AAA Round Rock. But with the team in need of offense from all comers, general manager Ed Wade shouldn't waste time in keeping the club's top prospect down in the minors.
Castro hit well during the spring, and at some point, the Astros will have to admit that Towles does not fit in their long term plans. The Astros can't afford to move forward without beginning to determine if their 2008 first-round pick is indeed ready to provide the club with stability behind the plate.
Castro should be up before the All-Star Break, but it could be sooner rather than later.
3. Lead? We Don't Need No Stinking Lead!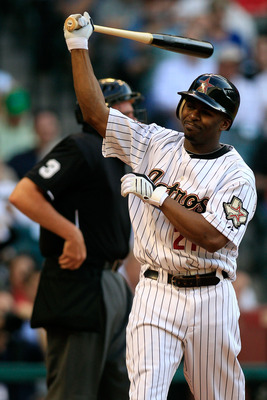 The club did not lead the Giants at any point.
Much of that stems from the team's .219 on-base percentage. With pace-setter Michael Bourn (.167 OBP) unable to utilize his speed, the Astros' offense was hamstrung.
It probably didn't help matters that 3-4 hitters Hunter Pence and Carlos Lee were a combined 2-for-24 (.083) with no extra base hits.
Jeff Keppinger's .429 average makes him the only Houston hitter with a mark above .250. If Keppinger is the answer, chances are you may not want to know the question.
2. Roy O. and Four Days of Woe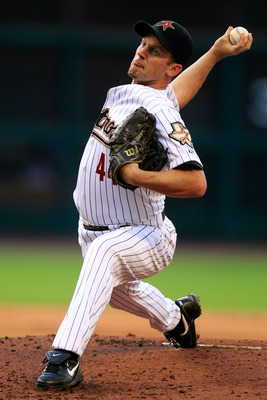 Roy Oswalt took the loss Monday evening, but pitched well outside of a third inning in which the Giants touched him for three runs.
The same can't be said for LHP Wandy Rodriguez and RHP Brett Myers.
Rodriguez struggled with control issues in Tuesday's loss, walking four in six innings of work. He did, however, did make major strides toward returning to his 2009 form after being shelled throughout spring training.
Myers was in 2009 form on Wednesday, getting a no-decision while allowing four runs and a career-high 12 hits in six innings. Expected to bolster the middle of the rotation, Myers' curve did little to fool the Giants (to his defense, Myers was dealing with a groin strain).
Bud Norris gets the start against the Phillies on Friday, a daunting task for the promising youngster as he takes on the NL's most potent lineup. Fifth starter Felipe Paulino (he of the 6.27 ERA in 2009) is expected to get the nod on Saturday.
1. Purely "Offensive"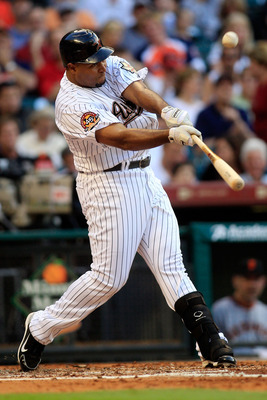 The Giants' 19 hits during Wednesday's rout was one less than the Astros produced the
entire
series. Houston's robust .196 batting average is the worst among National League teams; only Seattle (.194), Toronto (.194), Texas (.172) and the Chicago White Sox (.149) are more futile. The Astros managed just six runs in the series and were shut out on Tuesday night. The excuse of opening the season against Cy Young Award winner Tim Lincecum can go so far....as in it stopped being an excuse Tuesday morning. Houston's .219 OBP is the worst in the majors, while their .275 slugging percentage is 29th. The lineup sorely misses the presence of 1B Lance Berkman, who is expected to return as early as next week. Without their best hitter, the Astros enter the weekend as one of two teams (Cleveland) that has yet to hit a home run.
Keep Reading

Houston Astros: Like this team?