2010 MLB Predictions: Why the Boston Red Sox Will Not Make the Playoffs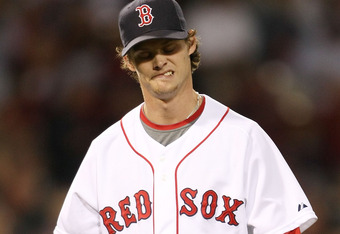 Elsa/Getty Images
A baseball season is a marathon, not a sprint.
Seven months from now, the Boston Red Sox will realize the truth in that cliché as they watch the MLB postseason from home.
At times, the Sox will look unstoppable this season—just like they did last year. But in the end, Boston will not make the playoffs.
The Sox are not good enough to take the AL East from the New York Yankees, and given the talent of the Seattle Mariners, Los Angeles Angels, and Texas Rangers, it appears the AL Wild Card will emerge from the West division for the first time since 2002.
Boston will fall short because, for the first time in almost a decade, the Red Sox offense is no longer one of baseball's best.
The middle of the Sox lineup is especially concerning.
Yes, 31-year-old catcher Victor Martinez is an absolute stud: He hit .336 after the Sox acquired him from Cleveland at last year's deadline.
But what about David Ortiz? For most of the past two seasons, the 34-year-old DH has looked a lot more like the former Minnesota Twin David Ortiz than Boston's "Big Papi."
Mike Cameron in place of Jason Bay? Cameron, the 37-year-old former Milwaukee Brewer, has a career .250 batting average. He's had eight seasons in which he's struck out at least 140 times in his career, yet he's finished with 80 or more RBI only three times.
Third base now belongs to Adrian Beltre, even with Mike Lowell still on the roster. Yes, that's the same Adrian Beltre who hit .266 with a .317 OBP during the past five years in Seattle after the M's signed him to a five-year, $64 million contract after 2004.
True, Beltre and Cameron should both enjoy swinging for the fences with Fenway's cozy Green Monster just 310 feet away. But neither of Boston's new additions will match the offense provided by a healthy Lowell and Bay.
The graphic below shows the Red Sox's hitting/pitching rankings in each of the past six seasons they've made the playoffs.
Year Wins ERA AL Rank Runs AL Rank
2003 95 4.48 Eighth 961 First
2004 98 4.18 Third 949 First
2005 95 4.74 11th 910 First
2007 96 3.87 First 867 Third
2008 95 4.01 Tied fourth 845 Second
2009 95 4.35 Seventh 873 Third
Boston's pitching rankings have wavered over the years, while its offense has perennially been among the game's elite. But again, hitting is where these Red Sox will fall short in 2010.
Speaking of coming up short, in 2009, the Sox lost nine of their last 10 games against the Yankees, as their offense scored two runs or fewer in five of the final nine contests (including three shutouts).
Boston's current pitching staff is good, but in the end, it's not dominant enough to make up for its offensive deficiencies.
True, the bullpen from the seventh inning on appears in good shape, while Jon Lester, Josh Beckett, and John Lackey make up a ferocious threesome in the rotation.
But Daisuke Matsuzaka and Clay Buchholz appear to be the Sox's No. 4 and 5 starters, respectively. Last year, they combined to post a pedestrian 11-10 record with a 4.82 ERA in 28 starts. 43-year-old Tim Wakefield is waiting in the wings if there's rotation trouble.
Are the Red Sox really comfortable with these three pitchers potentially starting roughly 60 games for them in 2010? The Sox's rotation depth simply isn't comparable to that of teams like the Yankees and Angels.
Let's think back to last year: In 2009, the Red Sox won their first eight games against the Yanks and led the AL East by three games as late as July 17.
But remember: A baseball season is a marathon, not a sprint.
The Sox were reminded of that cliché last year when they had to settle for the wild card. They'll be reminded of it again when they fail to make the postseason in 2010.
This article is
What is the duplicate article?
Why is this article offensive?
Where is this article plagiarized from?
Why is this article poorly edited?

Boston Red Sox: Like this team?