San Diego's Player Purge Clarifies Draft Needs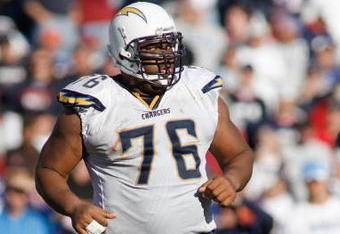 Rick Stewart/Getty Images
Going into the offseason, San Diego had one primary need to go along with a host of secondary notions.
That primary need was, of course, at running back. LaDainian Tomlinson's removal was almost guaranteed before the playoffs ever started, then cemented with a 12-attempt, 24-yard performance in the team's lone playoff game.
Past running back, the Chargers had points of concern in several locations. In the trenches, the team had varying concerns at nose tackle, defensive end, and right tackle. Behind the line was the concern of whether Shawne Merriman would be retained or allowed to walk in free agency.
At the edges the team faced a pair of starting wideouts that were to hit free agency and a talented cornerback with concerns on and off the field.
When the season ended, the biggest question after running back for the team was trying to figure out just which of the above positions would be the next biggest question.
Just one weekend into free agency, the order of those questions are solidifying while the answers are mostly still to be determined.
Shawne Merriman, Vincent Jackson, Malcolm Floyd, and Marcus McNeill received the highest tenders by San Diego to all but ensure they would be back with the team next year. Not long after, soon-to-be-untendered Darren Sproles also received the massive tender to remain with the team.
With Shaun Phillips, Larry English, and Merriman, it would appear the question at outside linebacker is settled for at least one more year. Wide receiver would be the same (though depth at the position still rates a minor concern).
After receiving a second round tender, 2009 starting right tackle Jeromey Clary seems to have a steady hold on the right tackle position, due in large part to the holes opened up by departing veterans. Clary is a steady young player who could improve, but thus far lies somewhere between adequate starter and quality backup.
Lesser concerns at defensive end appear to be on hold as the team re-signed Alphonso Boone to keep the same four-man unit in place. The team was—and looks to be—acceptable at the position, though in richer times, a starting-caliber end to push Cesaire into a rotation role would have been in discussion.
That leaves three positions whose question marks have become gaping holes.
The need at starting running back was always on the horizon, and nothing has been done (aside from a questionable $7 million tender to change of pace back Sproles) thus far to quell that concern.
Added to the running back question is the cornerback position following Antonio Cromartie's trade, and gaping hole at nose tackle where mammoth-in-the-middle Jamal Williams used to reside. The team was 13-3 without the 0-technique tackle in 2009, but the absence of a clear-cut guy in the middle severely impacted the entire front seven.
Now the team will most likely have to wait to find the answers to the three front-running concerns. Out of the second tier of the "elite eight" constraint rules of the uncapped year, San Diego is restricted to only signing one big-ticket free agent. Given A.J. Smith's past history, even that is unlikely.
The retention of Sproles means the signing of a veteran back to backup (or rotate with) a feature-quality draftee is unlikely. Instead, look for a waiver-wire veteran to land as the team's third back somewhere around the time camp breaks.
At nose tackle the team has a host of names but no clear answer. Vaughn Martin was drafted as an incredibly raw but physically impressive talent. He never cracked his way into a starting role even though the team had both Jamal Williams and Ryon Bingham on the injured reserve all year.
Ryon Bingham should be back in 2010, but at 308 pounds he is a good DT built for a 4-3 offense. He is still solid at rotating in to rest a starter, or making spot starts, but will never be able to handle the lead role in a 3-4.
The final of the team's big three needs rests at cornerback. Antonio Cromartie was knocked as a "soft" player and a poor locker-room guy, but still earned the respect of passing offenses with his potential as a ballhawk.
Antoine Cason defaults into the starting role for now—a far different animal.
He is a much more focused player, with good fundamentals and approach. He also lacks the pure athleticism of Cromartie, especially in terms of downfield speed. He should develop into a solid nickel/third corner, but hasn't shown enough in limited duty to instill confidence as a full-time starter.
Behind Cason rests…no one. The team carried three cornerbacks last year (thanks in large part to Steve Gregory and Paul Oliver's ability to play out of the nickel and dime packages as safeties) and just traded one away. Even if Cason earns the starting role, the team will need someone behind him, even if it is just a warm body in case of emergency.
Now that the team has narrowed its focal concerns from six or seven down to three very specific needs—starting running back, nose tackle, and cornerback—the only question left is who the team will get to fill those positions.
Sadly for Charger fans, the wait will likely be over a month as the team prepares for the April 22 draft. San Diego is unlikely to ink any players outside the organization until that time.
This article is
What is the duplicate article?
Why is this article offensive?
Where is this article plagiarized from?
Why is this article poorly edited?

San Diego Chargers: Like this team?