Is Ryan Clark of the Pittsburgh Steelers As Good As Gone?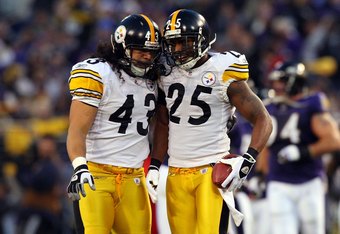 Jim McIsaac/Getty Images
The need for the Steelers to sign or draft a safety may soon be moving up the priority list.
After visiting the Dolphins today, Ryan Clark sounds like a player on the move.
Clark told The Miami Herald that he does not want to leave Miami without a contract:
"That's the reason we waited so long to take any trips. We had interested teams that I didn't really want to go to, and I didn't want to try to make myself look busy by going to a bunch of different places."
With seven years of starting experience (three with the Redskins, four with the Steelers), Clark would be a valuable addition to the Dolphins' secondary and a significant loss for the Steelers'.
Clark has established himself as one of the hardest-hitting safeties over the past several seasons with knockout hits against New England's Wes Welker and Baltimore's Willis McGahee.
Despite his physical play, Clark is not a sound wrap-up tackler and is not a playmaker in the secondary, as evidenced by his five interceptions in four seasons with the Steelers.
The Steelers' secondary, Clark included, was exposed throughout the 2009 season. This was in part due to the absence of Troy Polamalu.
The low point of the season occurred when the Steelers lost five in a row. During this losing streak, Pittsburgh's defense allowed Matt Cassel to throw for 248 yards and two touchdowns, Joe Flacco 289 yards and one touchdown, and Bruce Gradkowski 308 yards and three touchdowns, including the game winner with nine seconds remaining.
Following the losing streak, Clark was not happy with the local media or fans:
"You watch the (Philadelphia) Eagles, you watch the big plays. You watch things given up. And I started checking other media outlets. You don't hear the things about them in their media that you hear about us. So either we're held to a higher standard or the people that write about us are turds."
The fans do hold the Steelers to a higher standard and are not afraid to let them know it, as one fan sent Clark a letter that explained why the Steelers were so bad:
"It's obviously frustrating, but it's not going to be despair. You get hate mail from fans, they tell you that you (stink) and all that. And that's fine, because there's a reason they watch the game."
The tirade did not help. The Steelers allowed Aaron Rodgers to torch them for 383 yards and three touchdowns.
Did I mention there were no interceptions during that span?
Clark was a major contributor to the downfall of the Steelers' secondary, but he is also a very good player to have when paired with Polamalu. Clark provided Polamalu the freedom to roam the field and make plays. This was clear in 2008 when the Steelers had one of the top defenses in recent memory and won the Super Bowl.
For this reason and the fact that Clark is an all-around great person and member of the community, fans hoped the Steelers kept Clark around for several more seasons. Clark recognizes the love for the Steelers that the fans have:
"We have passionate fans, and I love playing in Pittsburgh. You know, I've never been in a place that cares more about their sports, their heroes. ... I love playing here."
Clark would probably now say that he "loved" playing here, meaning in the past.
As he waits to see if the Dolphins offer him a contract, Clark is hoping that he does not have to take a flight to another city for a free agent visit:
"The biggest thing is, I want to be in a place where they want to win. Obviously, Coach (Bill) Parcells and Coach (Tony) Sparano want to do that."
The Steelers want to win as well, and Clark has become a major part of that over the last four seasons. However, they did not sign him when they had his rights, and he now has the opportunity to fill the need in another defense. If he has it his way, it will be for the Miami Dolphins:
"There were a lot of good offers, and a lot of good fits. But this seems like a good spot. So I'm praying it goes well."
This article is
What is the duplicate article?
Why is this article offensive?
Where is this article plagiarized from?
Why is this article poorly edited?

Pittsburgh Steelers: Like this team?