Greg Jennings and Donald Driver: The Most Underrated Wide Receiver Duo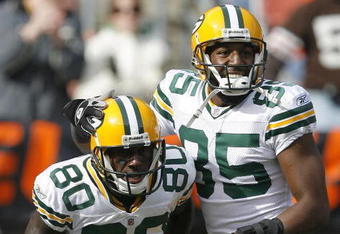 Matt Sullivan/Getty Images
The NFL.
It's a rather odd place.
Some players get respect, some get trashed, and head coaches continue to grow bigger and fatter as each regular season progresses. One remaining fact that seems to have stood the test of time though, is the word "underrated".
We've seen it come and go in the past, Braylon Edwards was once one of the most underrated wide receivers in his time with the Cleveland Browns, and former and soon to be Hall of Fame quarterback Kurt Warner was questioned and scrutinized when he first joined the NFL, fresh off a grocery store floor.
In more present times though, it isn't one single player that has had to bare the label of "underrated", it's two men that have become veterans of not only the wide receiver position, but the NFL in general.
Their names are Donald Driver and Greg Jennings, or as you Packer fans may know them as "Our godsend".
Stats are a mere highlight of the two men's careers, but the reliability on and off the field has been the glue of the Packers organization, that has ultimately proved to be the difference between winning and losing in recent years.
Whether it's the Week 1 highlight catch to win the game against the Bears, or Donald Driver's game saving touchdown against the New York Giants in the 2007, Donald Driver and Greg Jennings simply don't get the credit they deserve.
So why is it that Green Bay's two leading men continually slip under the radar year after year, week after week? Well it's simple, and there are two clear and concise reasons to explain this matter.
The first being, that the two wide receivers are from Green Bay. Arguably the greatest football town on god's green earth, the harsh reality is that the Packers aren't a very "media" type team. They don't grab the headlines, and they don't get top news stories on Sportscenter. However that doesn't take away from what a great organization the Green Bay Packers truly have.
The second reason is just as simple as the first, Donald Driver and Greg Jennings will never even come close to being in the same category as Larry Fitzgerald and Andre Johnson. Yes, they may have the exact same talent and exact same stats, but do they really have the same status symbol as other team leaders?
No, not at all.
Unfortunately, the term "underrated" has been ever present in the Packers history. Except for of course Brett Favre and other infamous names, quarterbacks such as Bart Starr are often overlooked in many Top 10 lists, and Aaron Rodgers still is trying to require the respect from many NFL fans that claim he doesn't have what it takes to be a top caliber quarterback.
Donald Driver and Greg Jennings may not be as tight a duo as Siegfried and Roy, but they sure to produce some magic on the field.
Touchdowns often rain when the two are at their best, and when one is missing their presence is missed.
Underrated, so what?
These two strive off of it.
Any team that discounts them are in for a rude awakening, as Driver and Jennings are play makers, and are the best at what they do. Judge them, criticise them, and overlook them as much as you want.
It will never change the fact that the Packers have one of the best wide receiver duo's in the NFL.
This article is
What is the duplicate article?
Why is this article offensive?
Where is this article plagiarized from?
Why is this article poorly edited?

Green Bay Packers: Like this team?