Meet the 2010 Mets: Predicting the New York Mets' Opening Day Roster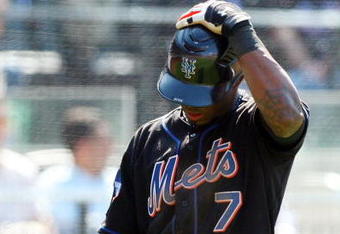 Jim McIsaac/Getty Images
Today, the Mets played their first official spring training game, beating the Braves 4-2.
While the score of the game and the wins and losses are irrelevant, it sure is nice to see the Grapefruit League schedule kicking off and real games against other teams starting up again.
Yes, the offseason is officially over, baseball fans. (Unless you're one of the remaining free agents still looking for a home, like Joe Beimel and Kiko Calero.) And that means we are inching ever closer to Opening Day 2010.
For the Mets, the first game of the spring season also brought something very familiar—an injury. Mets pitcher Elmer Dessens was hit on the leg with a line drive off the bat of Braves catcher Brian McCann and left the game in the third.
Luckily for Mets fans, and unfortunately for Elmer Dessens' fans, he's not expected to make the team regardless, so (knock on wood) as of March 2, the Mets will head to the regular season missing only two major leaguers to the DL in Carlos Beltran and reliever Kelvim Escobar.
So, who breaks camp on the 25-man roster? The two injured Mets open up extra spots on the roster for those who otherwise would not make the trip north.
As far as the starting lineup goes, it appears that the outfield will be made up of Jason Bay, Angel Pagan, and Jeff Francoeur, while the infield will be made up of David Wright, Jose Reyes, Luis Castillo, and Daniel Murphy, with Rod Barajas at catcher.
Gary Matthews Jr. is also a possiblity for the starting centerfield job, although I'm not sure I like the thought of Matthews Jr. in a Mets uniform in any capacity. Nonetheless, expect him to break camp as the fourth outfielder, with Carlos Beltran hopefully taking his roster spot sooner rather than later.
The starting rotation has four rotation spots already accounted for with familiar faces, Johan Santana, Mike Pelfrey, Oliver Perez, and John Maine. The young and tastefully named lefthander, Jon Niese, has the inside track for the fifth starter spot after a strong performance today in his first game action since a brutal hamstring injury that ended his 2009 season prematurely.
The hardest pieces of the Opening Day roster puzzle to try to predict are the bench and bullpen especially. We all know that Francisco Rodriguez will be anchoring the 'pen just as soon as his pink eye clears up.
But after that, who knows? The eighth-inning set-up spot is still up for grabs, with Japanese rookie Ryota Igarashi leading the pack after putting up a scoreless ninth inning against the Braves today to earn a save.
Counting the eight starting position players and five probable starting pitchers, we're left with 12 roster spots combined to fill with bench players and relief pitchers.
The bench will most likely include backup catcher Henry Blanco, infielder Alex Cora, and the aforementioned Gary Matthews Jr. Depending on the amount of pitchers the Mets decide to bring north, there is likely to be two or three spots left.
It seems like Fernando Tatis is likely to break camp with the team. After an unbelievable comeback season in 2008, Tatis mostly stunk in 2009, and seemed like his goal was to ground into double plays every at bat. That said, his versatility will probably give him a good shot at being there again in 2010. Not many players in Mets camp can play an adequate third base, first base, left field, and right field.
Mike Jacobs may make the team as a man without a position, but he could give the Mets a power threat off the bench. There are also rumors that the Mets signed Jacobs with a handshake agreement that they would trade or release him if he failed to make the team out of spring training. That remains to be seen, but I see him being there in April.
By my count, that's five position players for the bench, and seven roster spots left. My gut tells me the Mets will carry 12 pitchers and seven relievers in 2010, as that seems to be the trend in National League baseball the past few seasons.
K-Rod is a given for one of those seven spots, as is lefty workhorse Pedro Feliciano. I have a feeling Ryota Igarashi will be there, and most likely righty sidearmer Sean Green will return for his second season in New York.
That leaves three spots and this is where it gets tough. My heart tells me Nelson Figueroa deserves to be there. The Brooklyn native pitched great down the stretch last year, and was one of the few bright spots on the absurdity that was the 2009 season.
Bobby Parnell had a strange season last year as a rookie, pitching both out of the bullpen and the starting rotation at times, to mixed degrees of effectiveness. I think Parnell earns one of the final two spots in the 'pen, and hopefully comes up with a strong sophomore campaign.
The last spot is, quite frankly, going to somebody who may get his walking papers when Kelvim Escobar is ready for action. I would think that a second lefty will be favored, and the Mets are kickin the tires on Joe Beimel. Barring a late signing, I'll go with Hisanori Takahashi for the last roster spot. (Edit: As expected, the Mets did in fact make a late signing with righthander Kiko Calero, who I expect to make the team.)
Now... let's just hope the guys who do break camp avoid the injury bug. If the Mets can do that, they could be in for a surprise surge to a wild card berth.
(For more Mets, Jets and Nets analysis, visit my personal blog, MetsJetsNetsBlog)
This article is
What is the duplicate article?
Why is this article offensive?
Where is this article plagiarized from?
Why is this article poorly edited?

New York Mets: Like this team?