Erin Pac and Elana Meyers Win First Bobsled Medal Of 2010 Games For U.S.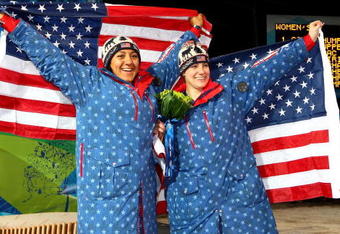 Richard Heathcote/Getty Images
There is something noble about bronze. 
It is my belief that any Olympics feature three potential moments of heartbreak.
First is the elite competitor who ruins their chances by falling or crashing. 
Next is the competitor(s) who just misses the podium.
However, most intriguing is the heartbreak of silver. For many, simply a chance at the podium is the ultimate accomplishment. However, for some, it is devastation to settle for anything less than gold. 
Silver is the medal of heartbreak because the ultimate accomplishment was within reach. It's hard to dismiss the shame of coming so close and seeing your dream be a split second, half point or one goal away.
Meanwhile, the bronze is often earned by the outsider looking to squeak in. Taking a place on the stand itself is a supreme jubilation for the noble bronze.
The United States won their first medal in bobsled when the Women's event finished yesterday. Driver Erin Pac and brakeman (woman) Elana Meyers earned a bronze as North America swept the podium—Canada finished one-two to go with the American Bronze.
Common bobsled powerhouse, Germany, was hindered by slow start times throughout the competition, but the skill of their drivers had kept them alive.
Germany had a chance to challenge for the medal stand. Cathleen Martini, the driver of Germany's sled Two and five-time world champion, was looking for her first Olympic medal. But in an attempt to make up time from the fourth spot in run, her sled crash.
Martini's teammate Romy Logsch, in an ill-advised move, ejected from the overturned sled and slid along the track with her body sprawled in the shape of an "X."
Martini would be unhurt physically, but succumbed to tears in the face of one of the game's moments of ultimate heartbreak.
Canada Two would show the fastest time of heat four. they surpassed the Americans from their three-spot to capture silver.
Elana Meyers and Erin Pac posted the second fastest runs in all of the first three heats and would need to step it up in the fourth heat to catch Canada. 
Chasing Canada Two at the time of their run, the United States would show (as they did all games) an elite start time, but lost speed as they hit walls down the track to their worst finish of the games. Their time was eighth best of all the sleds in heat four. Their time was .73 seconds slower than their track best as they finished 1.12 seconds out of first.
First was claimed by Canadians Kaillie Humphries and Heather Moyse. The one-time competitors turned teammates had set two track records in their first three runs, finishing with the fastest time in the first three heats. They completed their consistent performance with a time good enough to hold off their fellow countrywomen and the Americans.
The women's bobsled was a display of two countries overcoming bleak situations. Canada, disappointed in their medal count these games, saw some redemption at going one and two, while the Americans finally earned a bobsled medal.
For anyone who thinks bronze is at all a disappointment, ask anyone who just missed the medal stand. Or better yet, if you can get them to stop smiling, ask Erin Pac and Elana Meyers.
This article is
What is the duplicate article?
Why is this article offensive?
Where is this article plagiarized from?
Why is this article poorly edited?