Behind the Camera: Looking Back at the WPS PUMA 2010 Uniform Unveiling
February 4, 2010
It's always awkward when your post is so delayed that something big already happened, and you wonder if you should even post what you promised at all.
But a promise is a promise, and I'm not going to mention the elephant in the room. Here, we remember the good times.
Which was the PUMA Uniform Unveiling party at The Real World: Philadelphia house. I found out about the venue in the middle of my Amy Rodriguez interview earlier that day, when Philadelphia Independence beat writer Phil Andrews asked us, "Did you know the unveiling will be at The Real World house?" A-Rod was, in a word, ecstatic.
The PUMA event organizers did a splendid job not just with the place but with coordinating everything. The minute we came in for the press call, their PR people were so helpful and accommodating.
Shout-out to Heather and Will, who made sure I got the interviews that I needed and that my camera had a good view of the show. (Heather, you actually asked the head coach of the Chicago Red Stars to move a bit to her left so as not to block my camera. It was really not necessary, especially since that's the legendary Emma Hayes, but thank you for your efforts. And for the cool PUMA flash drive too.)
On to the show. Karina LeBlanc was a natural as the emcee. She danced around and had great chemistry with the players-slash-models (P/M). "I really had fun. Like I truly had a lot of fun. I was going out there, talking about the uniforms, talking to the girls, and it's like, it was one of the situations where I just felt like I was having a conversation with them out there," LeBlanc said during my interview with her later that night.
Oh, and did you know she wants to be the next Bachelorette?
WPS Commissioner Tonya Antonucci best described the uniform unveiling when she said "The players were loose, they were looking good in their uniforms and very happy."
They certainly looked real happy modeling their uniforms, especially with Ella Masar and Tobin Heath jumping around, Manya Makoski unveiling the new dance move she invented, Caroline Seger and Kelley O'Hara dancing, and Cat Whitehill channeling Molly Shannon. Yes, great fun was had by the P/M's. Would they consider a modeling career by any chance?
"I keep talking to my agent about it, but he can't seem to find me a gig. So I think I'm gonna try to keep persevering, that's my goal in life, but I think I killed it tonight," Masar joked after the show.
(Oh, and I totally mispronounced "Manya." Sorry Monz.)
Upstairs I did interviews with some of the P/M's. I asked a few traditional questions, and a couple of silly questions. This post is sort of a behind-the-scenes type, so you know what, we'll focus on the silly.
The interview area was a little crowded, which would explain some extreme close-up shots in the highlight reel/video diary , but you learn to deal and even forget about the tight space. Like when I instigated a dance off between Whitney Engen and Casey Nogueira. I completely forgot how hard it would be for them. They still danced though, but didn't go all out.
Though Nogueira blamed the song, not the space, "It's a bad song to dance to. When a good song is on, we'll dance. We'll go at it." (Cue Engen to crack up here.) When I mentioned "Billie Jean," Nogueira's face lit up and I saw an opportunity. I asked her if she could moonwalk and she attempted to do so with her cleats on. Valiant effort.
I congratulated Cat Whitehill on the successful debut of her "catwalk." "Let's just say I might be the best dancer in the world. That's a statement, right now," Whitehill proclaimed. I asked her to prove it by doing the running man, which she famously did after the WPS All-Star Game. "Oh I didn't make it popular, I think Vanilla Ice made it popular." Good point. As I insisted, for actually the second time that day, she turned me down. Again.
"That's only unveiled at certain times. And today (at the show) was the lasso with 'Sweet Home Alabama,' you know? Right now it's the cowgirl so we'll see what happens. If I score a goal, we'll see what happens." Crossing my fingers for a Whitehill goal followed shortly by a running cowgirl.
I asked the newlywed Angie (Woznuk) Kerr, who showed off the new name at the back of her jersey, about the kid that cried at their sand castle competition in Portugal last year. What did she and Megan Rapinoe do to cause such a thing? "Oh he was just so happy with the sand castles, he couldn't hold back the tears," Kerr speculated.
And by the way, you can still call her "Wozzy."
The P/M's were more than happy to pose and model their new kits in front of the camera (Kelley O'Hara, I asked you to pose, not dance). Yael Averbuch even modeled with a Dasani water bottle—a cross promotion perhaps?
As for the former U.S. WNT New Kids , they look like they could be in a PUMA ad. Good job ladies.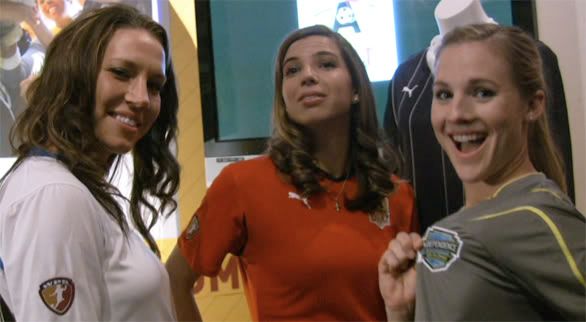 I informed Lauren Cheney that when I asked a few of her teammates from the national team who the best dancer in the locker room is , she was a popular answer. As Tobin Heath and Amy Rodriguez expressed their approvals, Cheney proved her worth by doing a dance move called "The Jerk" (requested by Heath). Like Nogueira, she did this with cleats on.
But Cheney may have to keep an eye on her best dancer award because Nogueira, known to be the Tar Heels' ringleader for pregame dancing rituals, might challenge her for it. "I think I could take her on. I don't know if I could beat her. I'll challenge her though. I would challenge her," Noogs declared.
Another P/M who danced with her cleats on was Manya Makoski. She showed off her "Torque Walk" to the camera again, which made me wonder if it's a requirement to be a good dancer if you want to play in the WPS. There must be an extra audition round where you wear your cleats and dance in front of the coaching staff. There's gotta be one.
Although I must say that for the record, I didn't ask all of the interviewees to dance (LeBlanc still did it for her The Bachelorette audition tape though). Like with Leslie Osborne. No dancing was involved in our interview, though I couldn't help but refer to a U.S. Soccer video of her impersonating Heather O'Reilly. Alas, due to the tight space, she could not reenact for the camera.
"That's not for here, maybe another time when I have some more room because her run and her expressions are priceless. It's the worst expression that you can make, that you can think of. It's like, everything you can... 'RAAAH!'"
So maybe after a Breakers game then?
All of the P/M's interviewed expressed their excitement over the 2010 PUMA kits. Most pointed out how the jerseys were lighter and felt more comfortable. Even the newbies, like O'Hara.
"Just talking to other players, they said that this kit's a lot more comfortable. And I feel great in it. I'm excited to be able to play in it, it's very lightweight, it's gonna be a fun uniform to play in."
And it's gonna be a fun season to watch too. New uniforms, new teams, new players—get ready as WPS 2010 starts April 10th when the Washington Freedom host the Boston Breakers at the Maryland Soccerplex.
PHOTO CREDIT: Charlotte Mace