Behind the Camera: Looking Back at the 2010 WPS Draft
January 21, 2010
It has been a week since I drove up to Philly for the 2010 Women's Professional Soccer Draft and PUMA Uniform Unveiling. My mission was simple, to help cover these two events for Bleacher Report. To make the interviews more fun I decided to bring my trusty video camera. Might as well do a video diary out of the whole trip.
After editing though, the video turned out more of a highlight reel than a diary.
Ah well, at least I got my favorite defender to do the intro (Freedom represent!). I guess it didn't have that video diary feel because I refused to speak to the camera (being on frame in some of the interviews were unintentional). I'm really not the type of person who's comfortable in front of the camera, that's why I'm always behind it.
However, nobody else would do the interviews so I had to suck it up and risk being seen on video. Special thanks to photographer Charlotte Mace for handling the video camera during the interviews, especially since I physically couldn't do both most of the time.
It was a bit challenging to mash everything into YouTube's supposed 10-minute limit for videos. Fortunately, the site accepted its extra 44 seconds. There was just too much to place when you've got about two hours worth of footage (or, in geek terms, 80 gigabytes).
First off, the draft. I sat with the photographers and got a good view of the stage. Right behind me was the Chicago Red Stars table, with GM Marcia McDermott and head coach Emma Hayes. I only realized this after the fourth pick so I apologize to these two if I blocked their view whenever I got excited.
For the first couple of picks this was my process: (1) Take video of WPS Commissioner Tonya Antonucci announcing the pick; (2) Pan the camera quickly to get the player's reaction as she hugs her friends and family; (3) Follow her walk to the stage to accept the team's scarf and pose for the cameras; (4) Capture the short interview with WPS Director of Communications Rob Penner; (5) Rush to the media room to get footage of the draftee posing with the team's banner; (6) Rush back to same spot in front of the Red Stars table for the next pick. Lather, rinse, repeat.
After the first round I took some b-roll of the new draftees in the media room. Tons of press people over there trying to get interviews. My phone buzzed so I left the draft room to take the call.
The person at the other end of the line talked at length and in my head I wished we could end the conversation so I could go back to the draft. To make matters worse, Philadelphia Independence and U.S. Women's National Team forward Amy Rodriguez suddenly appeared.
She just stood there, with nobody interviewing her. I clutched my tripod and buried my head on my camera. I wished the guy at the other end of the line would get into a tunnel or an elevator or something. Anything to end this phone conversation.
Soon I was able to get the chance to interview A-Rod and ask her about the first-round picks and her preparation for the national team camp. There was a moment during the interview when I asked if Philly was able to pick in the second round already (I hadn't been back to the draft room ever since I left for that phone call).
She didn't and I wondered if the draftee being announced at that time was for Philly. A-Rod rushed to the room—with the camera still recording—and learned that Ashlyn Harris got picked. She went back on frame and the camera captured her joy of knowing that her team got a great goalkeeper.
Except Ashlyn Harris got drafted to Saint Louis Athletica, not Philly. Later on, after she got back from her autograph signing, A-Rod would inform me that they didn't get Ashlyn. My bad.
Second interview: L.A. Sol's Manya Makoski. Charlotte noticed her in the draft room and asked if I wanted an interview with her. Actually, Sol beat writer Alondra Hernandez had an interesting message for the lady known as "Monz," so yes, let's have that interview.
And so we did and had some fun as I relayed the hilarious message to Monz. But when I replayed the interview, I only saw three seconds of a wall. Uh...so I guess I didn't hit record. Interview fail.
I got the chance to interview Casey Nogueira, Nikki Marshall, and Cat Whitehill outside the draft room as well. It was actually much better there compared to the media room—less people, less noise, bigger space, and better lighting.
Apparently Alondra texted Makoski about my inability to hit the record button of the camera, as Monz approached me to ask if I wanted to do the interview again. Aww, what a kind soccer player. I felt embarrassed about my stupidity, but if Monz was willing to do a second round, then let's do it. Out of the draft room we go! She was a good sport for answering the same questions, including a text-in question from L.A. She also showed the camera a preview of the "Torque Walk" she was planning to do at the uniform unveiling that night.
As the draft was winding down, there were less and less people in the room. By the seventh round I was already mentally planning how to do the interviews for that night's unveiling party when the Commish said something that nearly knocked me off my chair: "The Philadelphia Independence selects Danielle Collins."
Loud cheers erupted from what was left of the crowd. Danielle Collins... Dani Collins? Dani? The nice and friendly PR person of Philly? I didn't even know she was in the running. I felt so happy for her, though it was too bad I didn't get the chance to congratulate her (so Dani, if you're reading this, congrats!).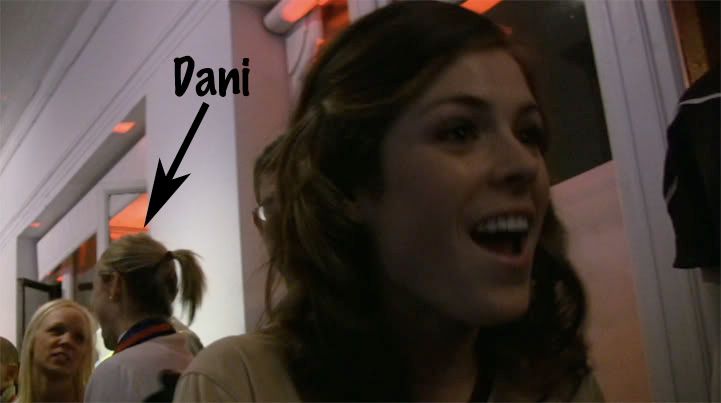 Once the draft ended I started to pack my gear. I noticed Washington Freedom head coach Jim Gabarra walking off to another exit. I rushed to get an interview with him, which he gladly obliged. Penner was even nice enough to put up a Freedom banner as a backdrop for the interview. Here's part two of my stupidity though: I plugged the microphone to the headphone jack. So the audio in this interview is really low, and that's the reason why I didn't include it in the highlight reel.
I swear, I've been using this camera for a while now. I don't know why for this day my brain decided not to work.
After the interview I met Jeff Kassouf of The Equalizer . Here's one guy who needs to be applauded for his tireless work in women's soccer. The coverage that he has done has been tremendous—and he's just one man writing for that site! Inspiring.
I proceeded to the exhibit hall, where Chicago Red Stars Sponsorship & Player Services extraordinaire Alyse LaHue tipped me off about their players being there to sign autographs. (Translation: They are available for interviews). I got the chance to ask Ella Masar and Jill Loyden about the new players, the trade, and prepping for the national team camp.
That was pretty much my experience from nine to five that Friday. Definitely not like a regular office job. Gotta love the sports biz!
Stay tuned for part two of Behind the Camera , this time about the PUMA Uniform Unveiling. Pro soccer players as models, rookies doing a dance off, a Canadian National Team goalkeeper asking to be nominated as the next Bachelorette...oh I had an interesting time indeed.