JC's Dodger Line Drives | January 2010: Gearing Up for the Spring Part 1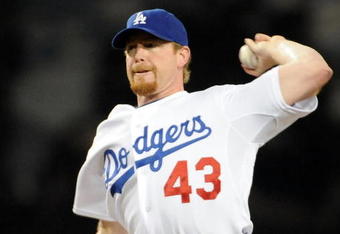 Harry How/Getty Images
Late January can mean many things to sports fans—the NFL postseason, college hoops hip deep in conference play, the NBA and NHL reaching the mid-point of their seasons—but for baseball fans the clock keeps ticking louder as we get ready for the pitchers and catchers to report for spring training.
For Dodger fans, this has been a winter of discontent. The disclosure of the McCourts' divorce as the team was getting knocked out by the Phillies one step away from reaching the World Series for the second year in a row retains it's bitter taste the mouths of the fans.
The heavy rains that rolled across the region recently was not enough to cleanse the palate of the Dodger faithful.
Many have speculated about the team's ability to compete financially in the light of the separation. A handful of bloody fools, amazing idiots, and immeasurable twits tried to point to a low balance in Frank McCourt's personal account as proof of the team's insolvency, as if the man has only one bank account.
The Dodgers have never been much of a team to go out wild-eyed and woolly, hunting down the high-ticket free agents. That would be more along the line of the Yankees, Red Sox, and Mets method of operation, so all the wailing and gnashing of teeth is really much to do about nothing. One has only to remember the great value obtained when signing Jason Schmidt to realize the pitfalls of such behavior.
Roy "Doc" Halladay was not interested in coming to a west coast team due to family considerations, so trying to throw more money and prospects was not going to get the deal done.
Even if the Blue Jays would have accepted an overbid from Los Angeles, it would have put the Dodgers in an untenable position by costing the team valuable minor league assets and eating up salary space that can be directed to multiple players.
After all, as the noted philosopher M. Jagger has pointed out, "You can't always get what you want, But if you try sometimes you might find, You'll get what you need."
Team rosters are not set in January. Even when the season starts in April, you will have a squad that will look quite different come September. That's when the real hard ball action has kicked in, timed to when the trading deadline has passed and roster eligibility for the post season is locked.
The Dodgers still have plenty of time to make moves, and in spite of the ever-expanding herd of prognosticators toting crystal balls of questionable clarity, most are blissfully unaware what plans are being formulated in the Dodger front office.
Case in point, the acquisition of Manny Ramirez at the deadline in 2008.
Dodger GM Ned Colletti, Vice President and assistant GM Kim Ng, assistant GM of Scouting Logan White, and assistant GM of Player Development De Jon Watson have been able to wrangle enough talent together the last four seasons to finish at the top of the division three times. That's no mean trick, considering the previous 10 seasons saw only one divisional championship.
Still, one can ask serious questions over the loss of Orlando Hudson and Randy Wolf, two free agents that did not receive qualifying offers and thus the Dodgers will not get compensation for their joining other teams.
Acquired as a free agent with a compensation price tag of a first-round draft pick, Hudson turned in an excellent first half of the season, becoming the first Dodger to hit for a cycle in Los Angeles, on Opening Day no less, and made the National League All-Star team as a reserve.
But the quality of his game was already diminishing by the time the mid-summer classic was played, and continued its downward path through the balance of the campaign to the point he was supplanted by Ronnie Belliard for most of September and in the post-season.
There was also a strange type of vibe going on between Hudson and Torre, which is amazing given Hudson's team-first persona and Torre's calm managerial style. By the time the season was over it seemed apparent there would be no way Hudson would accept arbitration with LA, but still the Dodgers would not offer it.
Colletti had to weigh the risk of Hudson accepting and putting the Dodgers in a difficult situation both financially and in terms of the roster makeup. Many fans still feel this measurement was faulty.
Whatever the case may have been, the Dodgers now have certainly lost out on the chance to recoup that first-round draft pick when Hudson signs with another team.
The other key loss is starting pitcher and LA native Randy Wolf, one that is a bit more troubling. Wolf provided an anchor for the Dodgers starting staff, but often was left with no-decisions after pitching excellent games, which took a toll on his 11-7 record.
However, his 3.23 ERA, 214.1 innings pitched, and WHIP of 1.101 are the best numbers Wolf has turned in those respective categories over his major league career. He was also quite serviceable with the bat. Nine sacrifices to go along with 11 hits, 11 RBI, four doubles, and a homer serve notice of the danger in taking Wolf lightly at the plate.
Starting pitching being a rare commodity, many Dodger fans had hoped Wolf would be retained.
It would seem an elevated salary point and the specter of doubt in being able to repeat a career-type year caused the Dodgers to pass on Wolf, who has signed with Milwaukee for three years and $29.75 million guarantee and a club option for 2013.
One can question whether the Brewers offer would have been so generous if they had to surrender a pick as compensation, but that is merely a game for conjecture now as Colletti and staff decided to look elsewhere.
Where is that elsewhere? Check back soon for part two.
This article is
What is the duplicate article?
Why is this article offensive?
Where is this article plagiarized from?
Why is this article poorly edited?

Los Angeles Dodgers: Like this team?