Why the San Francisco 49ers Should Take Jahvid Best in the First Round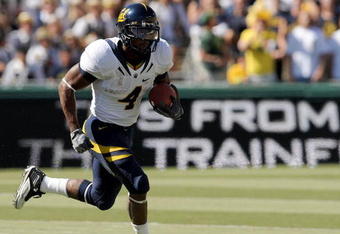 Steve Dykes/Getty Images
The San Francisco 49ers have two first round picks going into the 2010 NFL Draft and there are numerous positional needs they could fill with both of them.
With the 13th overall choice and either the 16th or 17th selection, the 49ers could go many different ways in using their first round picks.
San Francisco's offensive line was so incredibly horrendous last season, it wouldn't shock anybody if the 49ers took both a tackle and a guard in the first round.
But if they don't draft offensive line, it wouldn't be surprising if they drafted Alabama's linebacker Rolando McClain to be the heir apparent to Takeo Spikes and Patrick Willis' future tag-team buddy in the middle of that defense.
Or perhaps USC safety Taylor Mays could be available for the 49ers and could be another physical defender for head coach Mike Singletary to utilize.
However, the beauty with having two first round selections is that while one can be used to address a more prominent need, the other can be used to draft the best talent available.
And the best talent that will be available in the middle of the first round is none other than star running back Jahvid Best out of California.
While most draft boards have Best going in the second round due to injury concerns about the two concussions he suffered during his college career with the Golden Bears, he certainly has first round talent.
And it is that talent that the 49ers shouldn't overlook. The 49ers have a history of passing on talented Golden Bears: In 2005 the 49ers passed on former California quarterback Aaron Rodgers and in 2008 they passed on former California wide receiver DeSean Jackson. Third time's a charm, right?
Both of these players had question marks concerning their abilities to be able to play at the NFL level. Rodgers dropped to the 24th overall selection after projected as a possible No. 1 pick, and despite first round skills, Jackson fell to 49th overall due to concerns about his attitude.
Now if there was any team that were to have had the most detailed scouting reports on these two college stars, one would think it would be the 49ers. With the Golden Bears essentially in San Francisco's back yard, (even shared the same play by play man in Joe Starkey) it seemed to be only a perfect fit for a Cal star to transition to the Red & Gold.
But for some reason (perhaps it was Mike Nolan's idiocy) the 49ers passed on the two Cal products who are now arguably the most dynamic players at their respective positions.
That being said, the 49ers CANNOT do it again. They cannot afford to see a third Cal star go on to shine for another NFL franchise. It would only increase the anger in the fan base if Best goes to another team and dominates as a running back and return man. Especially if Alex Smith doesn't improve next year and the 49ers miss the playoffs for the eighth straight season, how would the front office look then?
GM Scot McCloughan will certainly be in the hot seat, as well as Mike Singletary and Alex Smith. If the 49ers miss the playoffs next year, it wouldn't be far-fetched to think all three of these men will be without a job in 2011.
However, if they make the wise choice and draft Best in the first round, 49er fans won't have any reason to complain about the front office.
Best will be a perfect shifty runner to complement Frank Gore and will be explosive in the return game, something the 49ers desperately missed last season. In fact, you could make an argument that with a better return game the 49ers make the playoffs this past season.
As for the injury concerns, making a draft judgment on a couple of unfortunate freak plays that caused a concussion shouldn't be enough to deter selecting a player with such a vast upside.
Remember, Frank Gore dropped to the third round because of a history of knee injuries longer than Steve Young's concussion list. Yet here we are today and Young is in the hall of fame and Gore is one of the best backs in football. Go figure, right?
Best is simply too good of a talent for the 49ers to pass up and attempt to wait till the second round to draft him. If they don't use a first round pick on him, it is highly likely that a team drafting late in the first round or early second round would snatch him up before the 49ers' second round choice.
That being said, it is imperative they take a shot on No. 4 because he has that type of Chris Johnson dynamic speed in the open field. One could only imagine a WildCat formation with Gore and Best on the field at the same time. Gore could take the snap and either power run up the middle or hand off to Best to explode around the outside.
With Best in the fold, and perhaps also a Mays/McClain on defense, the 49ers could then bolster the offensive line through free-agency and might just become a favorite to win the division next season.
But if they decide to draft offensive lineman in the first round, how long will it take them to get used to the speed of the NFL?
The 49ers need to draft players that can make a positive impact right away and as Willis and Gore have shown, linebacker and running back are two of the easiest positions to shine at as a rookie in the NFL.
Jahvid Best, injury concerns or not, is just too good for the 49ers to pass up.
This article is
What is the duplicate article?
Why is this article offensive?
Where is this article plagiarized from?
Why is this article poorly edited?

San Francisco 49ers: Like this team?