NFL Divisional Playoff Preview: Part 1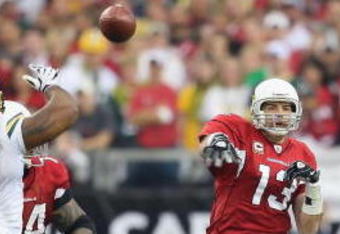 Christian Petersen/Getty Images
One of the best sports weekends of the year kicks off tomorrow with the NFL Divisional Playoffs. Fans are treated to two full days of action, with this year's slate featuring some especially compelling matchups. A solid argument can be made for any of the eight participating teams to advance to next week's championship games.
An interesting aspect, albeit to the chagrin of some NFL traditionalists, relates to the fact that weather will not be a factor in any of the four contests. There will be no frozen tundra this week, with three games played in domes and the fourth being hosted in temperate San Diego. Accordingly, all of this weekend's action will be determined based on strategy, preparation, talent and execution.
Of course, the four teams that spent the previous weekend resting and watching the Wild Card round by virtue of their well-earned seeding have a little bit of a jump-start on their opponents. This has been less of an advantage in recent years, especially a year ago, when three visiting teams advanced. Here is a preview of what to expect in Saturday's games, including my predictions on the eventual outcome. Neither pick is made with a great deal of conviction.
Arizona (11-6) at New Orleans (13-3) —Saturday, 4:30 PM ET
The Cardinals head to New Orleans fresh off one of the most action-packed and thrilling playoff games in NFL history. Arizona's overtime victory came on a defensive score after three hours of trading touchdowns with the Green Bay Packers in a game that looked like a cross between arena football and an NCAA tiebreaker.
Like a year ago, the Cardinals were led by senior statesman Kurt Warner, who posted some other-worldly numbers. Despite missing one of his star receivers, Warner connected on almost 88 percent of his 33 pass attempts for 379 yards and 5 TD's. Because he got a late start in his career—and was once prematurely considered washed-up after being hampered by a thumb injury—Warner is arguably the most underrated quarterback in the league's history.
Speculation has begun to grow that the Cardinals' signal caller may call it quits after this season, but fans can be heartened by living in the present and knowing that Warner gives them a shot to win against anybody. After prevailing in last week's dramatic shootout against a very talented Packers team, the Cardinals have been rewarded with facing the NFC's top seed on enemy turf—so once again, the team's hopes will rest firmly in Warner's capable hands.
It appears that wide receiver Anquan Boldin will be shut down once again because of multiple leg injuries. Accordingly, the team will rely heavily on Pro Bowl receiver and part-time acrobat Larry Fitzgerald, along with Steve Breaston and Early Doucet.
On offense, the Cardinals match up very favorably. They will likely keep the ball in the air, while discriminately mixing in the run to keep defenders honest, as they try to exploit the Saints' 26th-ranked pass unit. The hallmark of the Saints defense has been creating turnovers, so if the Cardinals can avoid turnovers, they very well could outscore their opponents for a second consecutive week.
While this is a positive view, it also implies that Arizona's biggest challenge will be keeping Drew Brees and company out of the end zone. The Saints feature the NFL's most prolific offense, having averaged more than 400 yards and almost 32 points per game. These numbers are even a little watered down by the final couple games, when the team was playing out the string.
In my book, Brees should have been the NFL's Most Valuable Player this season. He finished the season with a 109.6 quarterback rating on the strength of a 71 percent completion percentage, just shy of 300 yards per game and 34 TD's. Regardless of what may not being sitting on his mantle, the Cardinals surely realize the challenge they face in trying to slow him down.
Like their opponent, the Saints will also try to take advantage of a Cardinals pass defense that finished three spots higher in the regular season—and was torched by Aaron Rodgers for 422 yards last Sunday. But similar to New Orleans, the calling card of the Cards unit is forcing turnovers, by jumping routes and stripping balls.
Vegas has established the over/under for this game at 57 points. Although hefty by normal standards, this seems light to me. Expect another highly entertaining shootout with the game coming down to a missed field goal or a key turnover. Because neither team will be able to stop the other, I anticipate that a gambling play by Darren Sharper or a member of the Cards' aggressive secondary will tip the game one way or the other.
Cardinals 42
Saints 44
Baltimore (10-7) at Indianapolis (14-2)—Saturday, 8:15 PM ET
With adrenaline still pumping from a thrilling opening game, NFL fans will switch over to catch the nightcap featuring two bitter rivals. The Ravens travel to Indianapolis to face the formerly beloved team that picked up and left Baltimore in the dark of the night.
The city endured a dozen years without an NFL team before they wooed away Cleveland's franchise. In a complicated twist, the team was renamed the Ravens, while Cleveland was awarded an expansion team and the Browns name. All this is to set the stage that there is still lingering hostility in Baltimore toward the Colts franchise, so a lust for revenge provides added incentive to the fans, if not the players.
On the surface, by virtue of the teams' respective regular season records, the Colts would seem to be heavy favorites, but the late-season trends would indicate otherwise. The Colts rolled to 14 straight wins and appeared poised to run the table until rookie head coach Jim Caldwell suddenly pulled Peyton Manning in Week 16. The move resulted in a loss of the game and possibly the spirit of his players.
Conversely, the Ravens finished the season on a high note after being up and down all season. They have won four of the last five games, including a surprising blowout of the Patriots last weekend in Foxboro. And, importantly, the team seems to match up well against a Colts team that narrowly beat them in Week 11.
After struggling early, the vaunted Ravens defense has come together in the latter part of the season, finishing third in total yards and points allowed. They also play an attacking style that forces turnovers and can make for a very long day for even the best opposing QB's.
The Colts, of course, feature one of the all-time best in reigning MVP Peyton Manning, who continues to build his resume during 12 seasons. Manning earned his fourth MVP trophy by leading his team to the most wins, while racking up 4,500 yards and 33 TD's. As usual, he will look to spread the ball around, but he will surely keep a heavy focus on his top two pass catchers, Reggie Wayne and Dallas Clark.
Indianapolis will find difficulty establishing anything on the ground against the Ravens stout run defense. Veteran Joseph Addai is not quite the same back he was a couple of years ago. To compensate, Manning will try to hit Addai in the flat to open up opportunities down the field.
On the offensive side, the Ravens match up well with the Colts. Second-year running back Ray Rice has emerged as a star, finishing with more than 2,000 yards in combined rushing and receiving yardage this season. He also comes into the game with the "hot hand" (or "hot quads"), having compiled 159 rushing yards against the Patriots. Meanwhile, Indianapolis has struggled against the run, finishing 24th in the NFL.
The Colts defense fares a little better against the pass, but Baltimore's second-year signal caller Joe Flacco will be constrained by a conservative game plan. Head Coach John Harbaugh will be perfectly intent to rely on his tough defense, along with Rice and backup Willis McGahee, to keep the ball out of Manning's hands.
A Ravens upset would not be surprising at all. This could become reality if Indianapolis falls behind early and then looks to Manning to lead a comeback, as it did so often during the season. If the game stays close, the experience edge of Manning over Flacco should prove to be the difference.
Ravens 20
Colts 23
Visit I'm Just Saying, Philly to read more on Philadelphia Sports and the NFL
This article is
What is the duplicate article?
Why is this article offensive?
Where is this article plagiarized from?
Why is this article poorly edited?

Arizona Cardinals: Like this team?