Five Battles the New York Jets Need to Win to Become Team of Destiny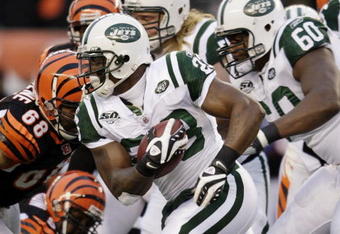 Andy Lyons/Getty Images
Before we delve into this weekend's divisional playoff matchup between the Jets and Chargers, it's time to honestly consider the Jets as legitimate Super Bowl contenders. But who are these guys?  Are they the 2000 Baltimore Ravens, or are they just road-kill on the Chargers fast-track to the Super Bowl?
I don't think it's the latter.
The Jets bring the NFL's top ranked defense and No. 1 rushing attack to Qualcomm Stadium—which is shaping up to a blockbuster playoff game, with many intriguing  storylines. 
Maybe the best comparison to this hard-noised, defensive-minded Jets team is the old Jets.
Yes, that classic AFL team that's preserved on NFL Films.
The 1969 Jets, led by Joe Namath is part of NFL lore. They stunned the world by defeating the heavily favored Baltimore Colts 16-7 in the Orange Bowl. The ramifications of that monumental victory are still being felt today.
It solidified the AFL-NFL merger and planted the seeds of a well known coaching tree.  
We also heard Broadway Joe's infamous "guarantee" when Namath told reporters that his Jets would win Super Bowl III, despite being 17-point underdogs.
Some forty-years later, another Jet is making a similar prediction.
Rex Ryan's off-the-wall claim that his Jets should be Super Bowl favorites is right up there with Namath's daring calculation. It's also reason enough to take a closer look at these two teams of destiny.
For starters, the magnetic Sanchez compares favorably to Namath's swagger and brash style. No doubt, a Super Bowl ring would complete the comparison.  Shonn Greene and Thomas Jones fill the shoes of Emerson Boozer and Matt Snell. Two underrated but bruising running backs.
And get this. Super Bowl XLIV just happens to be played in the same city where the Jets won their only NFL title.
Oh yeah, one last piece of symmetry. Can you guess who the Jets defensive coordinator was in Super Bowl III? That's right, Buddy Ryan the father of Rex and the architect of the Bears vaunted 46-defense.
The league can truly celebrate the 50th anniversary of the AFL, by ushering in the franchise that forced the merger and changed pro football forever.
And it doesn't hurt (TV ratings) to have a team from New York playing in the biggest game on the planet.
In reality, if the underdog Jets are going to continue their modern day run to Miami, then they'll need to get it done on the field. With that in mind, here are five battles the Jets need to win in order to pull-off the upset in San Diego.
Mark Sanchez vs. Chargers secondary:  The Jets rookie QB will need be the same charismatic leader that completed 12 of 15 passes for 182 yards and a touchdown in last week's 24-14 victory at Cincinnati.
If the Southern California native doesn't take care of the ball, he'll find himself in a heap of trouble against a good San Diego defense.
Sanchez can't get into a shootout either, but conventional wisdom dictates that the rookie will need to throw the ball more than 15 times to be successful.
Expect Offensive Coordinator Brian Schottenheimer to test the Chargers front seven with misdirection plays and screens. He'll give Sanchez some easy throws to build his confidence and then go deep to Jerricho Cotchery and Braylon Edwards.
Jets physical rushers vs. Chargers run defense: Thomas Jones and Shonn Greene will spearhead a tough New York rushing attack and they'll do it behind one of pro football's finest offensive lines.
Center Nick Mangold and Alan Faneca are capable of opening large creases in any defensive line. And tight end Dustin Keller is an underrated blocker.
Jones got a little banged up in last week's wild-card game, so expect Greene to get the bulk of the carries.
This is a pivotal matchup for the Jets, since San Diego has given up an average of 117.8 yards per game on the ground. And rushing the ball is what New York does best, so they'll have to be successful on the ground to keep Phillip Rivers & Co. off the field.
Chargers weapons vs. Jets secondary: Without question, San Diego's vast array of weapons on offense gives the Chargers a big edge throwing the ball. If Norv Turner can create matchup problems with Antonio Gates and Darren Sproles, it could be a long day for the Jets defense.
Quarterback Philip Rivers completes 65.2 percent of his passes and he threw for 4,245 yards this season. He also had the third highest QB rating in the NFL, while connecting on 28 touchdown passes.
Rivers' favorite target is the 6-foot-5 Vincent Jackson. The Northern Colorado product hauled in 67 catches and grabbed 9 touchdowns, as he became the go-to-guy in Turner's offense.  
But Rivers needs to take five and seven-step drops to set up the long ball. The Jets will pressure Rivers with an assortment well disguised blitz packages.
Ryan will also stick defensive MVP candidate Darrelle Revis on Jackson. This confrontation is the most anticipated matchup of the game. If Revis can shutdown the Chargers deep threat, then the Jets will force Malcom Floyd to beat them deep. Make no mistake.
New York's secondary has been formidable, allowing just eight touchdown passes the entire season. This is by far the best in the NFL. Something has to give here, either the Jets secondary will crumble or the Chargers high-powered offense will fizzle.
LaDainian Tomlinson vs.  David Harris:  LT is on the down side of his career, but he's still dangerous. Tomlinson has managed to score 12 touchdowns this season, all of which came in the red zone.
The Jets will counter LT's nose for the goal line, with the No.1 scoring defense and eighth best defense against the rush. Jets linebacker David Harris is the top tackler in the NFL (127) and should zero in the Chargers' soft running attack.
However, after a slow start to the season, Tomlinson seems to be gaining some momentum. LT has scored 9 rushing touchdowns in his last seven games.  
But at some point in this game, the Chargers will have to pick up five or six tough yards on the ground. At that point, we'll find out if LT has "burst" left in those old legs.
Dustin Keller vs. Eric Weddle:  While Weddle is a force against the run, he can be beat in the passing game. Keller is coming off a big game at Cincinnati, where he caught three passes for 99 yards and a touchdown.
Look for Keller to exploit the shorter Weddle in crossing routes, much like he did against the Bengals secondary.
Even though the Chargers have a ton of weapons on offense, I think Ryan will consult good friend Cam Cameron to help dissect Turner's offense and Schottenheimer is the hottest coordinator in the league right now. San Diego. ...Welcome to your destiny.
Prediction:  New York 24 San Diego 19
This article is
What is the duplicate article?
Why is this article offensive?
Where is this article plagiarized from?
Why is this article poorly edited?

San Diego Chargers: Like this team?