Can the Washington Huskies Still Dance in March?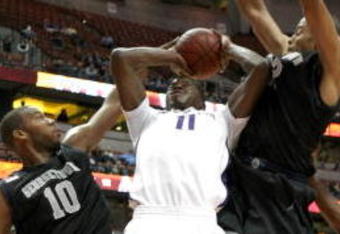 Stephen Dunn/Getty Images
When I turned off my television after witnessing Arizona demolish the Huskies last Sunday, the feeling was all too familiar.
Just three years ago during the 2006-07 season, the Huskies were coming off a banner year. However, much like this year's team, even with their highly-touted recruit (see: Spencer Hawes), the Huskies were unable to make the NCAA tournament and missed the postseason all together after being snubbed by the NIT selection committee. 
The Huskies that year entered the season with a lot of hype, armed with a No. 17 ranking in the preseason polls and a national sports magazine gracing a cute picture of Jon Brockman and Ryan Appleby; I along with a lot of other people were having visions of a Final Four appearance.
This season the Huskies started out ranked at No. 14 and Sports Illustrated decided to again curse the Huskies by slapping Isaiah Thomas on its college basketball preseason issue. Unfortunately, these young Huskies let it get it into their heads.
Fast forward a couple of months into the season and you have a team on the cusp of playing itself out of March basketball already. It would be foolish to count these Dawgs out right now, but the task looming ahead for the players and coaches seems daunting.
The first problem that must be addressed is rebounding. Many were worried that with the departure of Brockman, the Huskies would lose their edge on the glass. I disagreed initially and pointed to the rebounding success of earlier Romar teams. However, this current team does not have the inherent desire to get it done on the glass.
Bryan-Amaning, Gant, and Breshers simply have not been effective. Between the three of them, they are averaging 11 rebounds per game. Quincy Pondexter is averaging eight rebounds per game.
What is stopping these guys from being aggressive? Is it immaturity? Is it laziness? Is it technique? Whatever it is, this team needs at least one of these guys to emerge as a better rebounder. Pondexter and the Husky perimeter can only do so much to help rebound. 
The next issue that needs to be addressed is finding a third scorer to supplement Thomas and Pondexter. In the Arizona game, Pondexter and Thomas were a combined 0-for-4 shooting in the first half.
Teams have figured out how to shut down the Huskies by simply keeping the ball out of the hands of Thomas and Pondexter. I used to think that Matthew Bryan-Amaning could be the third option, however, his offensive play has progressively worsened.
But even worse, his confidence has sunk.
If you are reading this MBA, please know that us Husky fans believe in you. We know you have the potential to be a great player on both ends of the court. Play with some confidence and swagger. You will not always be able to bully opposing defenders in the post like you were able to do against weak non-conference opponents, however, that should not stop you from making smart choices with the basketball.
I have seen time after time Matthew Bryan-Amaning forcing the issue. He does not want to pass the ball out of the post. Pass it out! Elston Turner, Scott Suggs, and Isaiah Thomas are all waiting to fire shots from the perimeter!
I still have faith that Amaning can be the third scorer, but the coaches will just have to instill some more confidence in him. 
The last weakness of this team that needs to be addressed is its defense. We can complain as much as we want about what happens on the offensive end of the court but until the Huskies solve their defensive issues, they will not be competitive in the postseason or even in the conference season.
Past Husky teams have thrived because of their ability to force turnovers and intimidate opposing offenses. The Huskies this season have been prone to falling into huge defensive lapses.
Gaddy said it best after the Arizona game: "When we get down, we get in panic mode. We just kind of start playing rat ball. We need to just start coming together more and play more as a team."
As we saw against Arizona State, the Huskies can't depend on Venoy Overton to be their only asset on the defensive end. Even with Overton switched onto Kuksiks, the guy still scored 14 points on the Huskies in the second half.
It needs to be a team effort. The Huskies could play their five best defenders night in and night out, but unless those five players play with the required focus and intensity, they will not be successful.
Again, it comes down to maturity. This Husky team is young, but inexperience is a lame excuse if you consider your basketball program to be a powerhouse. The Huskies need to have consistency to reach the level of your Syracuses, North Carolinas, UCLAs, and Georgetowns. The Huskies lost three straight  games to start out the conference season in 2006 and still made the Sweet 16.
The past three losses do not kill the Huskies, but there now needs to be a sense of urgency or else the Huskies might not be barking come March. 
This article is
What is the duplicate article?
Why is this article offensive?
Where is this article plagiarized from?
Why is this article poorly edited?