Why Ndamukong Suh Is the Right Choice for the St. Louis Rams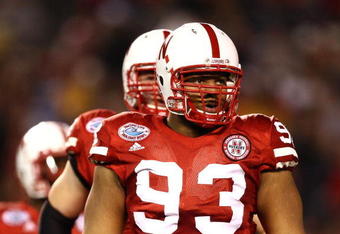 Donald Miralle/Getty Images
There is no question that the St. Louis Rams need a quarterback.
Marc Bulger has worn out his welcome and neither Kyle Boller nor Keith Null showed last season that they can be the quarterback of the future in St. Louis.
All that being said, the Rams should select a quarterback with the top overall pick when the NFL draft rolls around on April 22, right?
Wrong.
There is not a quarterback in this draft class who merits being the top overall pick.
NFL general managers should always be wary of selecting underclassmen quarterbacks first overall. Ryan Leaf was the No. 2 pick in the 1998 draft, and we know how that turned out for the San Diego Chargers.
Tim Couch was the top pick in the 1999 draft and busted out. Indianapolis took Jeff George with the first pick in 1990. While he had a long NFL career with some success, he burned his way out of Indy quicker than a pothead burns through a joint.
Taking a quarterback with the top pick is truly hit or miss. The Colts hit in 1998 when they took Peyton Manning No. 1, and he hasn't missed a game yet during his now Hall of Fame career.
But Manning, a four-year starter at Tennessee, is not the rule when it comes to teams with the top pick.
When you look at the two quarterbacks who are atop most draft lists, both have big question marks, and both are underclassmen.
Oklahoma's Sam Bradford is coming off a pair of shoulder injuries that required surgery, ending the former Heisman winner's junior campaign.
Notre Dame's Jimmy Clausen played in a pro style offense under Charlie Weis at South Bend, but at times showed immaturity on the field. While there is no question that Clausen is physically ready to play in the NFL, the mental comparisons to a burnout like Leaf are obvious.
The Rams cannot afford such a gamble.
That is why a sure-thing like Ndamukong Suh is the most logical choice.
The 6-foot-4, 300-pound Nebraska defensive tackle is a senior and led his team in tackles for two straight years. If that last part isn't impressive enough, how about a defensive tackle with two blocked kicks, an interception, 22.5 tackles for a loss and 12 sacks?
Those would be incredible numbers for a defensive end, but from a defensive tackle, they're astounding.
Suh is considered to be the best defensive tackle prospect in a decade. He's one of those rare can't-miss players that no general manager can afford to pass on. And he would help every aspect of the Rams horrid defense.
The Rams ranked 29th overall in the NFL in total defense. They were 25th against the pass, and 27th versus the rush. So as bad as the offense was, the defense was just as poor.
St. Louis was the victim of several bad injuries to its defense, none more so than to safety Oshiomogho Atogwe, the team's best defensive player.
Atogwe is a free agent, and if the Rams want to prove to Atogwe that they're committed to winning, what better player to sign than a disruptive interior defensive lineman?
Tackles that can get to the quarterback are rare. Most are of the run-stuffing ilk like the Williams duo in Minnesota or former Green Bay Packers Gilbert Brown and Grady Jackson.
Not only can Suh stuff the run, but he gets to the passer and would demand double teams on the inside.
The Rams have something special in linebacker James Laurinaitis, coming off a solid rookie season. He is the linchpin of a good, young linebacker corps with second-year players Larry Grant, Chris Chamberlain and David Vobora, and veteran Paris Lenon.
Having Suh demand attention in the middle will only free them up to make plays.
The Rams were the third worst team in sacks, generating just 25 sacks on the season. Chris Long, the second pick in the 2008 draft, came on at the end of the season to finish with five sacks. Leonard Little led the team with 6.5.
A defensive tackle who penetrates like Suh will only open things up for the defensive ends. Suh will help the pass rush, ultimately benefiting the defensive backs, who won't have to stick to their respective man for as long as they did this past season.
A single player like Suh can benefit every phase of the Rams defense. After that, if they want to take a quarterback in the second round and focus on offense the rest of the way, that's probably the right choice.
But you don't pass on a sure thing. To do so would just be foolish.
You gamble in a casino, not in Radio City Music Hall on draft day.
This is the first in a series of Rams draft previews, and can also be found at The Alton Telegraph.
This article is
What is the duplicate article?
Why is this article offensive?
Where is this article plagiarized from?
Why is this article poorly edited?

St. Louis Rams: Like this team?