Saying It Again: Why Chris Johnson is the NFL MVP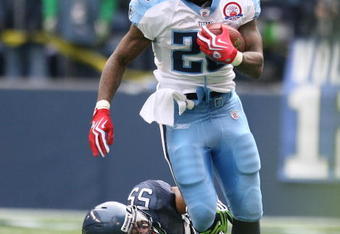 Otto Greule Jr/Getty Images
I previously wrote a short article in which I stated that halfback Chris Johnson of the Tennessee Titans is the MVP of the NFL.
I said that in belief that Johnson would pass 2,000 rushing yards, which he did against the Seattle Seahawks.
Not only that, but Johnson broke the NFL record for yards from scrimmage set by Marshall Faulk with the St. Louis Rams in 1999.
Faulk would win the MVP in 2000, not 1999, but clearly Johnson has put himself on the same level as the former NFL MVP.
Not only that, but Faulk was a member of a loaded offense, while Johnson seems to have done more with less. 
That is not to diminish Vince Young's comeback, but Johnson succeeded even without Young, when the Titans still relied on Kerry Collins at quarterback.
A quarterback, I should add, who was overrated in 2008 because of Tennessee's running game and defense.
Had Young played from Day One, the Titans would likely be in the postseason. I don't see why Johnson should be punished because Collins was inordinately bad at quarterback.
I say inordinately bad, because often times when a quarterback wins MVP, it was not without a good halfback. Any backfield needs balance to succeed.
Even Drew Brees had 17 touchdowns from the New Orleans running backs. I point that out because I think fans often give credit where credit is not due. Some fans like to give the quarterback the credit for rushing touchdowns.
I don't.
Because the offensive equation can "run" both ways. Sometimes the passing game helps the running game and other times the running game helps the passing game.
I think there are times when you can say the quarterback's touchdowns resulted from the running game. The halfbacks collect first downs and "slash" down field, only for the quarterback to collect a touchdown in the red zone.
Just ask Kerry Collins. 
Or Trent Dilfer, who handed off to former 2,000-yard rusher Jamal Lewis in 2000 en route to the Baltimore Ravens' Super Bowl victory over the Collins-led New York Giants. Well, I figure I should mention that even then Collins had a "Smash and Dash" type combo with Tiki Barber and Ron Dayne.
Moreover, if the running back is merely a product of the passing game, why is it that the supposed greatest passer of all-time, Dan Marino, never had a running back? You would think if the halfback were the product of the quarterback, that logically, Marino would have created a running back. And yet, he never did. Thus, that axiom is false.
In the race for MVP, the three other names that stand out are Peyton Manning, Drew Brees, and Brett Favre.
I eliminated Favre because of Adrian Peterson. The Vikings won 10 in 2008 without Favre, and mostly on the legs of Peterson. The addition of Favre has given the Vikes a two-game boost. That is not enough for me to believe that Favre is the MVP of the Vikings.
I eliminated Brees because I think the New Orleans offense has some smoke-and-mirrors to it. That being the fact, most fans would not give all the credit to Brees if they realized three different halfbacks had five or more rushing touchdowns. 
Here is an example of giving credit where credit is not due: Some would say those touchdowns resulted from Brees, while I would say those touchdowns resulted from three different players. One of them is Reggie Bush, a halfback that was supposed to play the way Johnson has for the Titans.
I eliminated Manning, partially because: How many times does Manning need to hear that he's the MVP? Manning already has three MVP trophies, and frankly, I think it would be redundant to do it again. When a player such as Johnson has done something incredible he should be recognized with more than just the consolation prize of Offensive Player of the Year.
There is though an interesting case for why Johnson could be co-MVP.  I'm not convinced by Favre.  To me, MVP is supposed to go to the player -- that without whom -- the team would fall apart.  The Vikings would not fall apart without Favre.  

Manning is redundant, and Brees has the benefit of being on a talented team that spreads the ball around, and so, fans are inclined to give all the credit to Brees.

However, I think it would be reasonable if Johnson were to be named co-MVP, because really, I'm not that impressed by Favre, Manning, and Brees, but because the Titans only finished 8-8 (because Kerry Collins sucked) then people have questioned whether Johnson is legit, even though the Titans rolled to a record of 13-3 in 2008, largely on the legs of Johnson.  Thus, Johnson is and has been the main source of offense for the Titans.

Those who deny that, probably just overrate Collins.  The record of 8-8 was not the fault of Johnson by any means.
The reason that the Titans seldom passed is, because Johnson doesn't need a passer to open the lanes.  However, any offense needs balance: one back to make the majority of plays and the other back to make clutch plays. 
Even an MVP quarterback needs a good running back to make clutch players.  Inversely, the main job of the QB in the Titans offense is to make clutch plays, which Collins could not provide, but Young could.
To reiterate a point, the myth that fans believe is that the quarterback makes the halfback better, but the halfback cannot make the quarterback better. 
As I pointed out, the excuse for the so-called best passer in NFL history was that Dan Marino never had a runningback. 
By that logic, the best passer should have *created* a runningback, and yet, never did.  Thus, that logic is just nonsense (and I use "nonsense" as a codeword for an obscenity).
While I do believe that Vince Young's reemergence has been a by-product of the runing game, led of course by Chris Johnson.
There you have it. Regardless of whether you agree with my conclusion, at least you know how I came to it.
This article is
What is the duplicate article?
Why is this article offensive?
Where is this article plagiarized from?
Why is this article poorly edited?

Tennessee Titans: Like this team?