Champs Sports Bowl: Miami More a Sneeze Than a Hurricane vs. Wisconsin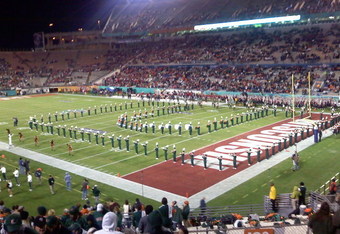 Aside from a huge gain on the opening kickoff and the subsequent Miami touchdown run, the Hurricanes offense was frozen in place.
Take it from someone who was there, the chill that ran through the ACC side of the stadium during the Champs Sports Bowl had nothing to do with Mother Nature.
On a night where this particular bowl game saw a record 56,000 plus fans, two-thirds of that crowd adorned in orange and green, there still wasn't enough body heat to resuscitate the cold, lifeless body of the offense or the blocking sleds posing as a defense. 
The final score, Wisconsin 20, Miami 14, gives absolutely no indication of what occurred on the field tonight. 
And if you look at the stats, they give you an inkling but also are misleading. 
Despite Wisconsin turning the ball over three times to Miami's one fumble, the 'Canes offense was never able to capitalize on any of the gifts the defense delivered. 
What may be more telling are the total yards—the Badgers had 430, the Hurricanes had 249. 
Wisconsin's talented sophomore running John Clay had 121 yards alone on the ground. 
Meanwhile, the supposedly superior Miami aerial attack produced less than 200 yards. Give credit to the Wisconsin defensive line that contiunally put pressure on Miami QB Jacory Harris. 
Harris for his part didn't throw an interception, an area of concern all season considering his FBS high 17, but never looked comfortable in the pocket.
He routinely held on to the ball way too long, hesitating and eventually tucking the ball and running; scrambling is not his forte and it showed as it seemed more of a running-for-his life sort of decision than a plausible attempt to make a spectacular play.
The defense played poorly but still deserve credit for at least keeping it close since the offense time after time put them in incredibly bad position. They routinely had to defend very short fields but kept the game in reach throughout (with a little help from the Badgers who made a few critical mistakes that allowed Miami hope.)  
Much of the sports media posited this game as a case of speed vs strength; they were close. Wisconsin was colossally strong and Miami had no speed whatsoever. 
On running plays, Wisconsin had their way. Miami defenders were just barely there, getting completely blown up by downfield blockers. Additionally, the Badgers found the short passing game, screens and shovel passes, very effective against a defense frozen stiff and unable to decipher the Wisconsin offensive game plan. 
The coaching staff can take much of the blame for this loss as well. Offensive coordinator Mark Whipple's play calls were too gimmicky from the start and never let Harris achieve any sort of rhythm. 
Once again Randy Shannon's mysterious use of timeouts while the 'Canes were on defense, his poor clock management towards the end of the game and his decision to go for it twice on fourth down instead of attempting long field goals when his offense was completely stalled, will and should be talking points this off season.
All in all, this was a huge opportunity the Hurricanes missed. Instead of answering the criticsims of naysayers, this loss only brought up more questions.
How attractive does a school look to potential recruits that's lost two bowl games in a row?
What's Graig Cooper's future after a nasty looking knee injury?
Why the reluctance to unleash the most effective back left, Damien Berry, after Cooper went down? (He had only four carries the whole game.)
Where was the free wheeling gunslinger Jacory Harris we've enjoyed all season? Did the thumb truly hamper him that much?
The 2009 Hurricanes had their fans feeling all warm and sunny throughout the year; it's a shame they end the season leaving them icy and frostbitten. 
This article is
What is the duplicate article?
Why is this article offensive?
Where is this article plagiarized from?
Why is this article poorly edited?

Wisconsin Badgers Football: Like this team?